Andover College students acted in and helped shoot a feature-length horror movie. The film has attracted widespread interest because it starred professional actress Daisy Ridley — who will appear in the new Star Wars film, writes Paul Offord.
The movie world may appear to exist in another galaxy far, far away to most media students. But dreams of working on a full length feature film came true for 40 BTec and A-level learners from Andover College.
They worked behind-the-scenes and acted in a horror movie written and directed by film production lecturer Peter Hearn that starred professional actress Daisy Ridley — who is set to become an A-list celebrity when she takes a lead role in the new Star Wars movie.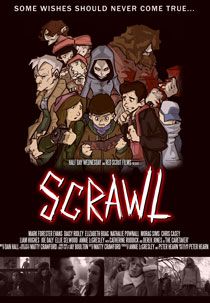 The horror film called Scrawl, premiered two weeks ago at The Lights theatre in Andover. It is about bored teenagers from a rundown seaside town who create a comic book.
All is going well until monsters from the book start appearing in the real world.
Mr Hearn said: "It is the first feature film that I have heard of that has been made by a UK college — although it is more common in America. The students did everything helping out behind-the-scenes, to operating the clap board, filming, sound recording and engineering, and editing the footage.
"The time spent giving them a real world view of making a film, rather than all their teaching and learning being in a classroom environment, is something I know was important in their FE lives, something they'll never forget."
He added: "I brought in some professional actors because I wanted to show the students this was a serious film. Daisy liked the script and agreed to shoot with us. She was very professional and really friendly with the students.
"She played Hannah — a sinister character who comes to life from the comic book. She filmed with us over the three-week period and has been a supporter since. It's exciting to think that she is now going to be in Star Wars."
Ellie Selwood, 18, who secured a triple distinction star for her level three performing arts BTec course a week ago, played lead role Rosie in Scrawl.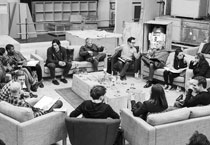 She said: "It was amazing working on a full-length feature film. My character was one of the first people who noticed things were coming to life from the comic book. All the professional actors all got on well with the students and gave us some good advice. Daisy told me you have to put yourself about as much as possible if you want to make it as an actor."
Another key contributor was Scrawl's director of photography and editor Matty Crawford, aged 19, who completed a level three TV and film production BTec at the college in July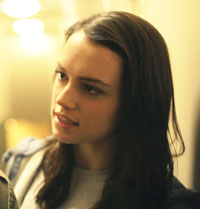 2013 with a triple distinction star.
Annabelle Le Gresley, also 19, who secured a triple distinction star for level three BTec creative media in July 2013, was producer of the movie and also played troubled teenager Annie Williams.
Mr Hearn said: "I developed the script with students in 2012 and we initially just made a short film, called Motto.
"We developed it into a full-length movie script and filming took place locally over three weeks in December 2012, with another 12 days of filming over the following year.
"We now hope to get it shown at as many film festivals around the world as possible."
Ms Ridley, who recently played Roxie Starlet in BBC drama Mr Selfridge, has been confirmed as a cast member for the seventh Star Wars film currently being shot by director JJ Abrams for Disney.
The name of her character has not been confirmed — but it is widely rumoured she will be playing Jainia Solo, daughter of Han Solo and Princess Leia. She will star alongside established stars Harrison Ford (Han Solo), Carrie Fisher (Princess Leia), Mark Hamill (Luke Skywalker), Anthony Daniels (C-3PO) and Kenny Baker (R2-D2).
The college raised £3,000 to fund Scrawl through crowdfunding site Indiegogo.
Main pic: Students and staff from Andover College on the premiere evening for their film Scrawl