The life of a disabled student recovering from a major operation on one of his legs was made a whole lot easier thanks to the inventive efforts of fellow students at Cornwall College St Austell, writes Billy Camden.
Jordan Venton underwent an operation in September to straighten a bone in his left leg, which means he has been forced to rely on a combination of wheelchair and crutches to get around ever since.
It was a task that the 19-year-old found near-impossible to start off with, but has posed little problem since his peers at Cornwall College St Austell modified his wheelchair.
The skills for life learner suffers from spondyloepimetaphyseal dysplasia, a growth disorder that causes abnormal formation of the spine and distortion of the legs.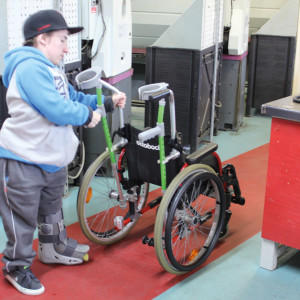 The engineering team at the college heard about Jordan's transport problems after the operation and started putting forward ideas to help.
Engineering lecturer Luke Bazeley said: "Jordan has had a tough few months and we wanted to see if there was anything we could do to help make his life easier.
"Our students became inspired and we came up with a couple of solutions which we then discussed with Jordan."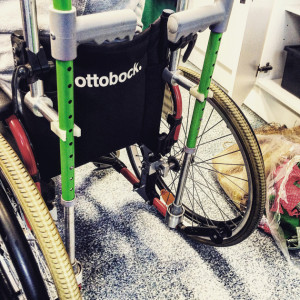 Aaron Houston, aged 19, a level two engineering maintenance apprentice with Polymer Medics, met with Jordan and designed the specification for modifications that would allow him to carry his crutches on the back of the chair.
Level two machinists pathway apprentice Levi Fairway, aged 17, then produced the parts from aluminium using a computer numerical control machine at neighbouring Cornwall College Camborne.
As a result of the modifications, Jordan has been able to return to his level one skills for life course at the college with ease.
He said: "It is great, I can get them [the crutches] off and back on easily and quickly which is what I needed.
"I'm really thankful for the engineering guys that made this for me, I was also really happy with how quickly they made it and fitted it to my chair."
Aaron said: "I was really chuffed to be asked to help. This was a great learning experience for me and I got to put the skills I've already learned at college into practice. It was very rewarding helping Jordan out."
Since the operation, Jordan's daily routine has involved a programme of painful adjustments on his leg, twice a day, every day for eight weeks to manipulate the bone into a straight position.
He will be going through the same operation in June on his other leg.

Jordan said: "Life is easier around college now. I used to hold my crutches on my lap or between my knees when I was moving around the college, or one of my mates would have to carry them.
"I have to have another operation in the summer, so I know I will still have to spend quite a bit of time in the wheelchair this year.
"I'm glad that if I need any adjustments the guys in the workshops will fix it for me."
Mr Bazeley said: "We were delighted to be able to help out Jordan, especially after an extremely painful operation.
"Projects such as this are great to help get our students thinking about new ideas and ways to help people.
"They've also gained a great perspective of how the day to day routine can be a challenge for learners like Jordan."
Main pic: Apprentice Aaron Houston with Jordan and his newly modified wheelchair