Four lucky history of art A-level students have had a little help from a world-famous artist, reports Samantha King
A team of students have tapped up a Turner Prize winner to make a film for people studying the new history of art A-level.
The four filmmakers from Goldalming College met Jeremy Deller to film an interview at his London home that will feature in course materials countrywide.
They discussed his inspiration and style, as well as the heavily political themes that feature in his work, for instance the 'Strong and stable my arse' posters that have recently been seen around the capital.
After it was almost scrapped by AQA for a lack of financial viability, administration of the A-level was taken over by Pearson, and its revised specification was written by the Surrey college's head of history of art Sarah Phillips, who organised the interview with Mr Deller.
London, I love you. pic.twitter.com/poCPVVqLw3

— James Brian (@iamjamesbrian) May 19, 2017
For the first time ever, the course will look at artists from around the world and will cover contemporary art as well as older works; Mr Deller is listed as one of the artists who can be studied.
"I wrote to Jeremy Deller and said 'look, you're on the specification, can we come and talk to you and do an interview?'" said Ms Phillips. "I'm always of the opinion that it's better if students do these things rather than middle-aged women, so I set up the interview and took a bunch of four students with me.
"They filmed it, put the questions together and sat and asked them. I was just there doing the health and safety risk assessment bits in the background."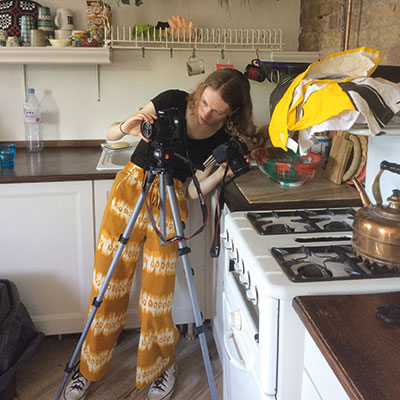 The video created by the students will form part of the resources available to every college delivering the qualification, which will also look at artists of different ethnicities.
"It's only the first year of this two-year qualification, so all these new resources coming online will be fantastically helpful for people," she said.
"One of the things I was keen to do on the new spec was make sure that we had artists of all colours, creeds and faiths. I was keen to broaden it to make it reflective of a multicultural society."
Elaose Benson, one of the students who interviewed Mr Deller, and who is now in the process of editing the video, said the experience had been "amazing", and that she found his views on art "liberating".
One of Mr Deller's more poignant pieces of art is a living memorial to the Battle of the Somme called 'We are Here', in which more than 1,500 actors dressed as First World War soldiers walked around cities across the UK handing cards out to passers-by, with the names of men who died in battle written on them.
"Deller himself says that he was inspired by meeting Andy Warhol as a student, and I have no doubt that this 'real-life' opportunity will be a similar game-changer for our students," said Ms Phillips.
Watch how the 'We are Here' memorial unfolded in Manchester: