Staff at a college who had been due to go on strike for four days this week have called the walkout off following "positive discussions" with management for a new pay "agreement".
University and College Union members at Sandwell College have already been on strike for five days since February, and were due to return to the pickets from tomorrow.
It was one of 10 colleges taking action over pay in the coming weeks during the busy exam season.
However, the UCU has said that positive discussions with the college management on pay have led to an "agreement in principle", which is expected to be signed by both sides tomorrow.
"Following positive discussions on pay in recent days which have led to an agreement in principle, we have decided to call off the planned strike action for this week," said Anne O'Sullivan, a UCU regional official.
"We expect to formalise the agreement with management in our meeting with them tomorrow."
The UCU was unable to show FE Week details of the agreement before tomorrow's meeting.
Now that Sandwell has called off its industrial action, all of the remaining colleges planning to strike in the coming weeks are in London.
The pay disputes follow a below-inflation pay offer of one per cent made by the Association of Colleges in September.
UCU general secretary Sally Hunt has said that her members were "resolute" in their fight for better pay and conditions.
The argument between the unions and the AoC worsened last week, after the latter refused to enter negotiations while industrial action is ongoing.
The various FE teaching unions insist that the body which represents the sector has told them it is "not minded to consider" a pay claim for 2018/19 while UCU members "remained in dispute over the 2017/18 round at any AoC member college".
This is "unacceptable" to the trade unions – which include the National Education Union, Unite, Unison and GMB as well as UCU – which have claimed in a letter to the AoC's boss that he is "attempting to put pressure on some members of one union".
In response, Mr Hughes said: "While a small number of local UCU branches are taking action on the national pay claim, it would not be appropriate to open negotiations on the 2018/19 claim.
"We have written to all the unions to explain our position and we are optimistic that these few remaining disputes will be resolved soon, allowing us to begin negotiations for the next pay round."
Strike action at all other colleges is continuing as planned. Here's the schedule: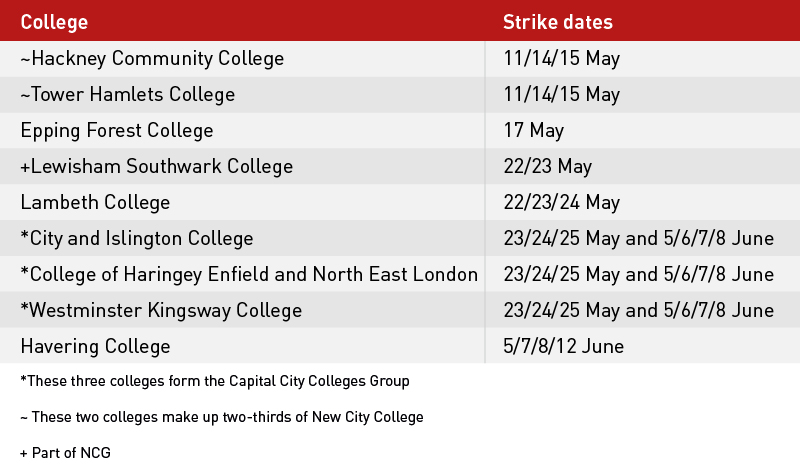 PIC: Sandwell College's building