Steve Frampton will be the next president of the Association of Colleges, taking on the reigns from Dr Alison Birkinshaw in August. We chatted to him about his career to date, and how he came to be so committed to including the student voice in decision-making.
As chair of his school's student council in the mid-70s, Steve Frampton persuaded his fellow pupils to wear socks of every shade of the rainbow. Weymouth Grammar School ended up dropping their ban on coloured socks. "They couldn't expel every one of us!" he laughs.
Frampton laughs a lot. The Portsmouth College principal, who is due to retire this summer, is overflowing with positive vibes that he's planning to channel into the AoC presidency next year.
After 12 years overseeing the growth of the seaside college – ostensibly a sixth-form college, but which also offers apprenticeships to respond to local need – on his 59th birthday, Frampton decided to retire, and gave his notice last September. In May, he was appointed uncontested to the AoC presidency – something that in its ten-year history has never happened before.
While he can't say why for certain, the Big Friendly Giant (as he's been referred to in Too Fast to Think, a book on creativity and leadership) does admit that he "went on the offensive a little bit," sending his manifesto to 100 college principals in April, along with a list of five "powerful hitters" who were supporting his campaign. "Now, what I don't know is whether or not that deterred some people from standing," he muses, "because on the final day where everyone declares their interest, there was nobody else this year."
I went on the offensive a little bit
Such a statement could come over as disingenuous, scheming even, but he manages to project an impression of humility mixed with pragmatism – which might offer a clue as to how he has garnered sufficient respect in the sector to pull off such a coup.
Frampton is a people-person through-and-through. He's involved in all kinds of community projects, such as chairing Portsmouth Football Club's community organisation, which delivers literacy and numeracy projects – basically "everything that's not about football". The sport was his early passion and before an injury took him out of the game, he played semi-professionally for Weymouth FC.
Frampton-the-teen was also an entrepreneur, who would leverage his position as chair of the school council to block-buy tickets for Wembley Stadium. He made sure always to make enough money on the first 52 seats to pay for his own. "It was tiny, tiny amounts of money and I made a bit out of it, but I learned how to run things." Having established his reputation, he started making block bookings to concerts in Bristol, Bournemouth – even London. "No technology, word of mouth. I would sell out the tickets within 24 hours, just like that."
His crowning moment was getting a coach-load of students from Leicester University (where he went on to study) to ball-boy for an England-Northern Ireland match where George Best was playing. "The England ball boys hadn't turned up," he relates. "Their coach had broken down in Kent and we were the first coach there and we looked really smart, and officials from the FA came over – I thought they were joking – and basically said, 'Would you like to be ball boys tonight?'"
Only those students who fit into the 14- to 16-year-old kit were accepted, and Frampton's best friend, who was smaller than him, managed to pull it off. "I've never forgiven him, really," he jokes.
After graduating from Leicester with a first-class degree in combined sciences, Frampton got a PGCE from Keele University, before returning south to begin his career. He taught at Price's Sixth Form College in Fareham, Portsmouth, which then merged with the general FE college, for nine years. He then spent the next decade at "probably one of the most exclusive sixth-form colleges in the country" – Peter Simmons College in Winchester – before landing a role as vice principal of St Vincent College in Gosport – a stark contrast in terms of social deprivation.
When he moved to Portsmouth College as principal in 2005, he took some of the senior team with him, although he denies it counts as "poaching", explaining innocently: "They choose to follow, don't they? They wanted to come and work here and help us build something."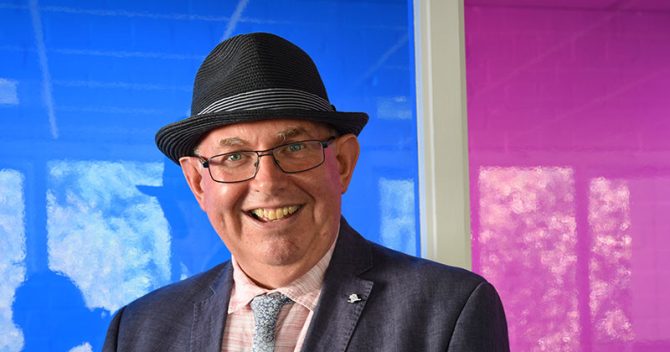 He talks a lot about building a good organisational culture, for which his approach is to "transfer a lot of the professionalism back to your staff. We know that they're working hard, and they're getting the outcomes, and actually, we're having fun".
But how does a college principal strike the right balance between fun and discipline? "You involve the staff and the students in the decision-making process, so we all own it all. It's not dependent on one person and their vision and their ideas, it's a massive, collective responsibility so everybody feels a really big part of this place. So it's very old-fashioned, but there's a massive family culture here."
I think the students are much more sophisticated than we give them credit for
Which brings us back to the multi-coloured socks incident. His point in protesting the school rule wasn't so much to defend the pupils' right to express themselves, as to challenge the imposition of arbitrary rules: "I was just interested in the argument, 'so what's red socks got to do with teaching and learning and assessment?'"
He's quick to point out that it was a great school, and his example is more about the time and context. But it's also the story he uses to illustrate how he first became passionate about student voice. "I think [the students] are much more sophisticated than we give them credit for," is a phrase he uses often.
"Student voice" is one of those topics that turns people off, I say, like "participatory democracy" – it's all very noble, but it just doesn't grab people's attention. Frampton doesn't care. "I believe in the student voice, and I've learnt more from listening to young people – including eight or nine-year-olds – and it has affected my thinking massively, along with talking to staff."
In fact, that's a big part of his vision for the AoC presidency, which he hopes to work on with colleges, the NUS and Ofsted. "I don't think Paul [Joyce – Ofsted's Director of FE] is too nervous about really putting student voice right at the heart of the process along with data," he says, optimistically, "because I think he's always said it's more than data."
Student voice is intimately linked with mental health, Frampton believes – which is another of the "softer outcomes" he'd like to help bring to prominence.
"How are we actually going to measure the college's contribution to improving the resilience and mental health of their student population over the time that they're here?" he asks. "That's quite a difficult one to get your head around really, but I think what's great is there's a willingness to do it."
To guide him in this endeavour, Frampton has a master-plan up his sleeve, which combines his two great passions: education and football.
We've lost a little bit of that fun and humour and beauty
Johan Cruyff, a legendary Dutch professional football player and coach, "wanted to make football the most beautiful game in the world," enthuses Frampton. "Beautiful for players, for coaches, for communities, for spectators, for officials, for everybody." To this end, Cruyff wrote a 14-point action plan, which is revered in football-club boardrooms across Europe.
Frampton thinks the concept could be adapted to education. "Because it really should be really beautiful. It's so valuable. To a certain extent, we've lost a bit of that by measuring it to death and putting in certain processes. It should be beautiful for young people in primary, secondary, FE, and HE for that matter. It should also be beautiful for employers, because they should be able to reap the benefits of it. It should be really beautiful for parents and communities and teachers and managers, and for all of us.
"And I think we've lost a little bit of that fun and humour and beauty, and what I would love is, is if the new Ofsted framework was a little bit more holistic and could help contribute to that agenda."
It's a personal thing
What's your favourite film?
Catch 22. Also One Flew Over The Cuckoo's Nest – film and book. Oh, and Paddington 2, because I thought that was absolutely brilliant!
If you could escape anywhere for a month, where would you go?
Shanghai. It's just so cool. It's the world's most rapidly growing city: colonial history on one bank, then this new development Pudong with a five-million population over 20 years. All of the history of China is there: the Buddhist temples, the Taoist temples, Confucian temples, art, culture. It's so exciting, so dynamic. Yes, the most exciting city on the planet, without any doubt.
What slogan would you put on a billboard?
Education, education, education. And actually what I mean by that is primary education, secondary education and the FE sector. Because it's all three.
Who's your greatest hero?
I've got two great heroes. I'm not a musician, but I love contemporary music, and so I do try and see a lot of live music. I was in London to see some on Sunday at Meltdown, and I think on my leaving do next week a lot of students who are musicians now are coming back to play, because they've been extraordinary here. David Bowie is my great hero, and then Johan Cruyff is my favourite all-time footballer. To lose them both in one year…
If you hadn't gone into education, what would you have done?
I would be Gareth Southgate in Russia now, because that was the other thing I thought about when I stopped playing – I would have loved a career in sport. I love the psychology of sport.
CV
June 2005 Present Principal, Portsmouth College
1998-2005 Vice principal – Strategic, St Vincent College, Gosport
1989-1993 Head of geography, geology & tourism, Peter Symonds College, Winchester
1993-1998 Head of humanities faculty, Peter Symonds College, Winchester
1983-1989 Head of earth sciences, Fareham Tertiary College
1982-1983 Teacher and student liaison officer, Prices Sixth Form College, Fareham
1980-1982 Geography, geology and PE teacher, Prices Sixth Form College, Fareham