Staff at more than a dozen colleges have voted overwhelmingly to strike over pay.
Industrial action is due to begin in the coming weeks, and the majority of staff are planning a two-day walkout, according to the University and Colleges Union.
The dispute follows what a spokesperson for the union described as "a disappointing" pay offer of one per cent, made last September by the Association of Colleges, which represents the colleges on pay.
"The overwhelming support for strike action at these colleges shows the depth of anger about continued attempts to hold down pay in further education," said UCU's general secretary Sally Hunt.
"Strikes are always a last resort for staff, but years of derisory pay offers have failed to keep up with the rising cost of living and patience is wearing thin."
Overall, 92 per cent of staff at affected colleges voted for strike action, on an average turnout of 63 per cent.
Full details of action at each of the colleges will be confirmed in the coming days.
The colleges involved and how staff voted is set out in the table below: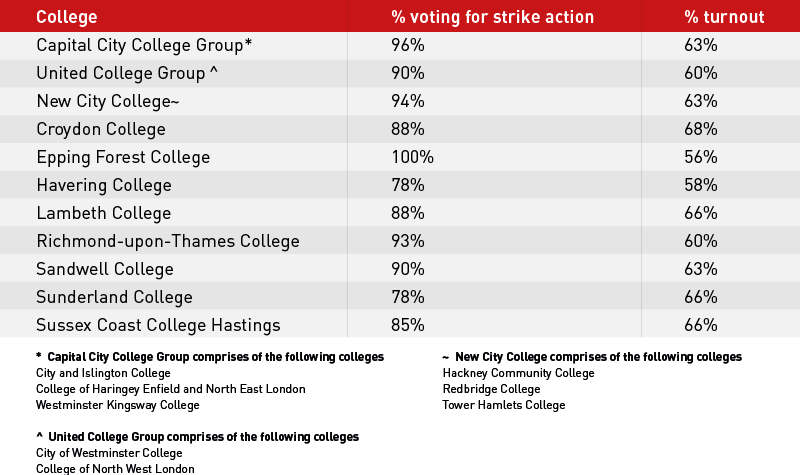 The AoC expressed regret that it was unable to offer more last September.
"We wish we were in a position to make a better recommendation today, but current funding levels for colleges do not allow us to do so," claimed its boss David Hughes.
The National Joint Forum, made up of the unions representing college staff, had submitted a claim for an across-the-board rise of around six per cent in April.
But the final offer made by the AoC was just one per cent, or the sum of £250 "where this is more beneficial".
This was despite the police and prison officers learned earlier this month that they would will this year receive a pay rise above the one-per-cent cap imposed on the rest of the public sector.
Mr Hughes has spoken this evening of his sadness at the ballot result.
"I appreciate that the decision to strike is never a decision taken lightly, but it is disappointing that this action is being taken so soon after we agreed to work together with unions to campaign on fair funding for colleges," he said.
"I am very committed to that joint work to keep up the pressure on government.
"When we made the recommendation of 1 per cent, or a minimum of £250, we were clear that this was the maximum we believed was affordable by colleges, given the severe funding cuts which they have been subject to in recent years.
"We have been campaigning and putting pressure on the government to address the inadequate funding levels and that has been recognised by no less than the chief inspector and the FE Commissioner themselves. We will not waiver until we achieve fair funding for colleges.
"I have said before that it is not acceptable that teachers in schools are earning on average £37k compared with only £30k in colleges; we all know that the funding cuts colleges have had to cope with are responsible and that is our focus for action."