Staff and students at a Liverpool college facing "financial crisis" are fuming that they must now pay £600 per year to use a car park on campus that was previously free, after it was sold-off to a secret buyer.
City of Liverpool College has repeatedly refused to name the new owner of its Vauxhall Road campus' car park, understood to be a private party which swiftly introduced the charges.
The move is so unpopular that angry staff contacted FE Week to complain anonymously, while the University and College Union has also spoken out on their behalf.
"The college needs to explain to staff and students why it sold a facility that was previously free for staff and students to park at," a UCU spokesperson told FE Week.
"We expect the college to publish the full details of the sale."
FE Week was also shown a copy of a letter sent to staff, which provided a "final reminder for car parking permits" for the site.
It said: "As previously confirmed, the daily charge will be £3 a day."
It also explained permit parking rates, which have come into force this month – with the rate set at £54 per month, and £310 for six months.
The annual £600 permit charge, the letter said, can be paid-off "£50 monthly through salary over 12 months".
However, only one registered car is allowed on site per permit holder at any given time.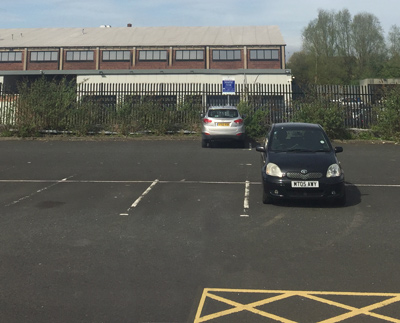 FE Week also visited the car park, where we witnessed permanent signage confirming the prices and installed by Britannia Parking, a private firm which manages the site for the new landowner but which also refused to reveal its identity. 
There was also a temporary sign attached to railings [pictured above], apparently on behalf of the college.
The college, which declined to comment on the sale, posted a 2015/16 group deficit of over £15 million, and is understood to have sold the site to help pay off its debts.
It was recently revisited by the FE commissioner's team, and a report warning of "financial crisis" was published in March – along with a letter from apprenticeships and skills minister Robert Halfon.
"The college was re-referred for FE commissioner intervention because of failures of financial management," he wrote.
"Last year, the college's budget outturn was £8 million worse than planned, and it required £2 million exceptional funding from the SFA to continue operations."
He also raised "particular concern" about the college's oversight of its majority owned independent training provider – First4Skills.
This Liverpool-based company went bust in March, affecting around 200 staff and 6,500 learners, after the former Skills Funding Agency pulled its contract following a grade four Ofsted rating.
The college, which has five main campuses – all located in the Liverpool City Council Local Authority area – had an initial FE commissioner intervention in December 2013 following an 'inadequate' Ofsted inspection and an SFA assessment of its 2012/13 financial health, which was also graded 'inadequate'.
It was on surer ground by November 2014, following an improved Ofsted rating ('requires improvement') in April 2014, and improved financial performance ('satisfactory') in 2013/14.
However it was referred for another intervention last January, after it informed the SFA that it needed £2 million in exceptional financial support to cover working capital requirements, prompting a further notice of concern in February.
The latest FE commissioner report summary said: "During the November stocktake the team were concerned about some of the college board's responses to the 2015/16 financial crisis."