The Institute for Apprenticeships has officially begun its spring cleaning of old standards, and started by withdrawing three in the digital sector.
A review of 12 digital apprenticeships developed prior to April 2017 got underway in September to ensure their content is of high-quality, meeting employer needs and do not overlap with each other.
The outcome, unveiled at an event in London today, reveals that six of the standards will be retained as they currently are but also "revised" to "ensure the content is relevant and up to date".
The six other apprenticeships in the review will become three, with the content of those being withdrawn being merged into the three that are being kept.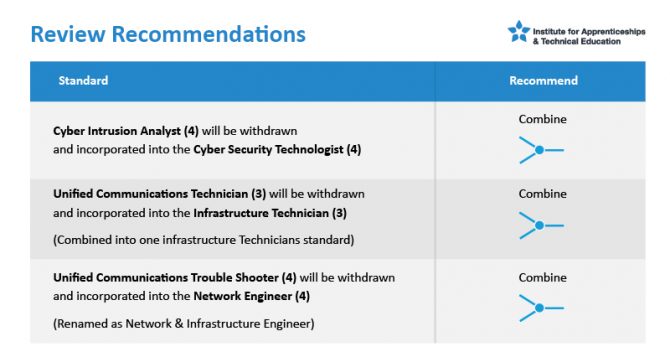 The institute said it will seek to approve the revised and merged apprenticeship standards, which may include new assessment plans and funding bands, within 12 months of today's announcement so that the existing standards can be withdrawn.
Asked what this meant for end-point assessment organisations currently assigned to the standards that will be merged, Gerry explained they'll have to rebid to assess the apprenticeships once they've been signed off on.
"The trailblazer will go back in, look at the knowledges, skills and behaviours for both merging standards, see what needs to come in for the new standard, and at the end of that will review what the assessment plan should be to test it," he said.
"So the end-point assessment will be rewritten. At that stage, the current EPAOs delivering the two standards can bid to deliver the new merged standard. There will be a change."
Ana Osbourne, the IfA's deputy director for apprenticeship approvals, stressed that any apprentices who have started on the existing standards will "continue on them and finish" in their current form.
Last year the institute came in for criticism for having failed to carry out any formal review of duplicate, narrow or low-skill standards since its launch.
Taking account of people on existing apprenticeships as we go through the review process is really important
It was urged to do so "at the earliest opportunity" by Lord Sainsbury in his report of the independent panel on technical education, published July 2016.
The peer made clear he was concerned about standards that overlapped, were too job-specific, or lacked enough technical content to justify 20 per cent off-the-job training.
The digital review was the IfA's first statutory review of apprenticeship standards for a specific route. The institute has 14 other routes which will be reviewed over the next couple of years.
Those next in the pipeline will be in hair and beauty and creative and design, which will both commence in July 2019.
Following this, the agriculture, environment and animal care route review will get underway in September, followed by engineering and manufacturing in October.
It is not yet known how many standards will be involved in each review.
When the IfA first launched it had been planned that each standard would be reviewed every three years.
Asked today what this meant for standards that, for example, last for six years, Gerry said this timeline was no longer used.
"The plan for three year reviews was written in somewhere but it has never been in law, it has always been periodically," he told FE Week.
"Taking account of people on existing apprenticeships as we go through the review process is really important so we don't leave them high and dry halfway through an apprenticeship, we'd never want to do that."
He added that the periodicity of the reviews will depend on the age of the standards and how many there are. The IfA is prioritising its first route reviews on standards linked to T-levels.
The IfA celebrated signing off on its 400th standard in February and around another 100 are expected to be launched by next year.
Gerry said the "impetus" was initially to get a significant number of standards available so that the government can turn off frameworks, but his institute will soon have the resource and time to focus on reviews instead.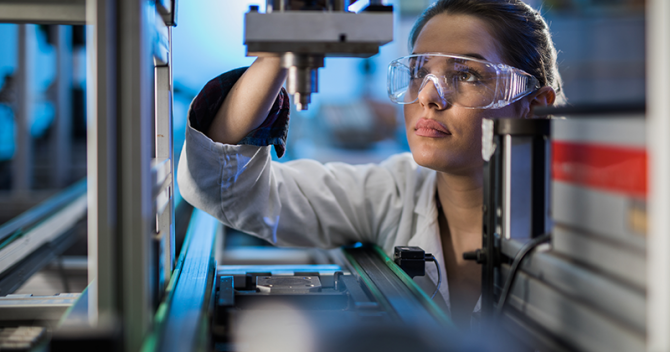 "Even though there are still standards coming through the pipeline, they're not coming through at the same pace which does give us the capacity to start to look at historic standards," he added.
"I wouldn't want to set a number against how many standards there will be because it always fluctuates slightly but we are now reaching a stage where the volume is reducing and that gives us the time to look back at existing ones."
The IfA also used today's event to officially launch its trial of gender-neutral language in digital standards. It comes after FE Week revealed the plan earlier this month (read more here).