The Level 4 and 5 higher technical education (HTE) space has been the subject of much attention in recent months, with the Department for Education's Review of Level 4 and 5 Higher Technical Education (HTE) highlighting the great potential of and need for this type of education. The government is focused on strengthening this landscape to support UK productivity needs, and have recently released a consultation outlining their proposals for how to do this, with a focus on employer recognition for HTE to support student progress into careers. The role of further education colleges, National Colleges and Institutes of Technology in delivering a high-quality learning experience is also key in their proposals.
We agree that there is a need and opportunity for more young people and adults to be undertaking HTE in future. The 2017 CBI/Pearson Education and Skills survey of 500 employers, between them employing over 3 million people, found that three quarters of businesses (75%) expect to have more job openings for people with higher-level skills (at levels 4 and 5 – equivalent to the first and second year of an undergraduate degree) over the coming years while just 2% expect to have fewer. Well over half of businesses (61%) are not confident there will be enough people available in the future with the necessary skills to fill their high-skilled jobs. We know that there are skills gaps at levels 4 and 5 which need to be met to ensure that UK productivity is maintained.
 BTEC Higher Nationals – high-quality HTE
Pearson recognise and support the value of Level 4 and 5 higher education and have a long history of supporting and developing education in this space. The Pearson BTEC Higher Nationals (HNs) represent the best in higher technical education as defined by the DfE in their 2017 action plan (Post-16 technical education reforms T level action plan October 2017). BTEC Higher Nationals are designed to support a broad range of learners, including older age groups, into higher level skilled occupations. They are developed with employer guidance and input at all stages. A HEFCE-commissioned report found that 'Overall, employers have a reasonable awareness of the different types of intermediate qualifications, being most familiar with Higher National Certificates (HNCs) and Higher National Diplomas (HNDs) [at levels 4 and 5 respectively] (79%), followed by foundation degrees (67%)' ('Employer demand for intermediate technical education in higher education', Report to HEFCE by Pye Tait Consulting (September 2016), p.8.) The HNs also align with Higher Apprenticeship Standards in key technical sectors, further supporting employer needs and student outcomes. And wherever possible professional recognition is built into the HNs, either by becoming recognised by professional bodies, or providing exemptions to professional qualifications.
As well as supporting the student journey to professionalisation and employment, importantly the HN route doesn't cut off progression opportunities for those students who want to continue their higher education journey after completing a HN via features that ensure students are prepared to progress directly into Level 6 study.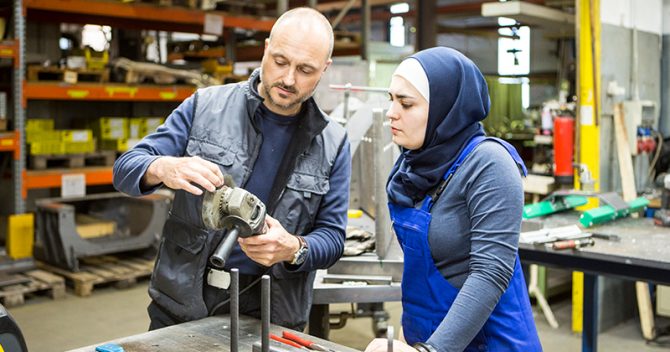 HTE can be very beneficial for students who undertake it. Recent research has shown that students studying on HTE qualifications in scientific and technical areas like Engineering can earn up to £5,000 more a year than people with degrees from many universities. To meet the HTE opportunity for both students and the economy, HTE needs to be available to as broad a group as possible – level 4 and 5 education can be used for both upskilling and retraining, and also to broaden choice for young people who are choosing what they want to do post level 3 study.
The BTEC Student of the Year for 2019, Christopher Meredith, is a great example of what HTE can do for students (https://youtu.be/jtWu995gJHs). Chris is an HND Civil Engineering student at Leeds College of Building. He returned to college to study, and now communicates with project teams all around the world, and is instrumental in solving complex civil engineering problems for Jacobs Engineering. In March, Chris gained the Institution of Civil Engineer's Quest Technician Scholarship – awarded to Apprentices of only the highest calibre. He has thrived on a course that blends a college and work environment. As he puts it he uses his knowledge at work and his work knowledge at the college. He is an ambassador for STEM and for the college, going out to local schools to talk about the college progression opportunities available to students.
Chris's story shows how BTEC Higher Nationals can work to support student progression, bringing together employer, college and student benefits.
 Partnering for growth – Commissioned Higher Nationals
So how do we work to meet the need for more high-quality HTE? Partnership is essential in delivering the best HTE qualifications and learning experiences. Pearson works with employers, professional bodies, FE colleges, the new Institutes of Technology, universities and students themselves to design the type of high-quality career focused higher technical education described above. As Rosa Wells, Director of Employment and Skills at Solihull College and University Centre, part of the Greater Birmingham and Solihull IoT says 'We have ensured that Higher Nationals in Engineering sit at the heart of the IoT offer as a tried and tested approach to supporting non-traditional learners to transition into Higher Education as well as developing essential skills to secure career progression. Employer feedback confirms the value of the HNC brand within engineering and the flexibility of its design allows us to adapt the teaching to meet different industry needs'.
And partnership in qualification development is the model that underpins the Commissioned Higher National service. Using this service we can create bespoke BTEC Higher Nationals to support you in meeting the level 4-5 technical education agenda and satisfying local employment needs – working with you and your local employer partners. Pearson will consult with you on the design and validation of a unique BTEC Higher National qualification that is fit for purpose to fill identified skills gaps in relevant sectors and industries. Examples of developments we can support include: upskilling existing employees in technical or professional sectors e.g. Engineering, Healthcare, Construction, and beyond; development of HNs in niche sectors to enable students to progress into local or national employment; providing an HN to support the on-programme element of specific Higher Apprenticeship Standards.
 As part of the Commissioned Higher National service we offer:
–       access to subject matter expertise across a wide range of sectors including Engineering, Construction, Health & Social Care, Computing, and many more;
–       support from a dedicated representative from the BTEC Higher Nationals team who will work alongside you throughout the development process;
–       the option to commission full HN qualifications or individual bespoke units to support local employer and skill development needs;
–       a bespoke educational product that has undergone our rigorous validation process, with involvement from industry partners, so you can be confident that it meets requirements;
–       a competitive advantage should you wish to retain the Intellectual Property (IP);
–       further development of progression opportunities via university engagement and articulation.
 The Commissioned Higher National Service in action
In 2018, representatives from Pearson's Commissioned Higher National development team worked in collaboration with BMW to develop a new BTEC Higher National Certificate (HNC) in Manufacturing Operations. The development of this qualification was truly collaborative. BMW were involved in each stage of the process, from inception to identifying key unit content, resulting in a qualification which clearly meets their needs.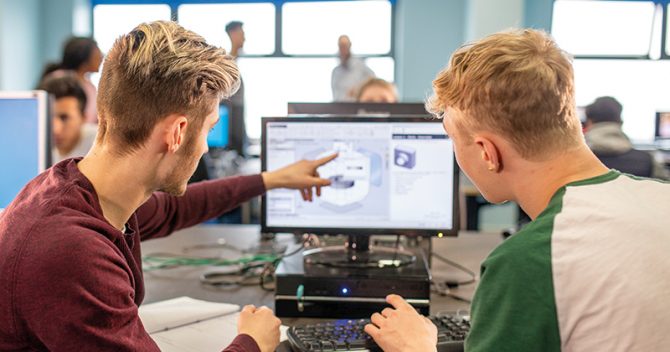 The HNC in Manufacturing Operations qualification was also designed to support the delivery of the on-programme element of the Level 4 Process Leader Higher Apprenticeship standard, so can also be used by organisations with high volume manufacturing or advanced manufacturing processes, in which large volumes of products are made in assembly, moulding, metal processing, chemical processing, pharmaceutical, textiles, food and drink or similar processes.
In 2017 the College of Policing announced a new bursary scheme for 2017/18 providing officers and staff in police forces in England and Wales with the opportunity to apply for funding of up to £3,000 per year (for up to two years) towards tuition fees to complete higher education studies. Responding to this need, North Warwickshire and South Leicestershire College has worked in partnership with Pearson's Commissioned Higher National development team to develop a new BTEC Higher National Certificate and Diploma in Policing, currently available to all approved centres in England for first teaching from September 2017.
The BTEC Higher Nationals in Policing provide a practical higher education qualification that can widen participation for those who would not previously progress to university, and should enhance career opportunities for those living in the local and wider communities of the College. They are recognised by the College of Policing and listed in their qualification directory. 
Starting a conversation
If you would like to learn more about how Commissioned Higher Nationals can help you grow your higher technical education offer and support your work with local employer partners, or you have an idea for a development opportunity or would like to talk about BTEC Higher Nationals in general please contact  highernationals@pearson.com to start a conversation.
For more information, visit qualifications.pearson.com/commissionedhn.