The DfE has announced that £5.4 million in funding is available to colleges as part of the College Collaboration Fund (CCF).
The CCF is a national programme of competitive grant funding for all statutory further education colleges in the UK. It enables colleges to collaborate and share good practice and expertise to address common quality improvement priorities.
CCF funding can be used on a variety of projects, however, the DfE has highlighted the need for more 'engaging digital content and resources' as a specific quality improvement need in their CCF guidance.
A year for reactive innovation
The previous year has highlighted an urgent need for digital content and resources that allow for more flexible teaching options.
In response to three national lockdowns and a 'stay at home' order from the government, we have seen colleges rise to the challenge of delivering remote learning. Practitioners have been forced to get to grips with Google Classrooms, Microsoft Teams and other online platforms to deliver face to face lessons via video call, which has resulted in a surge of EdTech skills development and a wider understanding of the benefits that can be realised from online learning.
This quick response to a critical situation has seen results vary across practitioners, providers and student demographics, and while some students have engaged well with this remote learning, many have been negatively impacted by the situation. In fact, the Association of Colleges (AoC) recently conducted a study to better understand the impact of Covid-19 on both students and learning providers, which found that a staggering 77% of 16-18-year-olds were underperforming on their courses. To combat this, 71% of colleges provided additional tuition over and above the tuition fund – causing financial stress to providers and a strain on tutors' wellbeing and work-life balance.
The online delivery model that has emerged over the past year is certainly not a model that is sustainable, as the teacher led online learning that we have got used to requires human resources that would otherwise be employed in the classroom. The quality of delivery is highly dependent on the individual teacher's familiarity and confidence with online platforms, as well as their ability to manage the lesson, and deal with student issues remotely.
A longer-term solution
Teacher led online learning has played a vital role over the past year. But what is needed now are high quality, digital resources that that can be used flexibly by staff and students to deliver consistent, high quality learning, without the need for teacher facilitation.
The College Collaboration Fund allows colleges to build longer term, best practice digital content and resources that can be used alongside face-to-face teaching to support a remote and blended delivery. This will help FE Colleges to enhance the learning experience for learners and provide opportunities to address the lost learning time that is a result of the pandemic.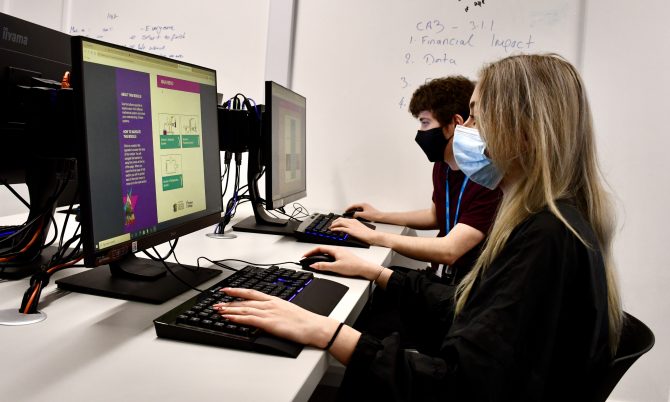 E-learning for 2021 and beyond
Young adults consume a huge amount of digital content in their day to day lives. They are the Instagram/YouTube/Netflix generation, who look to online platforms for their entertainment, social communication and learning needs.
According to Ofcom's Online Nation 2020 report, 55% of 16+ YouTube users, do so to access how-to videos, tips or tutorials.
They want instant access to relevant content, and colleges should recognise this as an opportunity to deliver engaging learning to students that are motivated to learn. Merging technological capabilities with a solid pedagogical foundation is key to delivering on this.
Through the evolution of online learning, we now understand a lot more about what makes digital learning content engaging for students. Whereas in the past colleges may have considered a repurposed slideshow with a short quiz as a viable form of e-learning – indeed this was often the case due to the limited funding available – now we understand that higher levels of interaction are required to keep students engaged, to reinforce learning and to assess their understanding. With funding opportunities such as that offered through the CCF, colleges have the opportunity to create truly engaging, online learning content that taps into how students are accessing information digitally in their everyday life, and utilising that delivery method to offer further flexible learning opportunities.
E-learning has come a long way in recent years. It is extremely versatile and can incorporate multiple interactive activities such as branching scenarios, embedded video and interactive graphics. Bite sized modules and gamification make learning much more engaging and easy to digest. Updated e-learning standards allow for rich user data to be gathered which can be used to assess learner progress and engagement with the resources. This means that colleges are able to create engaging digital learning resources to support the learning of students across curriculum areas, and at any level.
Students studying practical courses have been some of the hardest hit by Covid-19 as previously the delivery of these courses, such as Engineering and Hair & beauty, relied on practical study and physical resources within the college. However, with the right planning, e-learning can be used with these students to teach theory, practice through simulations and revise key concepts, providing colleges with another means of engaging the students, and giving students the opportunity to catch up on missed learning time.
See how Eidos Consulting used e-learning to allow students across a large number of Engineering courses to apply their knowledge of Ohm's law. View the module.
Delivering quality improvement in digital content and resources
Delivering a longer-term solution for online learning requires a good deal of investment. And with college finances and human resources being as stretched as they are, this is an investment that may have been out of reach for individual colleges. However, the College Collaboration Fund provides an ideal opportunity for you to collaborate with other colleges and delivery partners to share the development of these resources and access significant funding to cover the costs of developing high quality e-learning content.
Working with the right delivery partner to develop digital content and resources allows you to bring in expert resources to deliver your project whilst still ensuring the involvement of your own subject matter experts and upskilling of your learning practitioners.
At Eidos Consulting, we combine our ability to produce engaging online learning resources with a true understanding of learning facilitation, which has been developed through our many years' experience as FE practitioners – Something that is often missing with other e-learning providers. We work with colleges to plan effective use of their online learning budget, train staff in how to create content for online learning, and produce e-learning that is tailored to the specific needs of the college and its learners. We offer colleges a fully managed service, from initial concept through to delivery and ongoing maintenance, allowing colleges to remain focussed on delivering learning to their students.
Having already successfully delivered a CCF project, we are able to offer colleges support with delivering their own projects, as well as the application process prior to the 21st May 2021 deadline.
If you are interested in working with a delivery partner to develop digital content and resources, contact Eidos Consulting via info@eidosconsulting.co.uk or call us on 02392 049583.
For more information about our services: E-learning for Further Education – Eidos Consulting.