"You are helping to improve the national culture around skills and apprenticeships" was the message from Robert Halfon to EuroSkills Team UK at a special send-off event in Westminster today.
The apprenticeship and skills minister gave a heartfelt speech to the 22 competitors who are flying out to Sweden tomorrow.
Mr Halfon congratulated them on their success so far and urged them to carry on increasing the "prestige" of skills and apprenticeships in the country.
"We always debate government policy about apprenticeships, whether they are good or bad, whether things can be improved," he said. "But one thing is clear, we can have the best government voices in the world but it will make no difference until we improve prestige and change the conversation about skills and apprenticeships.
"These competitions and this team, the competitors and experts, do more to change the culture and prestige than almost anything else that I can see.
"I want to congratulate all of you for doing a remarkable job. Let this work continue and carry on winning medals.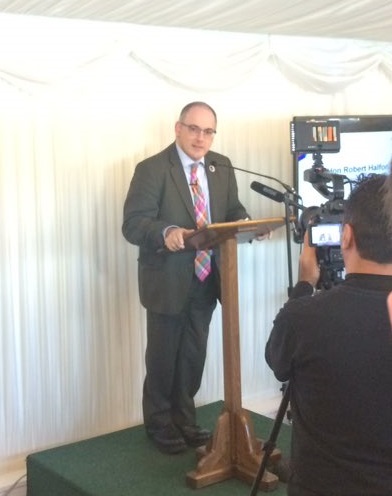 "Although you are winning medals for WorldSkills you are helping to change the national conversation and the culture to make skills and apprenticeships be seen as a number one occupation to do in our country."
The minister was one of many passionate voices at today's event in the Terrace Pavilion at the House of Commons, where parents, team leaders and staff from WorldSkills UK, which organises the UK's WorldSkills entries, came to say good bye and good luck to the competitors.
Peter Bakare, a former Team GB volleyball Olympian who competed at London 2012, is now a WorldSkills UK's performance coaches and offered the team some words of encouragement.
"Being an Olympian I can really understand what these guys go through in terms of honing their skills and trying to get better. I've seen these skills in action at The Skills Show and it is amazing to see the level of detail and skill they have.
"They're flying out to Sweden tomorrow so all I can say is guys, go out there and go for gold in Gothenburg."
Neil Bentley, chief executive of WorldSkills UK, said the team going to Gothenburg will be "fantastic" and those taking part in international competitions will reach levels of achievement at a young age which "many aspire to do in their entire careers".
He would not make a firm prediction for the medal total when pressed by FE Week but did admit the team were looking to "build on" the haul of three golds, six silvers and three medallions for excellence they picked up at EuroSkills 2014 in Lille.
"We're always looking to build on the platform," he said. "Our measure of success will be compared for how we do in Lille so obviously we would like to do better than that."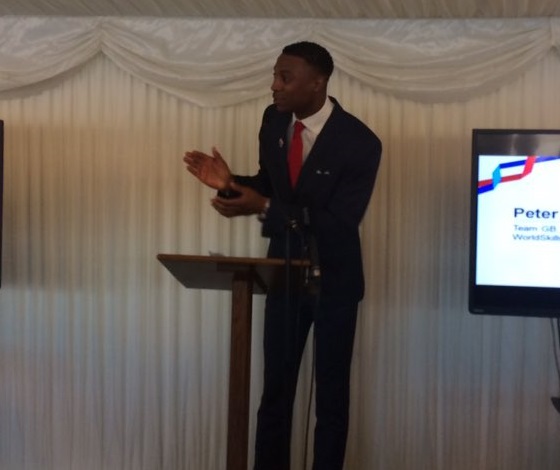 The competitors were each issued with a special enamel pin at today's event.
Cabinet making competitor Angus Bruce-Gardner, aged 21, said: "It is a great achievement to get this far and I'm really looking forward to going out to Gothenburg.
"All of the weekends and evenings I've been putting into this is paying off and I'm ready to go out there and do it now."
Angus' mum Beth and dad Ian were at the event and will be traveling out to Sweden to cheer him on all the way.
"We're absolutely incredibly proud of him," Beth said. "It is amazing that we are given this opportunity to come to events like this and share the journey with him."
Unfortunately one member of Team UK won't make it to Sweden.
Visual merchandising competitor Chloe Wills had to withdraw from the competition due to personal reasons.
A WorldSkillsUK spokesperson said: "WorldSkills UK took the decision not to replace Chloe Wills, the competitor in visual merchandising.
"We have a duty of care to all our competitors on our training programme and because we were informed of Chloe's decision only two weeks ago, we could not ensure that the replacement competitor would have sufficient preparation time to prepare to compete internationally."
The rest of the team will fly to Sweden tomorrow, in preparation for EuroSkills, which will run from December 1 to 3 and FE Week will be joining them.