Unemployment has returned to politics with a vengeance. The number of young people not in employment, education or training continues to rise across the country, fuelling concerns of a 'lost generation' that will impact the future growth of the economy. The opportunities for adults with minimal qualifications is similarly bleak.
The solution is to implement a highly efficient and supportive skills system. Or at least it should be, according to many of the speakers who headlined the 'Sustainable Employment through Skills' Conference, held at the America Square Conference Centre on December 14.
The event, organised by the Association of Employment and Learning Providers (AELP) and Centre for Economic & Social Inclusion, attracted more than 100 attendees hoping to find a balance between the needs of employers, training providers and the public.
Lord Victor Adebowale, Chief Executive of Turning Point and UKCES Commissioner, was quick to ignite the morning session with a passionate presentation about the impact of skills on employment prospects.
Lord Adebowale said: "I've seen the same problems come round time and time again.
"Quite frankly they get exploited or left behind – we know that."
"The solutions lie in understanding the question of skills, and how skills are the fuel for moving people out of poverty, into work and moving the economy into growth."
Lord Adebowale emphasised the dwindling prospects of people with low skills, and said that those with higher level qualifications were having to compete increasingly for elementary jobs.
"People with low skills are less likely to be employed. Quite frankly they get exploited or left behind – we know that.
"The lower the qualification, the less chance of employment."
Lord Adebowale added: "People with higher level skills are taking elementary jobs which means fewer opportunities for unemployed people.
"Skills development does work, but the impact is seen over the long term. Training should be attached to the needs of the individual, it should meet employer needs and include an opportunity to put skills into practise."

Tony Wilson, Director of Policy and Communications at the Centre for Economic and Social Inclusion opened the conference, but could offer delegates little hope.
"It's been another pretty poor month in the labour market, and in the labour market statistics," Mr Wilson said.
"Employment broadly flat, or slightly down, unemployment is up from last month, and another large rise in youth unemployment."
Alan Cave, Delivery Directorate at the Department for Work and Pensions, used the morning session to remind delegates about the development of the Work Programme, and its effect both on the unemployed and those in need of skills.
"The design of the work programme is already showing signs of driving a better integration, and an easier integration between the world of employment support and the world of skills; bringing those together in a way that we have always wanted to but often found it quite difficult – particularly in government."
The Work Programme is the government's flagship scheme for supporting the most vulnerable people into work, as well as helping to remove people from benefit dependency.
"The skills story is a more subtle one and a more complex one than just formal qualifications"
"To give you a notion of its scale, during the lifetime of the programme, which is 5-7 years, we now project that over 3 million people, 3.2 million people actually will pass through the programme," Mr Cave said.
"We expect over 1.5 million people to be on the programme at its peak period and in this first year, so it started in June and up until the end of March, we now quite firmly project that over 650,000 claimants will have started on the Work Programme."
Mr Cave explained the payment by outcomes approach adopted by the Work Programme, and how it has stimulated innovation in the way providers operate.
"We pay for outcomes, but we give absolutely minimum prescription, so I do believe we've kept to our word on that in terms of what we as a contracting commissioning authority tell providers they must do," Mr Cave said.
"In effect, they are free to operate, to learn, to innovate, and to do anything that gets our people back into work – and into sustained work."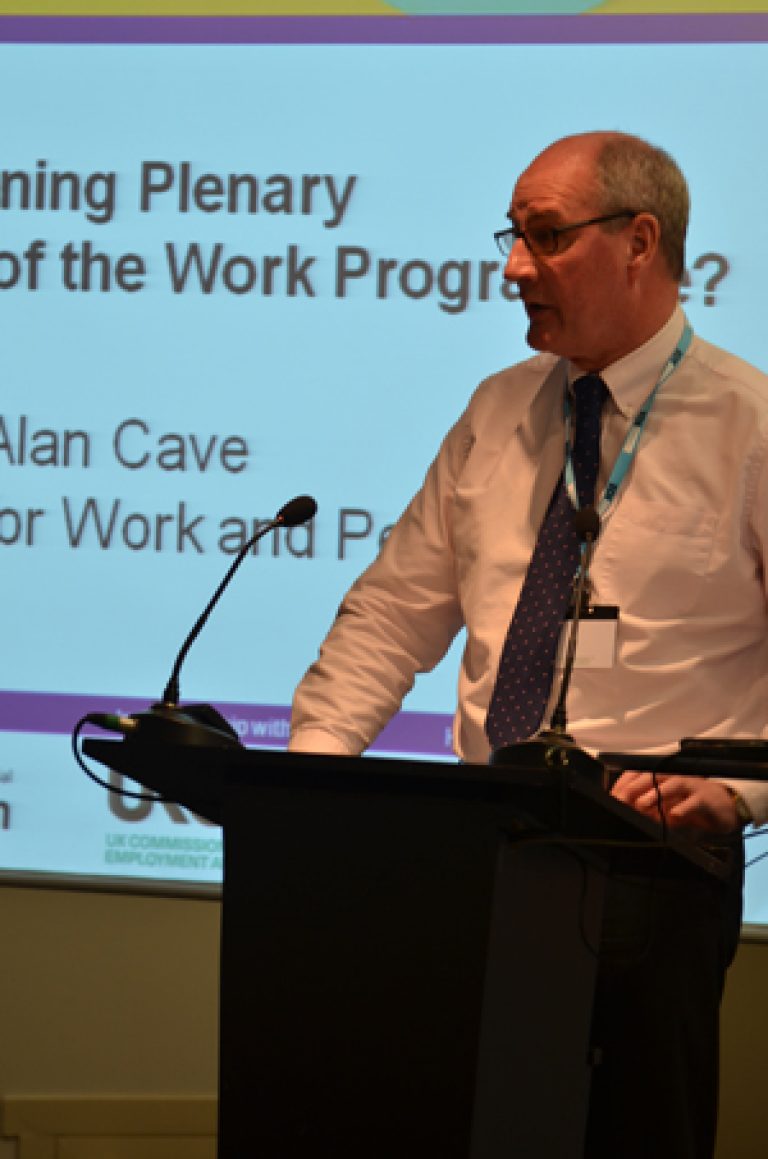 Mr Cave emphasised, just as Lord Adebowale did, that young people with low qualifications are at a significant labour market disadvantage.
"The skills story is a more subtle one and a more complex one than just formal qualifications," Mr Cave said.
"We know there's a big story there about soft skills, the skills employers really value and often make the difference between employing someone and not employing someone, or certainly giving people advancement."
The conference later held a plenary session with Dr Adam Marshall, Director of Policy and External Affairs at the British Chambers of Commerce, Neil Cranberry, Director for Employment Affairs at the Confederation of British Industry (CBI), and Moira McKerracher, Assistant Director at the UK Commission for Employment and Skills.
Mr Cranberry spoke, among other issues, about the importance of partnerships between educational institutions and businesses.
The presentation touched upon the vital role of careers advice, a debate increasingly voiced in the run up to the launch of the National Careers Service.
"Careers advice was great when you came out of the school gate at 16 or younger, in earlier years, and it was the choice of the factory department store, or the other factory," Mr Cranberry said.
"Well that's not the way the world is."
Mr Cranberry added: "We need to get early messaging in about what business needs, and we need more from the Department for Education (DfE) to do that."
The afternoon hosted a series of simultaneous breakout sessions and a panel discussion featuring Graham Hoyle OBE, Chief Executive of the Association of Employment and Learning Providers, and Lesley Davies, Assistant Chief Executive and Director of Policy at the Association of Colleges (AoC).
The conference later closed with a final plenary, titled 'Skills in the Work Programme: What will success look like?' with Mr Hoyle and John Hayes MP, Minister of State for Further Education, Skills and Lifelong Learning.
The 'Sustainable Employment through Skills' conference showed that tackling unemployment is a task not only for FE colleges, but training providers, employers and government agencies as well.
While there is plenty of support for better engagement and involvement from employers, good intentions will only be proven, as always, by good action.