"We want the Department for Education to love our colleges" was the message from sixth form staff marching across Westminster to hand officials a £700 million invoice today.
After 25 colleges voted to take strike action today, staff turned up in their hundreds in Westminster to sign the invoice they say represented the funding shortfall for post-16 education.
The strike was orchestrated by the National Education Union (NEU) and joint general secretary Mary Bousted told the strikers: "We want the DfE and the government to love our colleges and value the essential work you do.
"We want them to listen, and we want them to act."
NEU's joint general secretary Kevin Courtney said he was "pleased" with the £400 million promised for 16 to 19 education by the Treasury in August, but "we just think there is another £700 million after that we are going to need to get from them".
It's dramatically impacting on young people's life choices
Shadow FE minister Gordon Marsden had been due to speak, but had to pull out due to Brexit duties; but Labour MP and NEU member Nic Dakin did attend, and said: "Keep putting pressure on us in Parliament, because we need it.
"I bang away week in and week out on 16 to 19 funding – I am a boring record; I need more boring records to get the message out."
The march set off from Sanctuary Building, opposite the Home Office, past the Houses of Parliament and then down to the Department for Education.
Asked why she was out on strike, Niamh Sweeney from Long Road Sixth Form College in Cambridge answered: "There are schools expanding their sixth form in Cambridgeshire, funded at almost £2,000 more per student than we are.
"We've had huge cuts in subjects, support staff have lost their jobs, we don't have in-classroom support for any learner with SEND anymore and it's dramatically impacting on young people's life choices."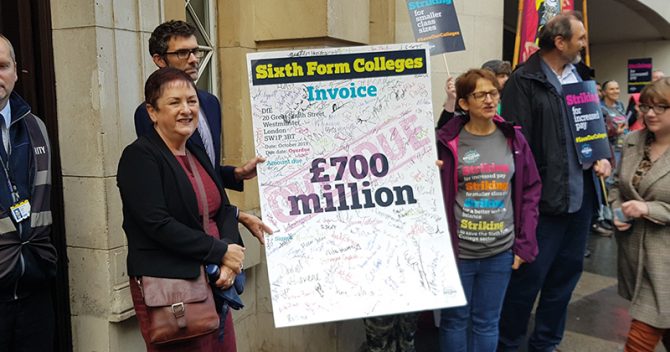 NEU representative for City & Islington College Pippa Dodswell said their support services, such as IT and HR, had been "absolutely decimated" and centralised following a merger with Westminster Kingsway.
Manish Patel from The Sixth Form College Solihull said the funding cuts had led to "bigger classes, cuts in the arts and humanities and languages – so it's not equipping students for the 21st century economy".
When the march arrived outside the Department for Education, Bousted and the NEU's national executive member for post-16 Jean Evanson handed the invoice to a member of staff while the strikers lined the pavements by the entrance.
Support services have been absolutely decimated
While sixth form college staff participated in the strike, none of their principals were there in support.
The Sixth Form Colleges Association, which runs the Raise the Rate campaign calling for more 16 to 19 funding, said the leaders did not back the action as it would have disrupted teaching.
Bill Watkin, chief executive of the SFCA, added that it was "important to note that this strike action is not targeted at the colleges".
The NEU is looking at further strike action on 5 November and 20 November.