The Institute for Apprenticeships has been criticised for refusing to publicly share a presentation given to employers about a worrying imminent apprenticeship overspend.
Gordon Marsden, the shadow skills minister, described the latest example of a lack of transparency at the institute as "disappointing" and has said he will write to the government agency demanding its release.
FE Week revealed on Monday that the apprenticeships budget for England is set to be overspent by £0.5 billion this year, rising to £1.5 billion during 2021/22 – which has raised many concerns across the education sector.
The IfA is obviously getting closer to government and is catching the non-disclosure germ
It came after Robert Nitsch, the IfA's chief operating officer, presented the figures during an event for employers held at Exeter College on Friday.
When FE Week learned of the presentation we asked for the full slide pack but the IfA has refused to release it.
A spokesperson for the institute said the decision to keep the presentation hidden was made because "the slides were produced specifically for the stakeholder engagement event and were not intended to be shared beyond this".
After being informed of the secrecy, Mr Marsden (pictured) said: "It is certainly disappointing and slightly undermines what I imagine was the purpose of the exercise which was to reassure stakeholders and employers.
"The IfA is obviously getting closer to government and is catching the non-disclosure germ from the attorney general in parliament yesterday.
"I don't have the ability to hold the IfA in contempt but I will be very happy to write to the institute about why this can't be made more accessible."
He added that it could be the case that it is the Department for Education who has told the institute not to share the full presentation, in which case he will "be writing fairly sharply to the minister".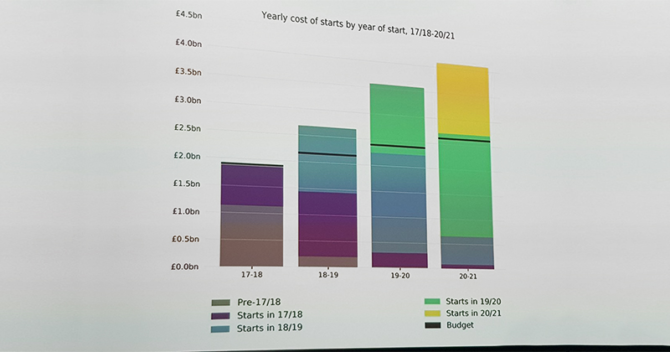 This isn't the first time the IfA has been criticised for not being transparent.
FE Week reported in August that the institute refused to publicly reveal the recommendations from its controversial funding band review of apprenticeship standards – despite sharing them with the employer groups involved.
The institute also heavily redacts the minutes of its board meetings on a regular basis.
The levy overspend problem – which comes despite the volume of starts dipping – is understood to be the result of higher per-start funding than first predicted, largely driven by the sharp rise in management apprenticeships with high prices.
As more and more people start on these expensive apprenticeships, the monthly on-programme costs quickly accumulate.
Mark Dawe, the chief executive of the Association of Employment and Learning Providers, has demanded an "open debate on how the levy operates" following the revelation.