FE providers may have to fulfil a new set of criteria in order to be approved by the government as fit to work with employers on delivering apprenticeships, FE Week has found.
In the coming months, the government will hold a consultation with providers about the requirements of the Skills Funding Agency's (SFA) register of training organisations (ROTO), which providers can only access if they pass a set of capacity and capability questions.
This will include a discussion of how new criteria will be applied going forward, according to Keith Smith, newly-appointed director for levy implementation at the Department for Business, Innovation and Skills (BIS), and director of funding and programmes at the SFA.
Mr Smith told a packed audience at FE Week's Annual Apprenticeship Conference 2016: "We're going to have to revisit [ROTO], because one thing that employers are telling us really clearly is, we need to know bits of information about the providers … we actually want to get some confidence that these providers are going to deliver a certain set of services to us.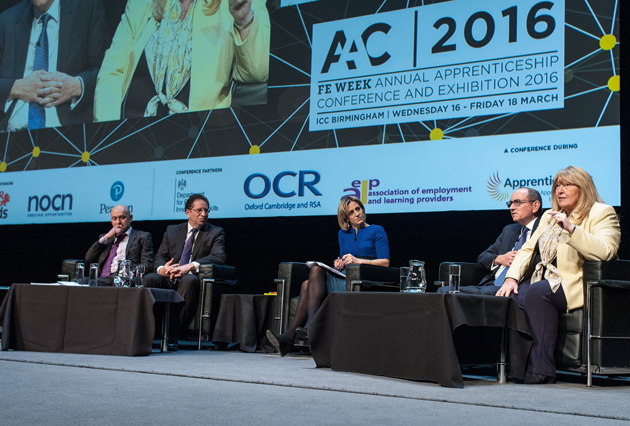 "What we're going to be doing over the end of spring/early summer time is we're going to have to have a big debate about this; we're going to have to have a consultation with you about the requirements in the register and how we actually apply potentially new criteria going forward."
Outlining what this would mean for providers in the future, he added: "I'm no longer the middle man … This new system, this new service will give capability for your employers to deal with that front-end decision making, will provide them with capability to transact on that, so they then can understand and select a provider from you guys to actually do the work."
This issue of new criteria for training providers came up again at the conference, in a later panel discussion (pictured) among leaders from the FE sector.
Peter Lauener, chief executive of the SFA and Education Funding Agency, also said that ROTO needed to be looked at again.
"We need to look again at that, it's designed to fairly basic levels, and proportionate levels, a set of tests, but we will have to review that again," he said.
He compared the situation to the previously used individual learner accounts (ILAs), a scheme that was announced in the 1997 Labour Party manifesto to support adult education with a system of tax incentives from employers, as well as cash contribution to individuals.
Launched in 2000 in the form of financial reimbursements to educational course providers for the cost of the ILA incentives, the programme was abandoned in October 2001 because of evidence of mis-selling.
Mr Lauener said: "One of the problems with that is that was that it was open to all providers, 8,910 signed up to that, around 6,000 took part and there were some pretty bad apples in that mix.
"We're very alive to those issues, we'll be developing proposals to make sure that any provider that is available for an employer to use meets the right standards."
Stewart Segal, chief executive of the Association of Employment and Learning Providers (AELP), said: "Employers do need to have a choice, and by the way I think they have a huge choice in the current system.
"I picked up from Keith that there is a new set of criteria … that needs to be carefully managed over a period.
"It would be crazy if you switched [ROTO] on overnight, but employers do need to have the choice of going with the provider that they need — and they need to pass a requirement, and set of criteria that we believe is reasonable, is transparent and open."