The country's next Chris Moyles could be just around the corner in the form of Stoke on Trent College's Lucas Yeomans — after the teenager became the youngest DJ to land himself a slot on a national radio station, writes Billy Camden.
Seventeen-year-old Lucas Yeomans will be coming to you live from the airwaves every week, after he bagged a regular Saturday morning slot for a national radio network.
The first-year creative media student at Stoke on Trent College was recruited to present on Signal Radio and its network of 11 stations, which broadcasts to more than 100,000 listeners every week, after being talent-spotted while doing work experience at the station.
He became the youngest DJ at the station, starting off on the so-called B-team of presenters, who provide cover when regulars are off sick or on holiday
But after impressing during his first few live shows, Lucas has now managed to snap up his own Saturday morning radio show, from 1am to 5am.
Speaking to FE Week on the morning of receiving the news, Lucas said: "This is very exciting, I'm really eager to get going on it. I still get that buzz as if it was my first show every time I go on air so I know it is what I want to be doing."
The opportunity came about through links with Stoke on Trent College and Signal Radio, which gives students the opportunity to work behind the scenes at the station and take part in masterclasses with radio station staff.
On Lucas' last day of work experience, the teenager was asked along to an interview and two weeks later he got a call asking if he could do an overnight show as the presenter was ill.
Lucas said: "The first show I did felt like the scariest moment of my life, but they taught me how to use the resources and gave me pre-prepared features and music. I came up with a bit of random talk as well."
Now managers have marked Lucas out as a future star.
Terry Underhill, programme director for Signal's parent company, the Wireless Group, said: "I've been massively impressed with Lucas. He has huge potential.
"We get many hundreds of people contacting us, wanting to be radio presenters, but Lucas has that x-factor."
Lucas, who also volunteers on a community radio station, said he was chuffed with the attention from his "fans".
He added: "The best part for me has to be entertaining the audience.
"During one of my shows a guy requested a song because he was doing the graveyard shift. I made a little joke about it on air and the person emailed in again saying 'you legend'. It is those kinds of things and little perks that make me love it so much."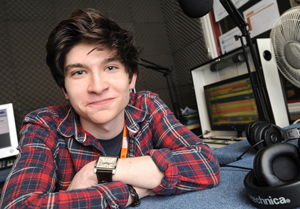 Lucas has hankered after a media career ever since his primary school days, when he presented a talent show with his classmates.
He said his ultimate dream is to follow in the footsteps of his TV presenting heroes James Cordon, Alan Carr and Jonathan Ross to have his own chat show.
He would equally like to continue on the radio with a drive time or breakfast show on BBC Radio 1 mirroring the likes of Chris Moyles and Nick Grimshaw.
Lee Beddow, programme quality leader for media at Stoke on Trent College, said: "Lucas is the first student we've had who has become a Signal presenter. But we've had other students go on to help produce the breakfast show and help with sport.
"It's a fantastic opportunity for him. I tuned in to listen at 4.30am on one of his shows and was excited to hear one of our students on air."
---
Lucas' top three bands:
1. Circa Waves
2. Peace
3. Catfish and the Bottlemen