Richard Atkins completed his first year as FE commissioner in October. In a special interview to celebrate his anniversary, FE Week asked him about his expanded role, including the new £15 million fund to help failing colleges improve their education and training.
Almost exactly a year to the day since he took the torch from Sir David Collins, Richard Atkins is full of enthusiasm and keen to talk about his work.
But as his remit expands, he's at risk of straying into other institutions' territories.
Take the new £15 million strategic college improvement fund, for example – shouldn't that have gone to the Education and Training Foundation, which is after all supposed to be responsible for boosting standards and quality in the sector?
Not according to the former Exeter College principal, who insists he does a "different job".
"Most people actually ask if we're duplicating the work of either Ofsted or the ESFA, rather than ETF," he says.
Most people actually ask if we're duplicating the work of either Ofsted or the ESFA, rather than ETF
"I think what we do is intervene, or provide diagnostic assessments and early intervention, at a governance and leadership level, with a real focus on institutional success. Our understanding of governance, leadership and institutional sustainability is second to none."
He does believe the ETF is doing a good job, but won't be drawn on what else he thinks they could be doing.
"They're a non-governmental agency," he says, "which provides a wide range of support services to colleges, from teacher training to English and maths – which is great, but they don't do what we do."
What's more, he says he will "absolutely" work alongside them, and is happy to endorse their services.
"I have no doubt that if the ETF is offering the right thing, I will recommend it," he insists.
The SCIF is just one aspect of Atkins' expanded role, first announced by Justine Greening in July, which is designed to ensure he can support colleges before they hit crisis point.
Previously the FE commissioner intervened at failing colleges – those which had either been rated 'inadequate' by Ofsted or were in financial trouble – and overseeing the area review process, which ended in March.
"The thing that hit me when I first started the job is that there's something frustrating about only working with colleges that have already hit the bottom," he says.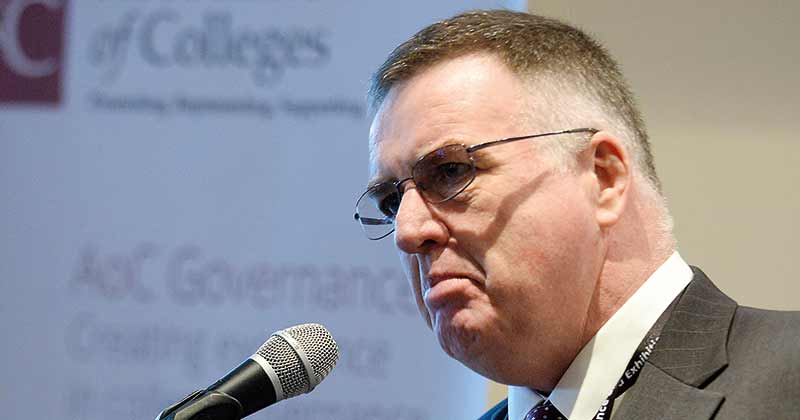 This led to conversations "from very early on" with the education secretary's strategy team, about how to "work with colleges that are on the way to becoming 'inadequate' and prevent them from becoming 'inadequate'".
He explains that the team "consulted extensively" with a range of people across the sector, including the Education and Skills Funding Agency, Ofsted and the afore-mentioned ETF.
"I had a significant input into [the strategy team's] work, and what you see now are many of the suggestions that I made have turned into policy," he says.
He definitely "suggested" that his office needed money – although he claims he "didn't put an exact amount on it", as "the strategy unit did that".
The improvement fund, he says, while "not enormous" in terms of the overall DfE budget, is nonetheless "enough money to make a real difference".
"I've spoken to a number of colleges; if we made between £200,000 and £300,000 available in-year and focused it on key quality-improvement, they've all said to me that could make a real difference," he suggests.
The idea behind the fund, which is running in pilot form until July 2018, is to encourage peer-to-peer support – which Atkins wants colleges to see as a positive.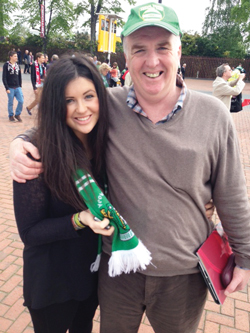 The scheme will see weaker colleges – those rated grade three or four overall or for their apprenticeship provision – work with a stronger college to develop and implement an improvement plan, and both colleges will be named on the application form.
Eligible costs aren't predetermined, and can include diagnosing a college's quality issues and developing a plan to tackle them, mentoring and other professional development activities for senior leaders, or the cost of staff time.
He wants to learn from the pilot before deciding what will be funded during the main phase.
Between 10 and 15 colleges are expected to receive cash, with the rest of the money available in the first half of 2018. It is expected to run until March 2020, though it could be extended.
It aims to engage leaders from 'good' or 'outstanding' colleges, to use their expertise to support colleges that need to improve significantly in one of more areas, which could lead to an application to the fund.
Atkins and his team will only be involved at the beginning and end of each plan, "to do a health check" and also "see what's effective and how we can spread the best practice".
While the commissioner will give his views on bids to the fund, he won't be involved in the final decision over who gets the cash – that will be made by a "group in the DfE".
We've absorbed some of the really difficult cases
Another new aspect of his expanded improvement toolbox is diagnostic assessments. These will see two members of his team spending a couple of days with colleges that "have the early symptoms of becoming unwell, but which haven't yet developed the full illness" – to prevent them from slipping further towards failing.
These visits will result in recommendations for improvement, but no published minister's letter.
Atkins says he's about to start the first of seven pilot assessments, but estimates that "up to a third of colleges" could benefit from one.
He's also setting up a college improvement board, which he hopes will meet for the first time after Christmas.
The plan is to bring all the different bodies involved in college standards, including the DfE, the ESFA, the Institute for Apprenticeships, Ofsted and the ETF, to develop a "strategic overview" for improvement.
While a part of the focus will be on failing colleges, and developing a coordinated approach from all the parties involved – "because if you're trying to turn around a failing college you do not want another government official arriving every day of the week" – he says he believes the board will discuss "all colleges".
He tells me that the sector is in a better financial position overall than it was before the area review process – thanks to the resulting mergers.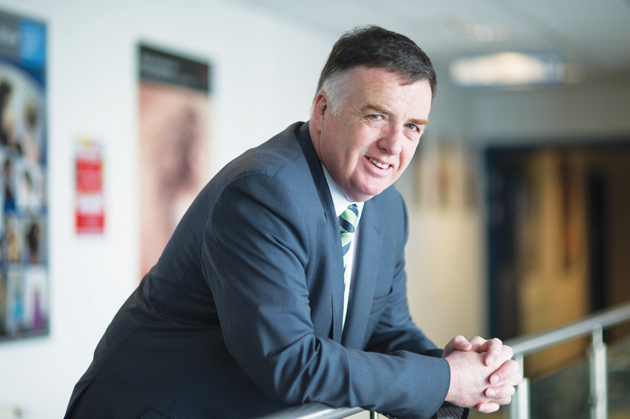 "We've absorbed some of the really difficult cases," he says.
"They've now merged with a stronger partner and they're much less likely to be predicted to fail."
He insists the process was a success overall, "but I never thought for a minute that every recommendation would go through".
But what about those merger plans that have fallen through?
He points out that many of those are, or have been, going through an appraisal of structure and prospects to find new partners: there are 10 this year, and 10 more expected in 2018.
Atkins describes the process as a "much more meaningful way" for a college to find a partner than area reviews.
"It's the difference between going to a speed-dating event and going to an introduction agency and having a courtship," he jokes.
The difference is "the focus it brings on an individual college", which "tends to lead to meaningful mergers".
He says he's "pleased with the trajectory" of colleges over the past year; fewer are in intervention, and fewer are rated 'inadequate', while two thirds are 'good' or 'outstanding' – but there's still more to be done.
"I'd like to see that two thirds grow to three quarters," he says. "That's my initial target, and long-term I'd like to get to where schools are, around 80 to 85 per cent.
"You've got to start – and we're starting now."
Quick questions:
How many miles have you racked up as FE commissioner?
I've travelled approximately 40,000 miles in my first year in the job, much of this during the area review period. In one week I visited Lancashire, London, Norfolk, Northamptonshire and Manchester, in that order! Fortunately my working life is more manageable now. I always travel by public transport, either by train or plane.
Is there anything you wish you had known when you took the job?
How to manage myself without a PA, after 21 years of being supported by one! Recently, I've had an excellent new PA appointed, which helps a lot.
How many colleges have you visited in the past year?
I estimate that I've visited 70 colleges in my first year, and in the same way that enthusiasts visit football stadia or tube stations, I'm keen to visit many more this coming year. I find every visit fascinating, because every college is different.
How many hours do you work in an average week?
I usually work an average of 45 to 48 hours over four days per week – which is less than when I was a principal! We had 16 days holiday in Canada in September, during the college enrolment period, as they're too busy to respond to me then.
Which do you prefer – being principal of an outstanding college or FE commissioner?
I loved being a college principal for 21 years, especially the final few years when my college was rated as 'outstanding', but it was the right time to go and I have no regrets at leaving. I didn't expect to take on another major job, but the FE commissioner opportunity came up and I'm enjoying the work very much.