Over one hundred colleges and training providers have been awarded funding under the government's new Turing Scheme – but FE will only receive two-thirds of the promised cash owing to lack of demand.
The Department for Education has today revealed the winning bidders to the scheme, which includes 110 further and vocational education providers. Ninety-three are from England, two are from Wales, six from Scotland, and nine from Northern Ireland.
FE Week has also been told £22 million of the overall £110 million pot has been allocated to pay for FE and VET students to undertake work and study placements abroad.
Higher education institutions received just above £67 million from the scheme, and schools just under £7.5m.
This is despite one of the Turing Scheme's delivery partners, Ecorys, telling FE Week in March the FE sector was in line for £35 million, meaning that 62 per cent of the estimate has been offered.
The Department for Education said all FE and VET providers received the full amount they bid for, adding that there was less demand from colleges and training providers than anticipated while there was greater-than-expected demand from universities.
Furthermore, just under 6,000 FE students will take part in the Turing Scheme this year, the DfE said today, which is 60 per cent of the 10,000 Ecorys had estimated.
The Turing Scheme has replaced the Erasmus+ programme the UK pulled out of last year.
Around 55 per cent of participants from the FE and vocational sector will be from disadvantaged backgrounds.
This trumps the estimated 48 per cent for the scheme overall, which includes participants from schools and universities.
Multiple successful colleges had not taken part in Erasmus
Education secretary Gavin Williamson said today the "once-in-a-lifetime" opportunity to work and learn abroad had been "disproportionately enjoyed by those from the most privileged backgrounds" until now.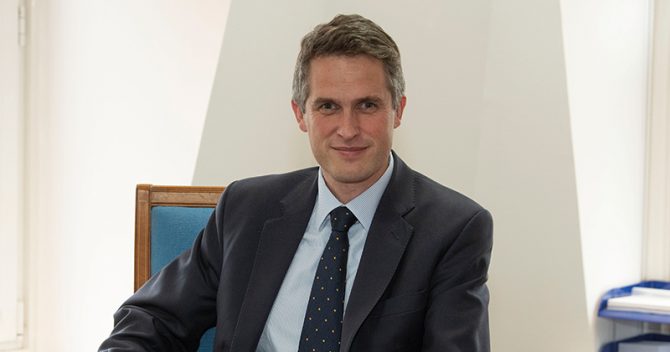 The DfE claims a total of 40,000 individual placements will be supported through the scheme this year, which they say exceeds their own estimates.
A number of colleges which successfully bid for funding under the Turing Scheme did not take part in Erasmus, the DfE has said.
Association of Colleges chief executive David Hughes called it "encouraging to see colleges taking up all that Turing can offer – including colleges that are newer to international partnerships".
Turing Scheme funding broken down
Placements on the Turing Scheme, named after the famous codebreaker Alan Turing, can last between two weeks and 12 months.
Colleges, schools and universities have been bidding for the funding since applications opened in March.
The bidding documents showed that, as well as taking up placements abroad, learners can also use the funding to partake of international skills competitions, which can last between one and ten days.
FE and VET applicants will receive up to £1,360 for travel costs and up to £109 per day for living costs.
Disadvantaged students will be funded at actual cost for additional travel expenses, including for visas, passports and health insurance. 
Learners with SEND will receive funding for up to 100 per cent of actual costs for support directly related to their additional needs.
Providers are also set to get £315 per participant to fund organisational support for their first 100 participants, and £180 per participant over that number.
The colleges and training providers awarded funding:
| | | |
| --- | --- | --- |
| Organisation name | Organisation country | Region |
| American Institute for Foreign Study (U.K.) Limited | England | London |
| AP Cymru Limited | Wales | Wales |
| Asfar | England | London |
| Ashfield Boys High School | Northern Ireland | Northern Ireland |
| Atlantic Whale and Dolphin Foundation | England | East Midlands |
| Basingstoke College of Technology | England | South East |
| Bath College | England | South West |
| Belfast Met College | Northern Ireland | Northern Ireland |
| Bishop Auckland College | England | North East |
| Bishop Burton College | England | Yorkshire |
| Blue Stamp Travel | England | East Midlands |
| Borders College | Scotland | Scotland |
| Bradford College | England | Yorkshire |
| Bridgwater and Taunton College | England | South West |
| Brighton Third Sector Training Ltd. | England | South East |
| Burton and South Derbyshire College | England | East Midlands |
| Camborne Science and International Academy | England | South West |
| Capacity London Ltd | England | London |
| Capital City College Group | England | London |
| Cheshire College – South & West | England | North West |
| Cheshire Training Exchange | England | North West |
| City College Plymouth | England | South West |
| ColegauCymru / CollegesWales Ltd | Wales | Wales |
| Croydon College | England | South East |
| David Campbell Event Management Limited | England | North West |
| Discovery College YMCA | England | South West |
| Divad Training Ltd | England | London |
| DN Colleges Group | England | East Midlands |
| DSC Regen | England | London |
| Dungannon United Youth C.I.C | Northern Ireland | Northern Ireland |
| East Coast College | England | East of England |
| East Coast College | England | East of England |
| East Sussex College Group | England | South East |
| Eat That Frog C.I.C. | England | South West |
| Eco Chateau Training CIC | England | South East |
| Edinburgh Jazz and Blues Festival. | Scotland | Scotland |
| Erasmus Academy UK Ltd. | England | London |
| European Strategic Partnerships Ltd. | England | London |
| EuroTrain Platform | England | South East |
| Everything Possible CIC | England | Yorkshire |
| Exeter College | England | South West |
| FCV International Football Academy | England | East Midlands |
| Football Management Company (NI) Ltd | Northern Ireland | Northern Ireland |
| Gecko Programmes Ltd | England | West Midlands |
| Gecko Programmes Ltd | England | West Midlands |
| Genius Solutions Limited trading as Languages Training & Development (LT&D) | England | South East |
| Glasgow Clyde College | Scotland | Scotland |
| Glasgow Girls FC | Scotland | Scotland |
| Global Vision Initiative (formerly Vision 2020 Leadership Initiative) | England | North West |
| Gotoco | England | South East |
| Grampus Heritage and Training Ltd | England | North West |
| Greater Brighton Metropolitan College | England | South East |
| Haringey Sixth Form College | England | London |
| HSDC | England | South East |
| Ikkaido Ltd | England | South East |
| Invest in Sport Limited | Northern Ireland | Northern Ireland |
| IVOLO LTD | England | West Midlands |
| John Leggott College | England | East Midlands |
| KBM Media Solutions LTD | England | London |
| Lincoln College | England | East Midlands |
| Lionheart in the Community (LITC) | England | London |
| London Mobility Company 2000 Ltd. | England | London |
| London South East Colleges | England | South East |
| Luminate Education Group | England | Yorkshire |
| NCG (Colleges) | England | North East |
| New City College | England | London |
| New Collaborative Learning Trust | England | Yorkshire |
| New College Lanarkshire | Scotland | Scotland |
| New College Swindon | England | South West |
| New College Swindon | England | South West |
| North Liverpool Academy | England | North West |
| North West Regional College | Northern Ireland | Northern Ireland |
| Northfleet Technology College | England | South East |
| Nottingham College | England | East Midlands |
| Nova Payroll Management Services Ltd. t/a Pin Point Training | England | North East |
| Oldham College | England | North West |
| Park View Academy | England | North East |
| Petroc | England | South West |
| PGL Training (Plumbing) Limited | England | South West |
| RiSE International | England | London |
| RNN Group | England | Yorkshire |
| Royal Academy of Culinary Arts | England | London |
| Royal Society of British Artists (RBA) | England | London |
| SLCP Thunder CIC | England | London |
| South Devon College | England | South West |
| South Eastern Regional College | Northern Ireland | Northern Ireland |
| South West College | Northern Ireland | Northern Ireland |
| Southern Regional College | Northern Ireland | Northern Ireland |
| Stanmore College | England | South East |
| Strode College | England | South West |
| Student Athlete Network | England | East of England |
| T.E.E.P. (Training Education and European Project) | England | London |
| Tameside College | England | North West |
| The Bournemouth and Poole College | England | South West |
| The Canterbury Academy | England | South East |
| The Isle of Wight College | England | South East |
| The Language Alliance Limited | England | Yorkshire |
| The Sheffield College | England | Yorkshire |
| The TEC Partnership | England | East Midlands |
| The Trinity Catholic School | England | East Midlands |
| The White Horse Federation | England | South West |
| Twin Training International | England | London |
| UK Work Placement Ltd | England | North West |
| UK-Certified Knowledge Association | England | London |
| University College Birmingham | England | West Midlands |
| Volunteer International C.I.C. | England | London |
| Whitehead-Ross Education and Consulting Ltd. | England | South East |
| Wigan and Leigh College | England | North West |
| Wirral Metropolitan College | England | North West |
| Zone Out Partnership | Scotland | Scotland |