UPDATE: The Department for Education has now confirmed they've published documents launching the IoT invitations on the lep network website. You can access them here.
After more than two years and three Skills Ministers since the Institutes of Technology (IoT) concept was announced, FE Week can exclusively reveal the "process and timeline" ahead of their launch in 2019.
Institutes of Technology were first mooted in the Productivity Plan in July 2015 , which said: "The government anticipates that many colleges will be invited to specialise according to local economic priorities, to provide better targeted basic skills alongside professional and technical education, and that some will be invited to become Institutes of Technology."
In documents seen by FE Week that have been "agreed by ministers" and were due for publication this week, the DfE sets out details of the IoT invitation process.
The DfE will be calling on those that "would like to register an interest in the IoT initiative" to complete a short form and email it back to institute.technology@education.gov.uk by the 31 October 2017.
Despite the DfE repeatedly saying the plan is to "establish high quality and prestigious institutions", in truth and as previously reported by FE Week, the IoT funding is in fact a relatively small three year wave of capital funding for mainly existing colleges, not to create new ones.
The "successful bidders will receive the right to call themselves Institutes of Technology (precise branding to be confirmed)" and receive funding "for capital investment to support high quality, industry-standard facilities and equipment" as well as "cover new build investment or upgrades and improvements to existing assets."
Much like the ill fated 400 Centres of Vocational Excellence (CoVE) scheme for colleges under the Learning and Skills Council, it is expected that funding for new equipment will come with IoT plaques and IoT kite-marks for websites and email signatures.
But the invitation is not only for colleges, in fact the 'IoT policy statement' seen by FE Week says: "Delivery will be through partnerships of employers, FE and HE but could be through a range of legal structures and delivery models ranging from Joint Venture or Special Purpose Vehicles, wholly new  FE or HE institutions  or other entity of a type which is permitted to conduct HE and/or FE provision under existing FE and/or HE legislation."
To get the IoT kite-mark and capital funding, the DfE says an IoT will need to "have employers at the heart of their leadership and governance, and in the design and delivery of curriculum. IoTs will strengthen and grow provision to fill gaps in the market; they will focus particularly on technical (eg Science, Technology, Engineering Mathematics) skills at levels 4 and 5 but will extend to degree level and above (level 6+) to strengthen routes into higher levels of technical education, as well as directly into employment."
And the DfE has recently set-up an IoT LinkedIn group (click here) to "facilitate connections between potential collaborators who are interested in establishing an Institute of Technology."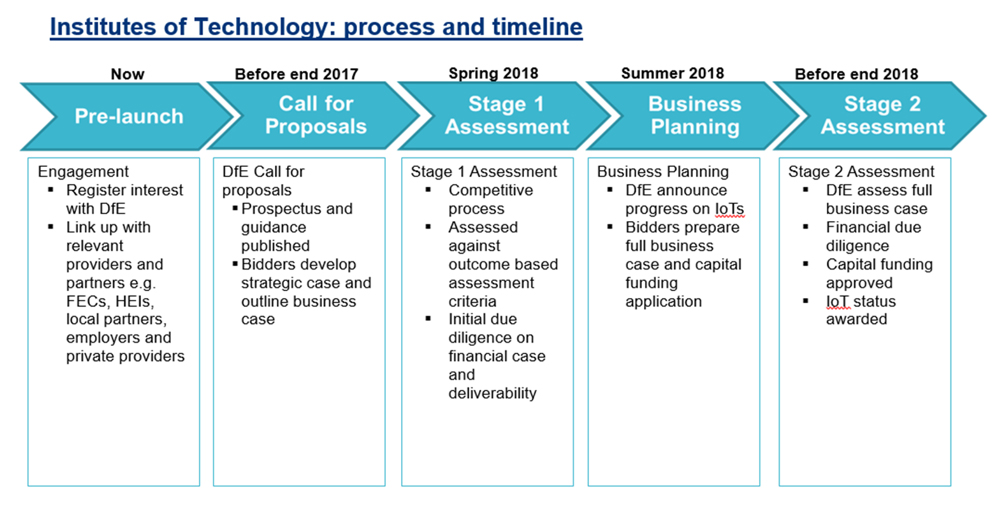 David Hughes, chief executive of the Association of Colleges told FE Week: "I'm pleased to see clarity on the way forward on the Institutes of Technology after the original proposal way back in July 2015.
"New capital investment in colleges is always to be welcomed and this will undoubtedly help provide great facilities and equipment for much needed higher level technical skills and education. I expect lots of great bids to come forward and with collaboration between employers, colleges and others which will really start to increase demand for Level 4 and 5 in this country.
"We must also invest more in careers advice and maintenance support for people to participate if these new Institutes are to be successful."
FE Week understands the delay to the policy was to enable synergy with the new T-level policy concept launched in July 2016 Skills Strategy,  followed by the Industrial Strategy in January 2017 which promised to fund IoTs with £170m in capital funding over three years.
The imminent launch of the invitation to apply to become an IoT will come as a relief to everyone in the further education college sector, after the Conservative manifesto referred to universities, stating: "World class technical education, underpinned by prestigious new institutes of technology with the freedoms that make our universities great."
The DfE document seen by FE Week concludes: "We expect the first IoTs to open in 2019.  More details on the bidding process will be published at the competition launch before the end of 2017."