The government has come under fire from successful college leaders after a series of FE Week freedom of information requests revealed exactly how £111 million of bailout funding has been spent.
Four colleges struck secretive Fresh Start deals with the government, the largest of which was for £54 million at Hull College Group.
Each deal, agreed by the ESFA Transaction Unit and funded from a Treasury 'restructuring fund', included millions to write-off bank and government loans.
"I knew it was a big figure, but this goes way beyond a bailout."
Hull College for example, received close to £2.5 million to write off bank loans and a further £24 million to write off the government loan, known as exceptional financial support.
Mike Hopkins, principal at South and City College Birmingham, described the debt-write offs for "failing colleges" as "incredible".
And we now know the deals also included huge sums of capital funding, for building upgrades as well as IT hardware and software.
In the case of Cornwall College, of the £30 million bailout, close to £7 million has been spent on capital, including IT hardware and software.
Chris Todd, chartered accountant and principal of Derwentside College, described the sums as "staggering" and "handing out almost £4 million to fund IT upgrades and paying off debts of over £20 million does not strike me as a good, or appropriate use of public funds".
"I know we need to protect the students during a recovery, but when are we going to stand up as a sector and challenge this?" he added.
And a third principal that did not want to be named said: "While I support intervention and financial support to ensure students are looked after, it does seem extraordinary that in a climate where no college has enough money a failing college is made debt free, given millions for IT and money for capital.
"I knew it was a big figure, but this goes way beyond a bailout."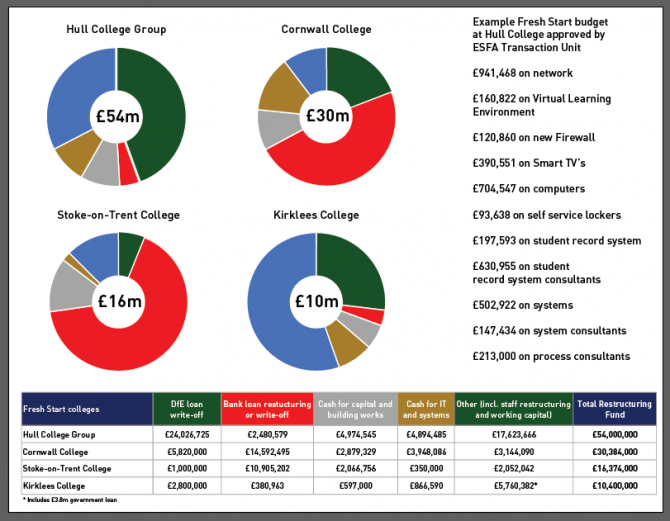 A Department for Education summary of restructuring fund spend shows in total close to £450 million had been spent on bailouts by the end of the last academic year and ESFA accounts reveal more than £100 million in loans have also been written-off.
The DfE has defended the use of public funds for bailouts, with a spokesperson telling FE Week: "Restructuring facility funding was provided where there was no alternative.
"In cases where the level of debt was assessed as unsustainable, debt was replaced with restructuring facility funding.
"Where the future sustainability of a college has been affected by the postponement of investment in the estate, this funding was provided for essential works, including IT upgrades."
But it seems the ESFA deals were not so sweet for successful colleges encouraged to merge.
Hopkins said: "It is well known that we were underfunded as the first college through the area review merger process. As a consequence our debt levels, that we were required to begin the merger with, are significantly in excess of the maximums deemed appropriate in the sector and well in excess of the banks requirements.
"This has meant that we are unable to get bank support and has inhibited our investment, despite being a good college. We have been told that despite the original deal being wrong, as accepted by the ESFA, they cannot pay off the £5 million loan we were required to take. Therefore I find it incredible that millions can be found to pay-off the debts for failing colleges."
"When are we going to stand up as a sector and challenge this?"
And in the case of Hadlow College Group, where debts are still being added up and likely to reach close to £100 million, the government pulled the plug and called in an education administrator for the first and so far only time.
Several other leaders at successful colleges shared their reactions anonymously.
One college principal told FE Week: "I can't see how such levels of support are offered to some but not others can ever be fair. In what ways can such large bailouts and infrastructure support, be justified to some colleges but not others?"
Another said: "I think in fairness terms it would be good to know how many other deals got this kind of investment. I suppose where it stings is that others of us are running very tightly managed ships, making compromises and costs cuts because of funding constraints and yet learners in Cornwall will be better served as a result of the failure – that's the bit that doesn't sit right in terms of public purse."
Todd concluded that "we need a system that stops this from happening in the first place, and that rewards the best colleges."