The government's commitment to three million apprenticeship starts by 2020 is increasingly out of reach, exclusive FE Week analysis of new statistics has revealed.
Average monthly starts are 17 per cent lower than where they need to be to hit that target by that year.
Previous start figures had only been available on a quarterly basis, but the Department for Education has now released a monthly breakdown as part of its final statistics for 2016/17 this year, published November 23.
Worse yet, starts have even shown their first fall since 2013/14, and the government's flagship target – first introduced in 2015 and reiterated in this year's manifesto – is in trouble.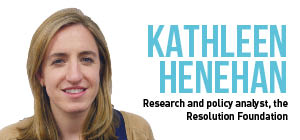 A spokesperson for the DfE insisted that "progress should not be judged on the basis of a few months' worth of data" and that it remained "committed to reaching three million apprenticeship starts in England by 2020"
She declined to comment on whether it was still confident it would reach that target.
She did say that feedback the department had received from employers has shown they were "taking their time to plan ahead and maximise the opportunities the apprenticeship levy can bring" and "they plan to increase their demand for apprenticeships".
Mark Dawe, the chief executive of the Association of Employment and Learning Providers, urged the government to take action to boost numbers, including "appropriate flexibility of off-the-job training", and removing the charge for non-levy paying employers training apprentices aged under 25.
"Without these actions, we do not believe the government will reach their manifesto commitment," he said.
In order to hit the target of 3 million starts by 2020 there would need to be an average of a least 50,000 starts a month.
But the average over the first 28 months stands at just 41,470 a month.
A further 1,880,300 starts are needed to hit the target – meaning the average needs to increase by a whopping 42 per cent, to 58,760 per month over the remaining 32 months.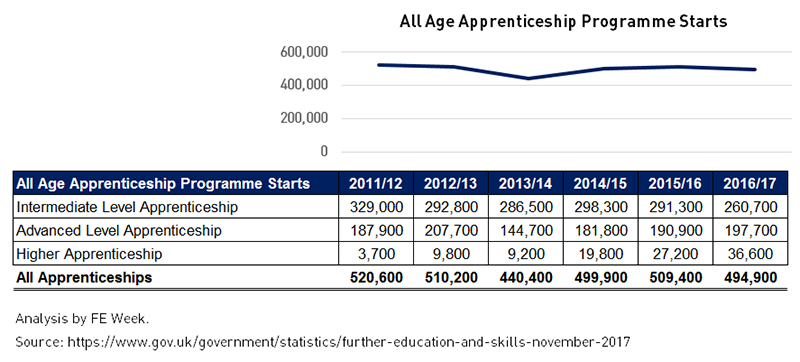 But with fewer starts in 2016/17 than in either of the two previous years, that's looking increasingly unlikely to happen.
There were 494,000 starts last year, down from 509,400 in 2015/16 and 499,900 in 2014/15.
All of that drop was at level two, which was down 11 per cent compared with the year before, while starts at higher levels were both up – 4 per cent at level three, and 35 per cent at level four and above.
Today's figures also confirmed the widely-held belief that starts rocketed the month before apprenticeship funding changes – including the introduction of the levy and employer co-payments – took effect, and then fell off a cliff edge the following month.
There were 78,000 starts in April this year – almost double the figure from the same month last year – but by May this had tailed off to 12,900.
Figures published last month revealed that starts in the final quarter of 2016/17 were down a massive 61 per cent compared with the same period the year before.
Education secretary Justine Greening later admitted to a Commons select committee hearing on October 25 that the government had been expecting this dramatic drop.