Adults across England are today finding out whether they have stepped closer to their dream careers or finally passed their exams after multiple attempts.
FE Week has decided this year to dedicate its coverage of level 2 results day today to learners who have passed their English, maths or vocational assessments later in life than the average GCSE or BTEC student.
Many of the people we have heard from are looking to use their qualifications to study for careers in healthcare, such as occupational therapy or nursing.
From beauty therapy to mental health nursing
Twenty-six-year-old Jade Digby from Loughborough College has achieved a grade 4 in GCSE maths and an access to health studies qualification and will be taking an undergraduate Master's degree in adult nursing with mental health and leadership.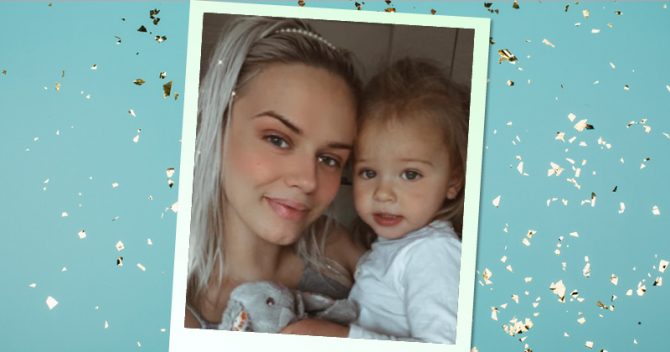 She said she was "over the moon," as "being able to work in mental health is really close to my heart because I've experienced quite a few issues in my family over the years".
She worked for nine years as a beauty therapist before deciding to change her career – yet needed the GCSE in a subject she "hated".
"When I was at school, I had so many different teachers and didn't enjoy it, so I never really bothered. But the support and quality of teaching at Loughborough has been brilliant."
Mum studied in hospital car park
Mother of four Kathleen Rawlinson found out about her grade 5 in maths and a grade 6 in English the same day as her son got his GCSE results back.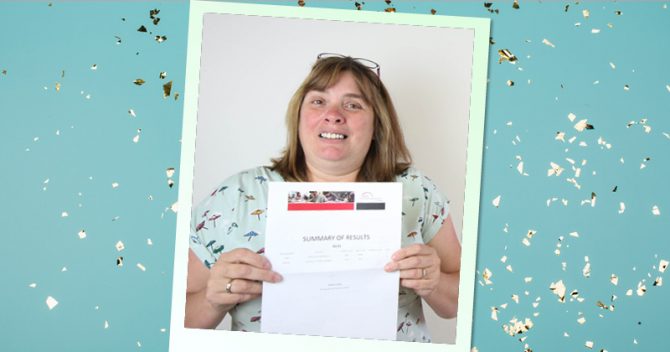 She partly studied for her GCSEs and a pre-access to HE course in a hospital car park while her husband was ill, and will now continue studying at West Nottinghamshire College towards a job as a community nurse.
"Studying as an adult felt a bit daunting at first," she said.
"I'd thought about coming to college the year before and talked myself out of it, but this year I decided to do it. It has been a hard year with the lockdowns, but I just rolled with it."
Dyslexic adult goes from D to A in English
Thirty-two-year-old Greg Hounsome left school with G in GCSE maths and a D in English.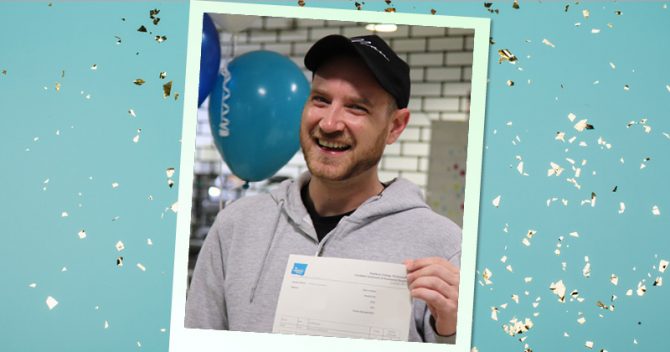 Yet has improved that to a 5 (equivalent to a high C or low B) in maths and a 7 (a lower A) in English language with Highbury College.
This is despite struggling with dyslexia and admitting thinking "I can't do this, it is too much".
But he "stuck with it and it feels good to have passed."
He is now going to study an access to HE diploma in health and human sciences at Highbury.
Stay-at-home dad discovers his calling
Richard Jackson, 41, spent 20 years as a builder after leaving education without his maths and English GCSEs, before becoming a stay-at-home dad and discovering his "calling".
"I've always been the biggest kid wherever I go.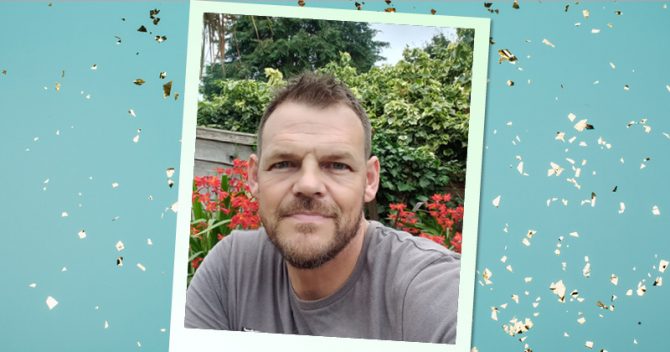 "When I'd take my kids to pre-school, I'd always end up playing games with the kids and didn't want to leave.
"The staff there told me that this was my calling and that I should consider going into early years.
"It was a big decision, but my wife and I talked about it and decided it was now or never."
Richard has now passed his maths and English GCSEs with USP College and will be going on to level 3 early years qualification and is even thinking of becoming a teacher.
Singer felt her autistic son was 'let down'
Another career-changer, Gillian Coleman from Middlesbrough College, was inspired to swap jobs after feeling let down by the lack of support for people on the autism spectrum like her son.
She went from a 20-year plus career working as a singer and entertainer to enrolling on an access to HE course, to achieving a 7 in English and 5 in maths.
Gillian is now about to start the second year of a youth, childhood and community studies degree.
"I left school with an O Level in art so to know I've finally achieved my maths and English GCSEs is incredible – it just proves it's never too late to go out there and do it."
Of course, some adult learners will be receiving results after trying to pass their exams on a number of occasions.
Student passes GCSE on fifth try
Twenty-two-year-old Caymen Hammond from Suffolk New College has finally gained his grade 4 in English on his fifth try, and said it was a "relief" after "all the hard work".
HND construction management student Earnest Korley, 22, has today passed his GCSE maths with London South East Colleges after three attempts.
He said he "always struggled with numbers," but his "fantastic" tutors "related the maths to how it can be applied in daily life and I think that's how I eventually came to understand things a little better.
"After my last re-take, just before the Covid pandemic struck, I was ready to concede but thanks to the encouragement of my mum and brother, I decided to give it one more go.
"Thank God I did," he said, as this will make his life "so much easier".