Apprentice boat-builders and engineers from Southampton City College have helped to restore a replica 14th century medieval cargo ship.
The level three apprentices, who are currently studying for City & Guilds qualifications, refurbished the waterfront feature under the supervision of Darren Patten, a learning manager and expert boat builder.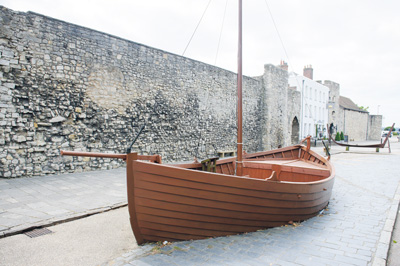 The boat, located in Southampton's Western Esplanade, has deteriorated since it was first built around 20 years ago by a former manager of the college's Marine Skills Centre, and the local council decided it was time for restoration.
The replica was built using traditional Viking techniques, which students recreated during the refurbishment.
Danielle Thomas, a boat-building advanced apprentice, said: "This project has enabled me to understand and learn some unique traditional boat building skills such as clinker planking and scarfing planks."
Sarah Stannard, principal of Southampton City College, added: "We were delighted to support this unusual community project and to contribute to making more people aware of Southampton's long history as a trading port.
"Renovating this replica historic ship has been an exciting way for our marine students to learn more about our marine heritage, work as a team, and develop some very specialist and traditional boat-building skills."