Cash-strapped West Cheshire College has lodged a formal complaint over its inadequate Ofsted rating and called on the education watchdog to send inspectors back in to look again.
Inspectors said teachers at the college, which has a Skills Funding Agency (SFA) allocation of £6.8m, did not expect enough of learners, who were also not given enough advice to improve.
They were among a host of other issues identified at the college, including finances with inspectors reporting that its "financial future is not currently sustainable".
But principal Nigel Davies (pictured above) hit back, claiming the college had achieved an operating surplus in 2014/15 for the first time in four years and that inspection so early into the academic year meant it was "not practicable or realistic" to produce evidence of standards.
"Everyone at the college, including myself, is extremely disappointed by the outcome of the inspection which does not accurately reflect our achievements to date and our current position today," he said.
"In light of this, we have significant concerns relating to the inspection and have already submitted a formal complaint to Ofsted, including an invitation to re-inspect the college."
The result, which was down a grade from a previous inspection in April last year, comes just over a year after FE Commissioner Dr David Collins visited in light of the SFA rating the college's financial health as inadequate.
He reported how a series of blunders over the "size, location and financing" of two college builds, costing a total of £68m, left it with crippling debt as he told Skills Minister Nick Boles "it makes sense" that one — its Handbridge site (pictured below)— be sold off.
owever, the college still has both sites and recently even put up new signs at Handbridge.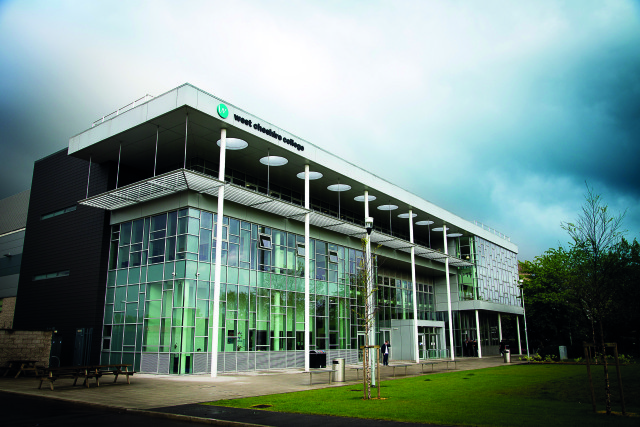 A Department for Business, Innovation and Skills spokesperson told FE Week that Dr Collins' work with the college had not concluded and would continue taking into account Ofsted's findings.
The education watchdog dished out five inadequate grades among the headline field ratings, with two 'requires improvement' and one 'good' — for apprenticeships.
"Senior leaders and governors acknowledge that the college's financial position is precarious," it said in the report.
"Senior leaders have been managing a considerable period of upheaval, trying to resolve the financial problems which have beset the college since before their arrival, including overspends on significant capital projects and poor financial control. Although expenditure has reduced, they have not yet taken actions to secure long-term financial sustainability."
But Mr Davies disagreed and said his leadership team had indeed "taken action to secure the college's long-term financial sustainability".
"However, this remains unresolved as we are working with a number of external agencies," he said.
Mr Davies said: "While we have always welcomed and encouraged critical evaluation as part of our overarching strategy to positively change and move forward, we believe that during the inspection there were inconsistencies in standards applied which will form the basis of our formal complaint."
He added: "The terminology used by Ofsted within the report does not truly reflect the college's position and we do not agree with some of the analysis and conclusions in it.
"The style and language used within the report is confusing and misleading. Although it is valid to highlight poor provision we feel that the report does not give judgements on the college's significant success and achievements."
An Ofsted spokesperson said it did not comment on individual inspections.