Sixth-formers and university graduates will work together to educate schoolkids about STEM subjects and career options in an innovative new pilot project launched at Queen Mary's College, reports Samantha King
The STEM Sellers initiative will partner five recent graduates on the Atomic Weapons Establishment's (AWE) graduate programme with 20 of the Hampshire sixth-form's students on STEM courses. They will all come up with ideas for outreach activities to take to local primary and secondary schools.
Managed by the graduates, the project will provide the college's students with an opportunity to work closely with people who have been through university and who are taking their first steps on the STEM career ladder, as well as developing their own employability skills.
"We see this project as a win-win-win," explained Marcus Rutland, STEM development lead at Queen Mary's. "Our local schools get somebody else in doing something entirely free, with everything managed. It's great for our students because they can build their skills and interact with people who can give them an eye-opener about the opportunities ahead, and it's good for the AWE graduates who get to work on their project management and teamwork skills."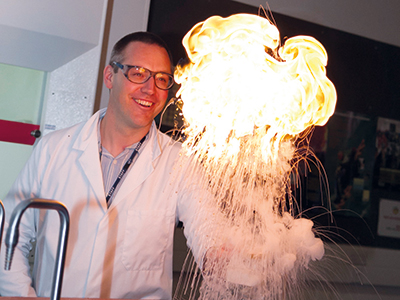 Running every two weeks in the college's timetabled tutor time, students and graduates have been brainstorming the activities they'll deliver to schools, striking a balance between "fun science" activities including forensic challenges and chemical reaction experiments, with informative sessions on why youngsters should pursue STEM subjects post-16.
A body language expert from AWE will visit the group next week to run a workshop on how to deliver a good presentation, to equip the students with the skills they'll need to run their sessions successfully in schools.
"If you're speaking to a crowd of educationalists, this project has the benefit of being something that is high impact without requiring any one person at the college to be cooking up every detail from scratch, which would be really time-consuming. Having AWE as a partner and the graduates there is fantastic," Mr Rutland added.
"It's something I can see could be repeated elsewhere. I'm sure lots of STEM employers have lots of graduate-intake programmes where they want the graduates to take a lead on something."
Funding for the project, including minibus hire and any purchases required for the workshops, will be covered by a fund accessible to the AWE graduates.