The Association of Employment and Learning Providers is just over a month away from being headed by new man Stewart Segal. FE Week reporter Eleanor Radford spoke with him to find out his thoughts on all things FE.
What are your thoughts on the new Education and Training Foundation (formerly known as the FE Guild)?
It's a very positive move which shows the sector and government agencies have more confidence in involving all representative bodies in developing and delivering higher standards of performance. It will mean the sector bodies work closely and will be different from previous organisations because it'll be owned by training providers of all types.
How would you like to use AELP's influence on the foundation's board?
It's very important it doesn't have a set of standards and processes for colleges, another for employers and a third for training providers. There should be a common set for all.
We will be a strong voice representing both employers, third sector and independent training providers in that discussion.
Do you feel the level playing field with colleges has been achieved?
There's been a huge amount of progress. However, we still need to ensure a fair and free choice for learners and employers. There should be no reason why a learner or employer should chose to go with any particular type of provider — they should have a free choice. Areas that need improving are ensuring budgets and contracts are following demand. There are still ways in which independent training providers and colleges are treated differently.
We understand the Skills Funding Agency (SFA) is debating 'abnormal profit' for training providers. What do you think about its interest in this?
We don't think measuring profit is an effective way of looking at the quality and sustainability of what's being delivered. It's just one factor which inevitably they will look at, and we've always had to declare these figures. It shouldn't be singled out with particular levels that are scored.
What are your thoughts on Ofsted and how it inspects independent training providers?
The Ofsted framework is quite difficult when ensuring both academic institutions and organisations that are jobs-focused are inspected fairly. It's always been a struggle to ensure the framework is appropriate for all types of providers. There's been a lot of progress, but work needs to be done so everyone understands exactly what Ofsted is looking for when it comes.
How could that be achieved?
AELP needs to do more work with Ofsted and at the same time support training providers so we can be very clear about what Ofsted is looking for. And that the SFA and Education Funding Agency's (EFA) success measures are coherent with Ofsted, so bodies know where they stand. We have plans to do that going forward.
How do you view apprenticeships right now?
I would say they are in as good a shape as they have ever been. There's never been such wide acceptance of the scheme — we've never been in a stronger place as we are now. There's seems to be support for all age apprenticeships which we support — you've got to focus on a whole age workforce development to build the credibility that will allow you to develop entry points for young people.
What do you think of the apprenticeship reviews such as those carried out by Doug Richard and Jason Holt?
They have meant employer involvement will become more of a reality. But there should be a greater acceptance of the role of training providers and they should be a part of these reviews. There's an element of trust where they should be asked to sit down and asked, with all this experience, what they think will work and won't work.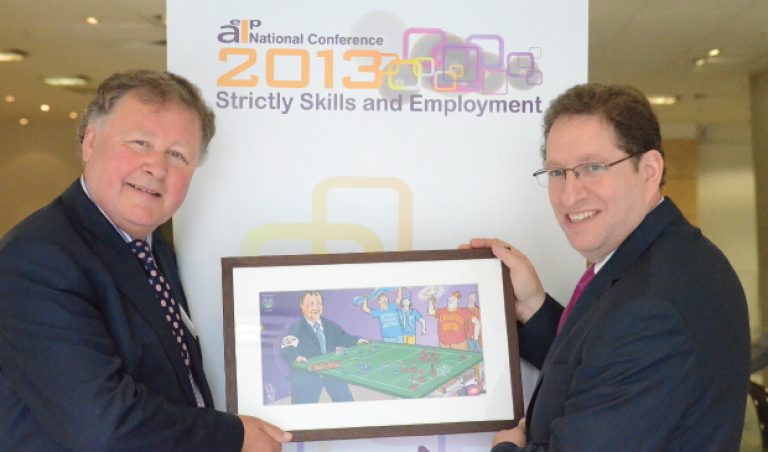 From left: Retiring AELP chief executive Graham Hoyle and new AELP chief executive Stewart Segal, showing off a gift from FE Week: a framed 'level playing field' cartoon that appeared in FE Week in March
What is your view of traineeships?
A programme that's a stepping stone for young people is absolutely a long time coming and we've been pushing for this. We've been disappointed that it's limited in age and the type of employers who could provide it. We need to be proactive in this and give SFA and EFA the confidence to extend this to 19 to 24-year-olds.
If you were a government minister, what would be at the top of your to-do list?
I would focus on the one million young people out of employment and so would traineeships and apprenticeships would be at the heart of my work. I would ensure they were more coherent and put more resources on those programmes, making sure they are as flexible as possible.
When your time as AELP chief executive comes to an end, how would you like to be remembered?
I would like to be remembered as having ensured training providers have been a part of delivering vocational training as a real option for young people and that the programmes delivered form the basis of an all-age, all-workforce development that sits at the core of ensuring that UK industry is world class, based around skills and training.