The government should publish guidance on how it expects management fees to be applied by August, the public accounts committee has said, piling pressure on ministers to act faster on subcontracting.
The demand came in the committee's report on Learndirect, which is published today and slams the provider for charging "unusually high" top-slices of 40 per cent.
It said that even though the ESFA requires all providers who subcontract their provision to be transparent about management-fee rates, it provides no guidance on the levels of support that might be merited by different levels of top-slices.
The PAC has urged the government to "formally publish" its "expectations about the services that should be offered to subcontractors, and the associated management fees that are reasonable", in time for the next academic year.
It adds to similar calls from Robert Halfon's (pictured below) education select committee.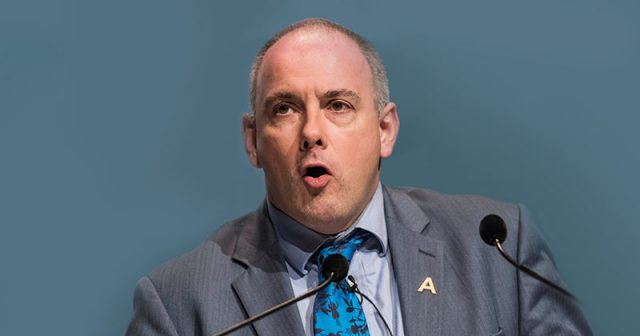 In December, he accused the government of double standards on subcontracting charges, after it missed its own deadline for issuing templates for providers to submit their figures.
Colleges and independent training providers have since 2013 been obliged to publish the amount of government cash they withheld before paying subcontractors to run training by the end of November each year.
But the ESFA recently decided it would publish all the figures instead.
FE Week has been badgering the ESFA to get on with it, and in January it said it "aimed" to publish by the end of March – four months after its own deadline and too late to make them available for scrutiny by various committee inquiries into the issue.
Learndirect, which retains all of its contracts despite an Ofsted grade four last year and special treatment from the DfE, is notorious for its high management fees.
In 2015/16, it retained £19.8 million from its 64 subcontractors, 36 per cent of its total SFA funding for that year.
Meg Hillier, the PAC's chair, described this as an "outrageous scooping off of profit".
"All management fees should be transparent," she told FE Week. "I've spoken with third-sector providers and some of them are not savvy enough in the commercial world, and only take tiny amounts of management fees.
"There are a lot of good providers out there who are swimming with the sharks which are these companies who learn how to botch things up."
She said transparency on fees would enable the ESFA to monitor the wider subcontracting picture and identify any problems which need to be acted on.
There are a lot of good providers out there who are swimming with the sharks
Mark Dawe, the boss of the Association of Employment and Learning Providers, backed her call.
"AELP strongly supports the PAC's recommendations on subcontracting and associated management fees," he said.
"We want full transparency and we are disturbed that while the ESFA is restricting funding to the non-levy market, some lead providers are using the opportunity to charge unjustifiably high management fees.
"This is totally unacceptable and we hope that official guidance which tackles such poor practice will be available soon."
The AELP believes that the government's amendment to the funding ruless that providers don't have to publish their subcontracting arrangements and associated management fees was "mistaken" and in the "interests of maximising the amount of funding that reaches frontline training", transparency around the practice "should be restored".
Julian Gravatt, the deputy chief executive at the Association of Colleges, said his organisation also agrees with the PAC's recommendation.
The DfE said it would respond "in detail" to the PAC's recommendation in "due course".