UPDATE: 8.17AM Wednesday, July 29 (see foot of story)
The Skills Funding Agency (SFA) said it has "no timescale" for the return of its monthly provider payment system which this morning remained shut following the end of a planned five-day closure.
The Hub closed on Thursday (July 23) and was due to reopen at 9am today, while the system switched to a new supplier.
But the online data uploading system, which allows providers to submit their Individualised Learner Record data to the Skills Funding Agency (SFA) in order to process payment, was still down this morning as the August 6 deadline for the twelfth monthly data return (RO12) for 2014/15 move ever nearer.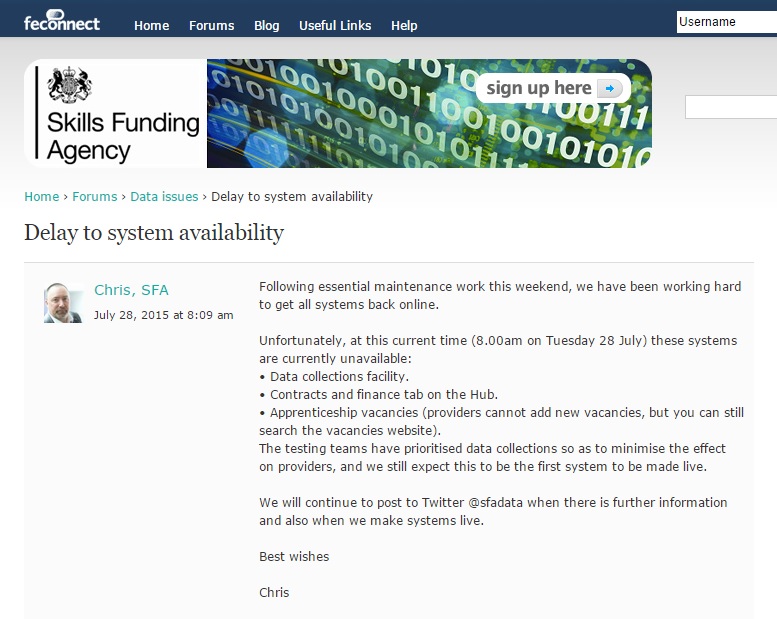 An SFA spokesperson said there were "no timescales yet" as to when the Hub was likely to be up and running again, but that it would post updates on the @sfadata Twitter account and on the SFA-run FE Connect forum.
Normally, providers would have 10 working days to submit their data, but with the closure for maintenance they were due to have seven days.
However, an update posted on FE Connect help forum for providers at 8.09am today revealed plans had been derailed.
The post said: "Following essential maintenance work this weekend, we have been working hard to get all systems back online."
But, it added, the data collections facility on the Hub, as well as the contracts and finance section and the apprenticeship vacancy website were "currently unavailable" — and the SFA's data Twitter account @sfadata, revealed the delay was due to testing.
The FE Connect post said: "The testing teams have prioritised data collections so as to minimise the effect on providers, and we still expect this to be the first system to be made live."

The Hub's closure has already created problems for providers offering the new employer-designed Trailblazer apprenticeships, which had to return their data for the earlier deadline of July 27 — when the Hub was due to be closed, effectively bringing the deadline forward by four days.
---
*UPDATE: 8.17AM Wednesday, July 29
A Skills Funding Agency official posted on FE Connect (see below) that the data collections facility in the Hub was operational and that ILR R12 data could therefore be submitted.
The contracts and finance tab and also the apprenticeship vacancies system remain down, however, with still "no ETA," he later posted, for their return.
"We prioritised the data collections system so as to minimise impact on providers," wrote the official.
"We are still working on the contracts and finance tab on the Hub and also on the apprenticeship vacancies system."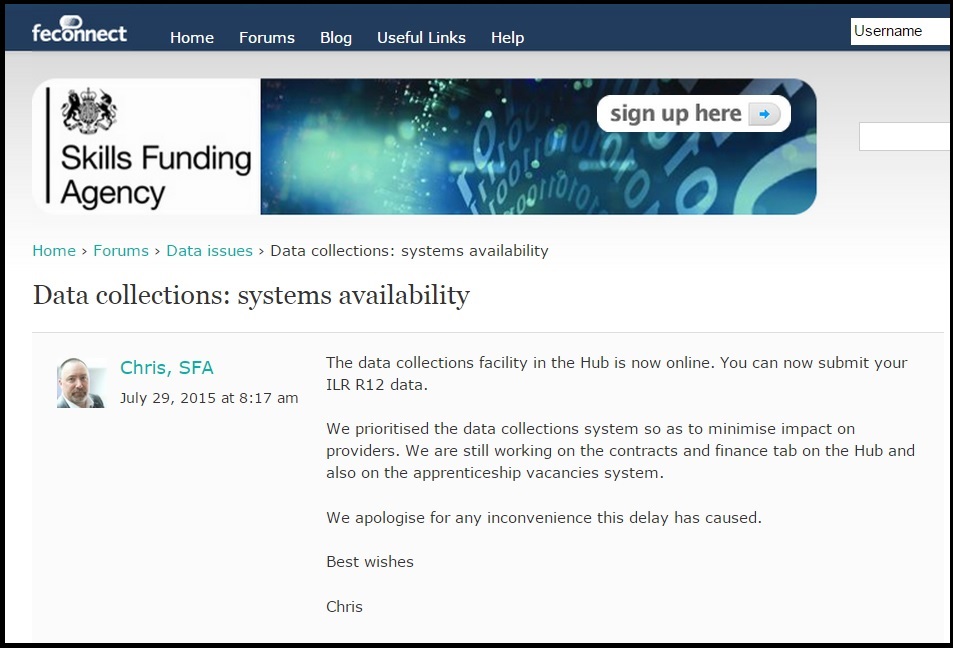 At around the same time @sfadata posted a similar message on Twitter (see below), while on the Hub itself an additional message read: "CDS will be also emailing any updated funding statements for 2015 to 2016 to those providers affected".