Forty-five colleges and school sixth forms across England will need to find hundreds of 45-day industry placements as part of new "digital" T-levels next year.
But last month Scarborough Sixth Form College pulled out of the programme as the principal did not feel confident in securing enough placements – a move which was applauded by education secretary Gavin Williamson, a former student of the college.
FE Week investigated whether other providers would struggle to find relevant employers in their patch.
"The time it is taking to fulfil requirements is huge"
Weston College, based in Weston-super-Mare and one of an initial six providers set to deliver the digital T-level in the South West of England, has admitted to concerns over finding sufficient employer partners to deliver industry placements.
"We are confident that we can embrace the delivery of the digital T-level, but recognise that it is a difficult agenda," principal Dr Paul
Phillips said.
"We are well on the way to finding our placement providers, but again the time it is taking to fulfil requirements is huge.
"There is, however, a reality here – this is the future and therefore we have to find a way to deliver this successfully and we will."
The "Digital production, design and development" qualification will be one of the first three T-levels to be available at select colleges, schools and other providers across England in September 2020.
The two-year course will follow GCSEs, be equivalent to three A-levels and include classroom learning.
A mandatory industry placement of at least 315 hours (approximately 45 days) is arguably the most critical component of the T-level.
A student could be on the programme for the full two years but prevented from passing if the provider cannot find an employer to place students with – something that sector leaders have long expressed concern about, especially for those in rural areas.
To encourage enough providers to sign up to offer the new qualifications, colleges have been given monetary incentives including a hefty £38 million capital funding pot which 13 have benefitted from so far.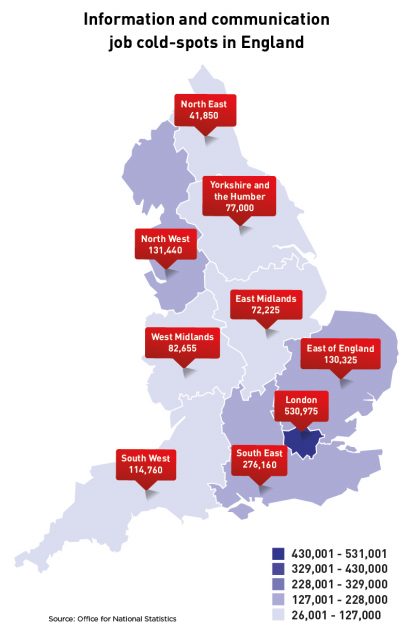 But this year the National Foundation for Educational Research released research, based on interviews with half of the first 50 providers to deliver T-levels in 2020, which found providers faced huge challenges in securing work placements, specifically in the digital sector.
This was reportedly "due to the small size of many of these businesses, as well as intellectual property and safeguarding issues".
Recognising this threat, the Department for Education (DfE) announced in May that students would be able to split their industry placements between two employers, in order to enable more choice.
They also stated that digital placements could be undertaken within "common sets of occupational areas" as opposed to those only relevant to students' specific specialism.
FE Week analysis of the latest employment data from the Office for National Statistics attempted to identify the potential cold-spots of digital jobs in England.
It showed the North East had the fewest Information and communication jobs, as of June 2019.
Despite this, Chris Toon, deputy principal at Gateshead College, was optimistic about finding enough work placements.
"North East England has one of the fastest growing digital and tech sectors in the UK," he said.
"It's our continuing role as a college to ensure those businesses that choose to thrive here in the region have access to a talented workforce; people with the skills, experience and ambition who can hit the ground running."
The college "successfully trialled" digital T-levels work placements as part of the DfE pilot last year, according to Toon.
As a result, he said it already has commitments from leading tech firms in Gateshead and the wider North East region going forward.
Derby College is the only planned provider of the digital T-level in the East Midlands, a region with the second fewest digital jobs according to the data from the Office for National Statistics.
Kate Martin, vice principal of Derby College Group who is heading the introduction of T-levels at the college, sought to allay apprehension over placement options in the area.
She said: "Our partnership working with local and regional employers – which has been rated as 'outstanding' by Ofsted – gives us a head start on the work experience requirements under the T-level programmes.
"We have a dedicated team whose focus is to provide current students with diverse opportunities with employers, including work experience.
"Partner employers in the first tranche subjects – and many others – are fully on board to work with us to provide students with the work-based elements of the T-levels."
Yorkshire and The Humber was the region with the third smallest workforce employed in "digital" jobs.
But a spokesperson for Barnsley College, which is based in the region, said it had "no intention to withdraw" and planning for delivery was "well underway and on track."
Barnsley College is the prime college beneficiary of capital funding for T-levels so far, having received £2.2 million.
David Akeroyd, vice principal of technical and professional education, explained how the provider secures work placements.
"We are working closely with Barnsley Metropolitan Borough Council in relation to the town's proposed digital campus, which will open up new opportunities for business start-ups and the relocation of existing digital employers to Barnsley," he said.
"The town also has easy access via public transport to the key cities of Sheffield and Leeds where we have many links with digital employers who are supporting T-level delivery."
Barnsley's digital campus is set to open in September 2020, according to the college and the council.
The principal of Shipley College of Further Education, Nav Chohan,
echoed the expectation of meeting the T-level industry requirement in the Yorkshire and the Humber region.
He stated: "Given our positive experience in finding opportunities with employers under the Work Placement Capacity and Delivery Fund, we feel confident that sufficient industry placements can be found."
Leeds-based Notre Dame Catholic Sixth Form College also said it was "confident" that it will deliver a successful T-level digital programme, including sufficient amounts of industry placements.
The highest proportion of digital jobs in England are based in London but there are only four digital T-level providers in the capital and none of the largest London colleges will be offering the new qualification next year.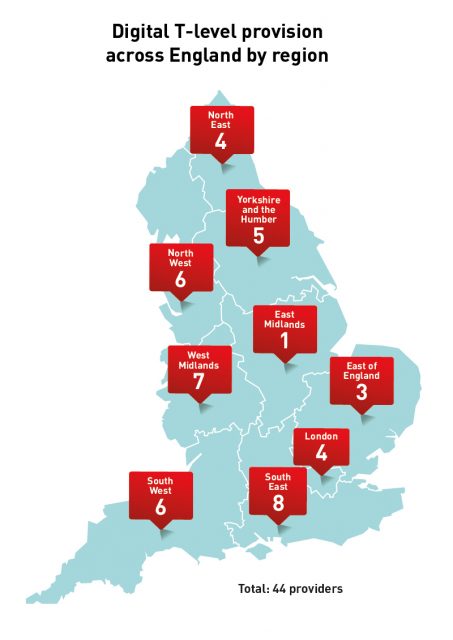 Part of the reason for this was the stipulation that grade three colleges could not apply to deliver the first wave of T-levels; nor could merged colleges that no longer have an Ofsted grade, such as London South East Colleges. 
At the start of October, when Scarborough Sixth Form College officially pulled out of delivering the digital pathway, education secretary Gavin Williamson said his former college made the "right decision".
Despite Williamson also pledging to convene employers to "make sure" enough work placement opportunities are available to colleges, his words could be taken by rural colleges as encouragement to bail out now if they also have concerns over work placements.
But Becci Newton, deputy director of public policy research at the Institute for Employment Studies, cautioned against a decision not
to attempt delivery of the T-level in locations that are not known as digital hubs and claimed it would be "a hugely limiting decision in terms of young people's future careers".
"Obviously places such as Reading, Brighton and London have high numbers of digital employers, however, it is also the case that all organisations use digital skills in some way, and often these provide a suitable match for FE level digital skills," she added.
Other digital T-level providers across the South West – the same region where Weston College acknowledged difficulties in preparation – expressed their confidence in the successful delivery of the programme.
Matt Reynolds, a vice principal in teaching, learning and assessment development at Cirencester Sixth Form College, said: "We've had a healthy response from employers of different sizes who are willing to get involved with T-levels.
"The key is in being flexible and understanding to help bring the employers into the programme as a partner, and also in having top quality communication between the college and business."
Bridgwater & Taunton College and Truro and Penwith College both told FE Week they were on track to deliver the new digital T-level successfully, but would not comment specifically on whether they will secure a sufficient number of work placements.
A DfE spokesperson said: "We have worked closely with large and small businesses to make sure we get the delivery of T-levels right.
"As we progress towards September 2020, we expect a certain amount of fluctuation among T-level providers and the pathways they offer – but these changes are not anticipated to be a matter of concern."