The responsibility for telling learners about new FE loans will lie with providers after the government admitted it had no budget to promote them.
Meanwhile, it remained tight-lipped on how much it will be spending on its latest apprenticeships campaign, despite repeated enquiries from FE Week.
Loans for learners aged 19 and older are due to be introduced in 2016/17, as announced during the government's spending review in November. However, as with loans for learners aged 24 and above, launched in 2013, there will be no national awareness campaign.
"I can confirm there is no marketing specific budget for advanced learner loans," a spokesperson for the Department for Business, Innovation and Skills (BIS) told FE Week.
"There is support to ensure providers have the resources they need to be able to inform learners about the availability of loans," the spokesperson added.
Advanced learner loans have had low take-up from their launch.
The government scrapped loans for apprenticeships soon after they were launched, after the Student Loans Company, which administers the loans, received just 404 applications in seven months.
As revealed in FE Week, figures published in October showed that just 38 per cent of the £397m budgeted for FE loans in 2014/15 was awarded, meaning that providers missed out on £250m in loans cash.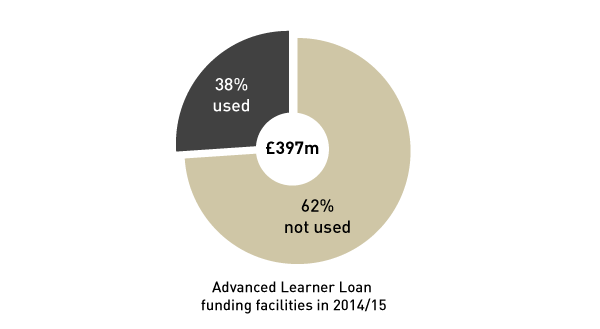 The latest figures, published by BIS on January 28, showed that loan take-up had effectively stalled, with 52,610 applications for the year to date, compared to 52,670 for the same time last year.
In a report published on Monday, the Learning and Work Institute said that awareness of FE learner loans needed to be developed further.
The Shadow Skills Minister, Gordon Marsden criticised the government for its "head in the sand attitude" towards promoting FE loans, and urged it to learn the lessons from the 24+ loans.
"They know very well how the failure to promote effectively the 24+ advance learning loans either by marketing or by directly encouraging and engaging with colleges has lost the department millions," he said.
Meanwhile, BIS has refused to tell FE Week how much it will be spending on a communications campaign to promote apprenticeships.
The campaign, which was due to have been launched last month, according to the government's English Apprenticeships: Our 2020 Vision Report, "will bring together messages about apprenticeships, traineeships and work experience to encourage employers to consider in the round their pipeline of skills".
The Skills Minister, Nick Boles (pictured above) has indicated that this year's campaign will be similar in size to that campaign, which cost £6m and included TV, radio, posters, print and digital advertising.
"We had a big campaign last year and will have another campaign this year," Mr Boles told the Education, Skills and Economy Sub-Committee last month.
"We do not often get sign off for marketing budgets in Government anymore, but we do for apprenticeships," he added.
A BIS spokesperson said that information about the marketing budget for the new campaign would be published "in due course".