Apprenticeships and skills minister and Chichester MP Gillian Keegan could be a win-win for the Conservative Party. She hails from the country's 'most Labour seat', was a 16-year-old shop floor apprentice, and has a masters-level business intellect.
Gillian Keegan, the new apprenticeships and skills minister minister, strikes you as the sort of MP that the Conservatives need more of. Her life story could be an advert both for apprenticeships – being the "only degree-level apprentice in the House of Commons" – and the appeal of conservative values to the "red wall" working-class background she's from. We meet at FE Week's Annual Apprenticeship Conference, almost three years since the Chichester MP first won her seat in parliament. She's sitting very safely, with 58 per cent of the vote in the December election. But this most southern of cities, which has returned a Conservative MP since the 1800s (except a brief flirt with a Liberal in the 1920s), puts Keegan almost a five-hour drive away from where she grew up, in Knowsley near Liverpool.
She describes her childhood home as "the most Labour seat in the whole country" and she's right – the MP there won more votes than any other from the party at the most recent election. Keegan appears proud of her political independence of mind from the inheritances of her childhood, explaining her experiences with a matter-of-fact, concise tone of voice that matches it. If she hadn't been brokering international business deals for the last 30 years, one feels she'd have made an excellent no-nonsense college principal.
'I've done a PhD in patience'
"As my mother said, 'the Conservative vote left when you left home,'" Keegan concedes, without laughing. However when asked if voting Conservative since age 19 made her unpopular, she follows up with a chuckle: "I'm popular so I can get over the fact I'm a Conservative."
It must have been quite an inheritance to overcome. Her grandfather was a miner, her nan worked in a biscuit factory, her father was an office manager who wasn't paid very much and lived in a caravan during the week, and her mother did secretarial work. It's clear their daughter showed an unusual resilience to the difficult circumstances around her. She was the only pupil to get 10 O-levels at her comprehensive secondary school, having rejected the expectation that girls do only sewing and home economics and instead also studying engineering and technical drawing with her favourite teacher, Mr Ashcroft.
When she entered the workplace aged 16 she was the only girl in the group of trainees at Delco Electronics, a subsidiary group of General Motors that made in-car electronics. None of the boys went on, like she did, to complete the employer-sponsored degree at Liverpool John Moores University. Perhaps the fact school enabled her to take a route out explains why Keegan "loved school" – although it's not exactly clear how much there was to love.
"They actually closed my school down two years after I left. Some kids did A-levels, but you were never going to get a decent grade, you were never going to get to university. The provision of education was so poor you had to find another way around." It gives Keegan a very real understanding of the lack of opportunity in areas like hers. "I've done many things with many of the world's brightest people. But all the people I met at that Knowsley comprehensive school were as bright as anyone I've ever met since." She adds: "We would be classed as people who would have to go down a vocational route, because they weren't bright. But we were bright. We just didn't get the opportunity to show we were bright."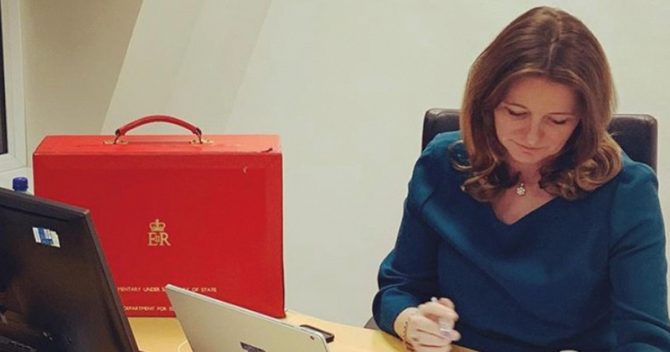 It was while working in the car factory for General Motors that Keegan's political views began to emerge – she was unimpressed by the trade unions trying to battle the company's decisions. "It was the 1980s and there was a lot of sort of highly unionised behaviour in the car factory, which is actually what made me a Conservative." She calls these the "bad sort of unions who would be out because they wanted to preserve working practices, not because they wanted to move to where the company wanted to be." Her views solidified as she took a job in London for NatWest and soon began international business in earnest, heading to Tokyo for weeks on end to negotiate contracts. Some of these were about the contactless card payments we take for granted today.
After a stint with MasterCard, Keegan moved to Madrid for a company called Amadeus, learnt to speak Spanish and bought a flat there, which she still has. While at the company she was part of an initial public offer, or IPO, where the private business is sold on the stock market – meaning Keegan will have got a big financial reward, or, as she puts it, "the financial freedom to think of other careers". But despite all this, Keegan notes that a sense of misfit can linger on. Aged 40, she did a Sloan Fellowship, which is like an MBA, at the London Business School, "because you always feel you haven't got the qualifications to match your intellect, if you had to go about it a different way. I wanted to prove to myself I could do a masters." Just a couple of years later, she was an MP.
The almost rags-to-riches story puts Keegan in a powerful position to advocate for apprenticeships, and also for social mobility from a pull-yourself-up-by-your-bootstraps experience. She names the dyslexic businesswoman, Jo Malone, creator of the luxury scent brand, as someone she deeply admires for beating the odds. She also makes a great point about the unique value of a rotational apprenticeship such as hers at General Motors. "By the end of it, pretty much myself and the other apprentices were the only people apart from the CEO and the CFO who actually understood how the whole thing worked, because most people when they get into a large multinational business do not get to go around the whole thing."
She adds: "Even if you go on a graduate programme you very seldom get to see it, because you're normally assigned to a department or assigned to specific roles." Her passion for apprenticeships impressed former skills minister Anne Milton, who had already talent-spotted Keegan before she was an MP and put her in touch with Women2Win, an initiative co-founded by Theresa May to encourage Conservative women to stand for office. Now, she further urged Keegan to become an MP ambassador for apprentices, and Keegan eventually also became co-chair of the all-party parliamentary group on apprenticeships. Today, with the post of a dedicated apprenticeships and skills minister having gone unfilled since Milton resigned over a no-deal Brexit in July, Keegan finds herself taking up the reigns in her mentor's old office.
'I get ideas by chatting with people'
Which brings us to the question of how she will fare in that office. It's a turbulent time in the Conservative party, with the chancellor already having resigned, bullying allegations engulfing the home secretary and ministerial aides disappearing left, right and centre. One thing worth noting is that several of Keegan's natural political allies are gone. Justine Greening, respected both in and out of the party, first met Keegan at a party for London Business School graduates in 2017.
"I didn't know what she was then but she was something important. And I plucked up the courage and went to speak to her and she then helped me on my journey […] to become an MP." Keegan says she's done a "PhD in patience" by becoming an MP – working with volunteers and coming to terms with the fact that parliament does not work like a super slick international business – something mentors like Milton and Greening have helped her understand. She laughs as she claims she's designed her "own apprenticeship in being an MP", with stints on the public accounts committee, as a parliamentary private secretary to the Treasury, home secretary and Department for Health, as well as posts with the Ministry of Defence. Like Greening, Keegan seems good at listening. "I'm a people person. I get ideas by chatting with people."
But both Greening and Milton are now gone – unable to match their own values with the direction of the Conservative Party. Keegan backed Rory Stewart for the leadership, but he too has quit. Many commentators have said some of the party's best moderate talent has left the backbenches.
But Keegan says she exemplifies an important truth about people from backgrounds like hers. "I'm sure the people in many of those areas of the 'red wall' that became the 'blue wall' are people who are very similar in terms of values, outlook and opportunity to where I grew up. And I've always thought, if you took the brand away, and you just looked at the values and what you could achieve, I've always thought most of them would vote Conservative […] And actually, as it turns out […] now 30 years on, they have."
Yet there is some undeniable data. Further education has been badly hit by falls in college funding under the Conservatives. And whilst the apprenticeship budget has risen with the introduction of the levy, rates could be slashed by over 40 per cent.
As someone from a struggling area of the country, who knows deeply the value of apprenticeships, Gillian Keegan is the kind of MP the cabinet should nurture, listen to and promote.
She must ensure the party sticks to its 2019 manifesto commitments to properly invest in further education. Meanwhile, the cabinet would do well to support her to make sure she does not go the way of Stewart, Milton and Greening.