One college principal expects the number of colleges in England to drop by a third over the next two years, FE Week can reveal.
Stuart Cutforth, principal and chief executive of Chesterfield College, raised the issue in a speech at the 2016 emfec conference in Nottingham today (February 7), saying that he expected college numbers to drop to 200.
Mr Cutforth spoke about his experiences of leading Chesterfield College through the first wave of the government's post-16 education and training area based reviews, at emfec's 'Innovation in FE – Embracing Devolution' conference.
He said his college's review had started in September 10 and should have finished last week, but is not yet complete.
He described a process of "speed dating" over three and a half months, during which the nine colleges in Sheffield City region – all of which are rating 'good' or 'outstanding' by Ofsted – were encouraged to look at working collaboratively together.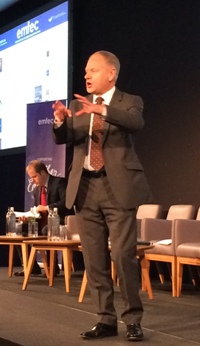 "It feels like Apocalypse Now," he said of the process.
"These are unprecedented times for FE, makes no bones about this, this is real, this is going to happen and we need to embrace it. Whether we like it or not, area based reviews are here to stay.
"We have got radical restructuring brought upon us by political intervention … This is the biggest change for 22 years, it is serious," he said.
Mr Cutforth observed that since 1993 the FE sector has "lost a third of our colleges", and said he predicted the number of colleges in England would drop down to 200, possibly by 2017.
"If you sit and wait for the FE commissioner to sort this out, you will lose. Get on with it and find some solutions for yourself," he advised the emfec conference audience.
He added that merger did not have to be the only option. "I know colleges fear that word. I've merged a college, I've stopped a college from being merged – I know the difference.
"The merger of my college in City College Birmingham with South Birmingham saved about £200,000 – that's it, that's all. That won't work on its own," he said.
Nick Linford, FE Week interim editor and chair of the event, then pressed the other FE experts taking part in the morning's 'Creating Innovation in the Skills and Education Sector' panel discussion (pictured above), to give their views on the future for college numbers.
The panel all said that the number of colleges was likely to fall as a result of changes brought about by the area review process. Andy Wilson, Principal of Westminster Kingsway College and chief executive designate of City and Islington and Westminster Kingsway Colleges, agreed with Mr Cutforth that the number of colleges could drop by a third to 200.
Melanie Ulyatt, regional chairperson for the Federation of Small Businesses predicted 243 colleges over the next two years, while Mark White chair of the Association of Colleges Governors' Council, expected 253 and Jo Lappin, chief executive of Northamptonshire Enterprise Partnership, guessed 260.
Ms Ulyatt said: "I hope to think that it would be the colleges decisions, making those pathways to either merge or stay as they are," and Mr White commented: "This rushed, under-resourced process has, nevertheless, opened up conversations between colleagues in a way like never before."
Ms Lappin said there was a need to recognise the needs of each individual area. "This process needs to be transformational – how does it drive up achievement and performance, rather than just saying we've got to go through a process that makes some savings?" she said.
Other speakers at the event included Shakira Martin, vice president for FE at the National Union of Students, who spoke on the importance of listening to learner voice, and Nic Dakin MP, shadow schools minister, who discussed the potential impact of devolution on the FE sector.