The Prime Minister wished everyone from WorldSkills Team UK the best of luck in letters handed to them at a special send-off event in Westminster.
[You can leave your message of support for Team UK at the end of this article.]
In a letter to each of the competitors who are flying out to Brazil tonight, David Cameron congratulated them on their success in qualifying for the team and said: "I would like to take this opportunity to wish all those involved every success this year."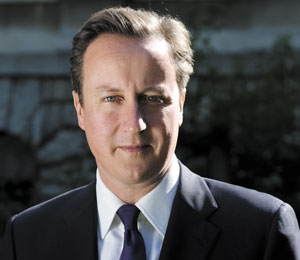 He added that future learners would be inspired by their exploits in Brazil and said: "I hope you will enjoy the experience and I look forward to seeing how much you can achieve on behalf of our country."
The letters were given out at today's event in Great George Street, London, close to the the Houses of Parliament, where parents, team leaders and staff from Find a Future, which organises the UK's WorldSkills entries, came to say good bye and good luck to the competitors.
Skills Show Patron and former former Dragon's Den star Theo Paphitis was among those who attended.
"Everyone in this room is proud of you," he told the competitors.
"You've got the drive and the ambition to do what's right for yourself, but in this particular instance, you're doing something even more magnificent, which is representing the UK.
"And it's something that's going to stay with you for the rest of your life and you're going to be so, so proud."
Peter Lauener, the UK's official WorldSkills delegate and chief executive of the skills and education funding agencies, told the team members to make the most of the experience, by interacting with their team mates and other competitors.
"You can sense the togetherness between you that's come because you've trained together, you've learned together, you've been to lots of events," he said.
"And that's going to be the foundation of success in Sao Paulo, together with the immense amount of hard work that each of you have done individually."
Find a Future chair Carole Stott also had a few words of encouragement for team members who, she said, had got this far through "hard work, your own determination and your own perseverance".
"We all know here that you're going to do us proud in Brazil," she added.
The competitors were each issued with a special enamel pin.
Cookery competitor Danny Hoang, aged 21, said: "I'm really proud to be able to wear the enamel, only a select few have been able to receive it and to be part of it is very special.
"I can't wait to get started — I've been pretty nervous, but I've done everything I can to prepare for it so I can't wait to get started."
Danny's mum Suan and brother Lawrence were at the event to see him off.
Suan said: "I'm so, so proud of him, not just for himself, but representing the UK as well.
"Words cannot describe it — I'm just so proud about what he's achieved so far."
Unfortunately one member of Team UK won't make it to Brazil.
Sheet metal technology competitor Harley Brian, 20, has had to withdraw from the competition after a leg injury meant he was unable to fly.
A Find a Future spokesperson said: "Unfortunately, due to a serious knee injury, Harley Brian has been withdrawn from the Sheet Metal Technology competition at WorldSkills Sao Paulo and will not be travelling to Brazil with Team UK.
"We are maintaining close contact with Harley and his family, and will provide further information as soon as it becomes available.  Everyone at WorldSkills UK would like to take this opportunity to wish him a speedy recovery.  He will not be replaced in Team UK."
The rest of the team will fly to Brazil tonight, in preparation for WorldSkills, which will run from August 12 to 15 and FE Week will be joining them.
Keep up with all the action before and during the competition on feweek.co.uk or on Twitter with the handle @FEWeek and the #GoWSTeamUK hashtag.