Homelessness charities have been boosted by donations of food, clothing and toiletries thanks to kind-hearted West Nottinghamshire College students and staff.
Twelve shopping trolleys were piled high with the essential provisions for the college's annual initiative, which is known as the '554 Challenge'.
Held since 2011, the programme was first created by computer science curriculum manager Trudi Dean, after she delivered tutorials to students on the subject of homelessness.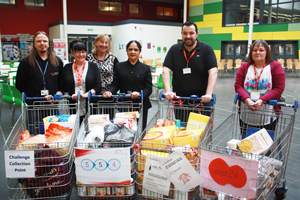 Named after the challenge's original aim of getting '5' teams to fill '5' shopping trolleys '4' the homeless — nearly all areas of the college now contribute the much-needed items over a four-week period.
Charities benefitting from this year's challenge — led by learner development coach Lee Bunting — are the Beacon Project, the Hall Homeless Support Project, Framework, and Nottingham and Nottinghamshire Refugee Forum.
Mr Bunting said: "It has been an absolute pleasure to lead the project. It's humbling to know we're helping these essential charities, and students have said it's great that they can give something back to the community."
Main picture: West Nottinghamshire College students, staff and charity representatives with ten of the shopping trolleys filled with food, clothing and toiletries