An ex-offender who passed an exam less than 24 hours after giving birth has been honoured for her efforts to turn her life around through FE, writes Billy Camden.
Zoe Marie Roberts feared a traumatic past would continue to lead her to a life of crime — but she decided to change track and enrolled for studies at Coleg Menai Bangor and has not looked back since.
The 19-year-old learner studied a new direction course which consisted of health and social, IT and psychology, followed by a social sciences diploma.
Her determination to better her life was underlined when she sat her social work exam just one day after the birth of her third son, Harvey, and passed.
As recognition, Zoe was named winner of the No Offence Redemption & Justice Young Person Award, an annual award that recognises the achievements of people who have overcome adversity to change their lives.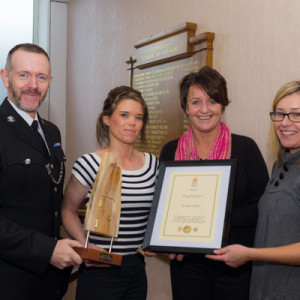 "When I heard I had been nominated for the award I was shocked as I didn't think I was doing anything special," said Zoe.
"I just wanted to give back to the community and to help others, to show them that there is a chance.
"When I heard I won it was an emotional time as it showed me the changes I had made in 10 years. It has been an amazing experience."
At the age of 10 Zoe was abused which led to her committing minor offences within the community throughout her teenage years, usually while under the influence of drugs and alcohol.
She refused to attend school and later "became a danger" to herself.
Zoe's life choices, along with her traumatic experiences, drove an escalation in her offending which led to two periods in custody and another of her being placed within a secure unit for her own safety.
On reaching age 18, Zoe decided she could no longer continue on this path and enrolled for her studies despite a four-year absence from education.
She has since progressed into work roles with a company offering young people the chance to live independently, and has also provided support voluntarily to the Edge of Care Team and helped to interview staff for the Youth Justice Service.
Zoe has also acted as a mentor to another young female with a similar offending history to herself.
Novus, a not-for-profit social enterprise which delivers education, training and employability services to people in custody, sponsored Zoe's award.
The company's director of justice services, Barbara McDonough, said: "Zoe clearly demonstrated to the judges her ability to make positive changes in her own life and sustain those improvements over a significant period of time. In addition, Zoe has helped others to change and has had a positive impact on people's lives with similar issues to her own."
Zoe added: "I still face difficulties now and my life is far from perfect but I'm far away from life of crime.
"Having my three children — Tylor, Sophea and Harvey — is what inspired me to change."
Main pic: Zoe Marie Roberts with her No Offence Redemption & Justice Young Person Award