"The trouble with me is, I reckon I'm probably one of your most boring interviewees," Peter Mayhew-Smith tells me with an apologetic grin.
"I have travelled almost zero miles in my career."
He means this literally — he was born in Teddington, just two miles away from Kingston College, across the Thames, and 10 miles from his other base at Carshalton College.
But of course, this is not the whole story.
When Mayhew-Smith was 10, his parents, journalists Richard and Christine Mayhew-Smith, announced the family would be moving to Iran.
Three years later they fled the oncoming revolution, which saw the Shah deposed and brought in the strict Islamic regime.
"I remember my dad telling me in the back of the car one day that we were all off to Iran, and did I want to stay and go to boarding school in the UK or did I want to head off into the Middle East?" says 48-year-old Mayhew-Smith.
"And I really didn't know what to expect. I thought it was desert and camels and who knows what, but actually Tehran is a really thriving, cosmopolitan city."
The experience clearly had a huge impact on him.
"I kind of fell in love with it, it just had so much going on — really vibrant, fascinating place, amazing people" he says.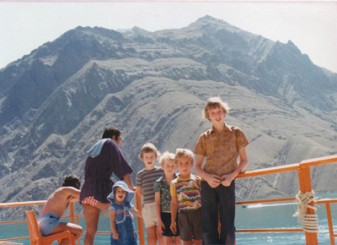 "You know how your memories just go in black and white? That period of my life is still in vivid Technicolor.
"I can really see it. I can even still smell the streets and the markets and the food being cooked by the side of the road — and to be honest, the drains also had a particular character to them."
The family had moved to Iran when Mayhew-Smith's father got a news chief post on Iran's English-speaking television channel. Some days, he tells me, he would come home from school to find his father reading the news on television because no-one else was available.
"It unravelled a little bit in 1978 and we fled that summer, leaving my dad behind to cover the revolution for the BBC," he says.
"We would check in on the news at teatime with mum to see if he was still alive, or what was going on, because we couldn't get a phone line into him — and when we did, he would say, 'I'm just going to hide under the table for a little while because it's a bit noisy outside,' and you could hear shots in the background."
The 13-year-old Mayhew-Smith seemed to take it all in his stride.
"To be honest, there was so much reassurance, we were always made to think that it was going to turn out alright in the end — and it did," he says.
"He was still there for about four months or so, and he left Iran about the same time as the Shah did, in January 1979."
Our eyes met over a couple of fighting students
The family moved around frequently back in England and by the time Mayhew-Smith was a teenager, he says, he'd never attended one school for more than two years at a time.
The family settled back in Teddington in the early 1980s, but moving around so much left Mayhew-Smith with "naturally itchy feet".
"My parents were real 'frontiers' people — always ready to have a go, always wanting to go and try something different and experiment with something, and maybe that's rubbed off," he explains.
"They would buy a ruined house and we would spend our summer holidays doing it up, so I think I knew how to chisel out a window aperture before I had learned to walk properly," he says.
"I was always ready to move on, and I suppose I have always just been used to adapting to things."
After graduating from Cambridge in 1986, Mayhew-Smith says his interest in social justice and "helping people do their best" drew him into voluntary work with people with disabilities, and those learning literacy, before he got a teaching job at Richmond College.
He then moved on to South Thames College where he met wife Ayshea, with whom he now has two daughters — Freya, aged 11, and Siena, eight.
"We were working together teaching communication skills and English to a group of construction students, and she and I would break fights up and deal with the toughest kids in the college," he says.
"I think our eyes met over a couple of fighting students."
He moved on to Lewisham College, which has now merged with Southwark College to form LeSoCo, and was awarded an "inadequate" grading at its last Ofsted inspection.
"I think that it's a really hard inspection judgement," he says, but adds that he thinks this low for the college is "a temporary thing".
"I've read the report and there is clearly some fantastic practice still there, and a lot to build on… and I can't imagine there is any shortage of drive to get this behind them," he says.
It seems Mayhew-Smith has found the perfect job for someone with itchy feet — principal of not one, but two colleges.
He took over as principal of Kingston College, four years ago because, he says, he is "a deeply curious person" rather than out of ambition.
"I just felt I would like to have a go at something I have seen other people do really well — I was fascinated by the work that's involved in that," he says.
"I didn't wake up at the age of six and think, 'I've got to be a college principal,' it's came to me and I came to it in 2010."
In 2012 he also became principal of Carshalton College, a move he says he thinks has benefitted both colleges, although he acknowledges they are very different.
"Kingston College's finances have dipped up and down, but we seem to be getting them onto a more even keel, whereas Carshalton is a really slick operation," he says.
"It's really well-run, but it doesn't have that sense of empowerment around the staff team, and when you bring those two together, if you can synthesise the best of those two cultures, you have got two absolutely first-rate colleges.
"And that's exciting, and I am really proud to have stuck my neck out and had a go at that, and I think I am even more proud of the fact that it seems to have worked and we are making progress, both colleges are moving forward."
———————————————————————————————————-
Its a personal thing
What's your favourite book?
USA by John Dos Passos. I love its insight into America, the way in which it evolved, and the social issues and politics of the time. I remember buying it and thinking: "This is enormous, I'll never read it," and getting through it in no time and wishing there was more — so it's a really special book to me
What's your pet hate?
There are so many things that irritate me. I hate the London traffic. I just find it really frustrating to give up huge chunks of time to nothing and you just think: "I've got better things to do." It's not being selfish, it's just I really do have better things to do
What do you do to switch off from work?
I love cooking. It's either that or mucking about with the kids — one of the things that I really treasure doing is getting home from work, having some time with the kids and then cooking a meal for me and my missus, when we sit down and put the day back together again
If you could have anyone to a dinner party, living or dead, who would it be?
Emmeline Pankhurst, Napoleon and poet Edward Thomas
What did you want to be when you grew up?
I'm still kind of waiting to work that out. I wanted to be a pilot for quite a long time, and I sort of wanted to be a writer, but then discovered that I loved teaching