Proposals to use the tax system to fund apprenticeships won tentative approval in a House of Commons vote organised by FE Week.
More than 120 people from across the FE and skills sector attended the debate on the government's three proposed apprenticeship funding reforms, with the option of employers recouping the costs of training through the PAYE system emerging victorious.
It claimed the biggest minority, with 27 per cent of those who voted saying 'maybe' the PAYE option should be adopted.
At the start of the debate, 22 per cent of voters had wanted 'no change to the current funding system'.
The event, sponsored by Pearson and hosted by Shadow Skills Minister Gordon Marsden, took place in the House of Commons' largest committee space — room 14 — on Wednesday, September 4.
Figures of SME take-up remain quite stark — that sets the challenge for government."
Votes were cast electronically at the beginning and end of the debate on reform options and whether employers should make a cash contribution for 19+ apprenticeships.
At first most of the voters — 33 per cent — thought employers shouldn't pay towards apprenticeships, but at the end 36 per cent thought they should.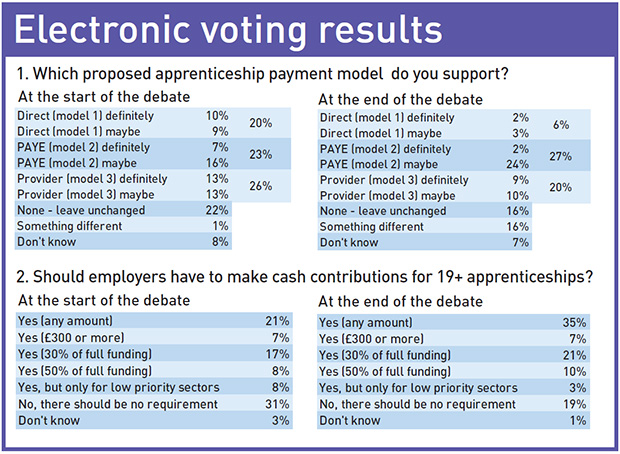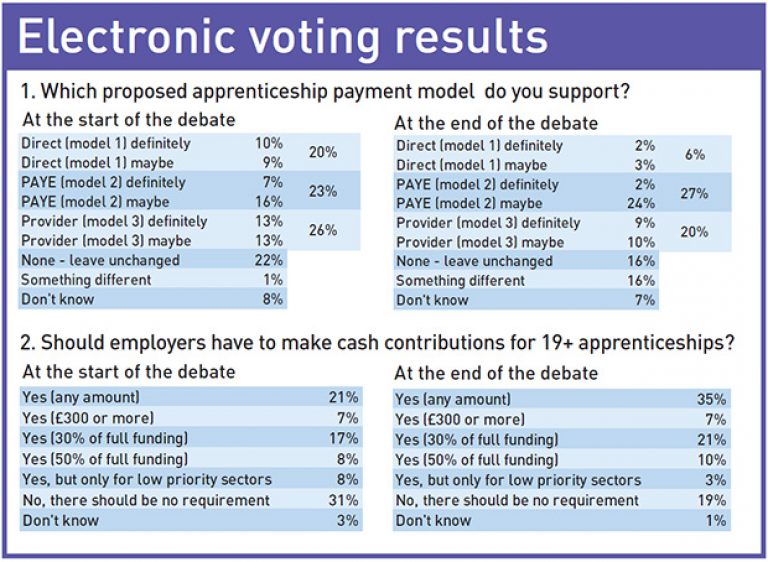 Speakers included Stewart Segal, chief executive of the Association of Employment and Learning Providers, Neil Carberry, director of employment and skills at the Confederation of British Industry, and Michael Davis, chief executive of the UK Commission of Employment and Skills.
David Phillips, managing director of colleges and work-based learning at Pearson, and Nick Linford, FE Week editor, made up the rest of the panel along with Ann Konzolik, executive director of business development at Northwest Kent College. She replaced Alice Barnard, chief executive of the Peter Jones Foundation.
They explored the reform options of direct payment to employers, payment through the tax system (PAYE) and payment to providers.
The options were put forward by the government after an independent review of apprenticeships by former Dragons' Den investor Doug Richard. He pushed the idea of incentivising employers by paying them for taking on apprentices.
Mr Marsden introduced the debate telling delegates: "The most important thing is that we are having this discussion.
"It's worth remembering how we got here in the first place — the government felt compelled to do the Richard Review because of concerns over quality of training programmes which coincided with the government's expansion programme when they axed Train to Gain in 2010.
"Also the Holt review looked at how to assist small and medium enterprises (SMEs) in accessing the apprenticeship scheme because many of them felt unable or unwilling to access the scheme in its present form.
"Figures of SME take-up remain quite stark — that sets the challenge for government," he said.
He said he didn't see how the three systems put forward "directly addressed" how to get more SMEs to access the scheme, adding: "That should be at the forefront of the process."
"I'm disappointed that there's no mention of funding being distributed by a regional or sectorial approach — that might be how SMEs would like to get on-board," Mr Marsden said before adding that the Labour Party were in the middle of doing their own report on apprenticeship funding reform.
Mr Davis started the debate, pushing hardest for the PAYE system.
"All businesses are familiar with the PAYE system," he said.
"We have been up-and-down the country and had unanimous support from businesses for funding through PAYE."
He likened the proposed employer payments to statutory maternity pay, however, Mr Segal dismissed the comparison, saying apprenticeships had multiple rates and would not involve one straightforward payment.
Mrs Konzolik claimed that paying employers directly or through the tax system, could create problems for what she coined "roving apprentices".
All businesses are familiar with the PAYE system"
"If the apprentice decides it isn't quite right for them to work in one particular organisation and they want to move on, who picks up the tab in terms of the employer contribution?" she said.
Mr Linford added that one problem already identified by the government of the tax system method could be that many SMEs were so small their PAYE bill would not be enough to cover their apprenticeship incentive.
One audience member suggested that while larger firms with over 1,000 employees could get on-board with the PAYE, perhaps SMEs should be exempt, but Mr Segal did not agree, saying two systems would be "too complicated".
Further, he said direct funding was not likely to "drive quality".
He added: "We are not in disagreement that the system needs reforming, but we do not think the system is broken.
"Employers are already owning this system, but clearly we want them more involved — we've got to get them back involved in developing the apprenticeship frameworks as government has had too heavy a hand in that."
Mrs Konzolik said she never had any difficulties getting businesses to pay providers for apprenticeships and Mr Carberry backed her, saying: "The biggest bit of feedback I get off businesses is if something is free, then what is wrong with it? If the price is right, businesses will buy."
The government's consultation on reforming the apprenticeship funding system opened two months ago and closes October 1.
Responses to its consultation should be sent to apprenticeships.consultation@bis.gsi.gov.uk by the closing date. Visit www.gov.uk/government/news/government-sets-out-radical-plans-to-shake-up-apprenticeship-funding for further details.
———————————————————————————————————————————————————–
The UK Commission for Employment and Skills (UKCES) publication Funding Apprenticeships through Pay As You Earn (PAYE) puts forward the argument that employers should be paid through the tax system.
It would bring simplicity, familiarity and flexibility, as employers would be able to start training apprentices throughout the year, according to the UKCES.
It argues that a change in the tax system would be a long term benefit and bring stability to the apprenticeship scheme, adding that changes to tax reach all businesses and making it easier to take on apprentices.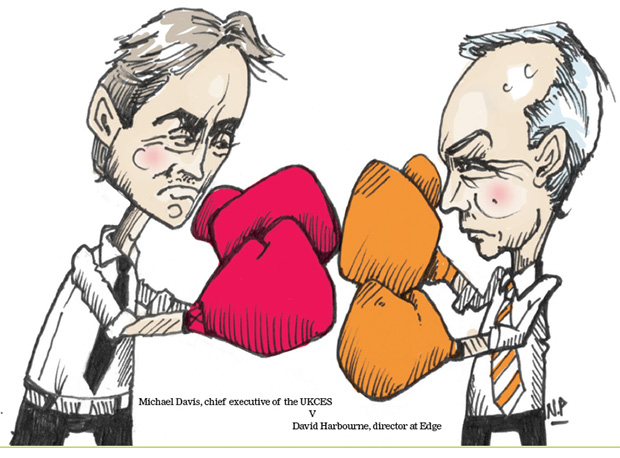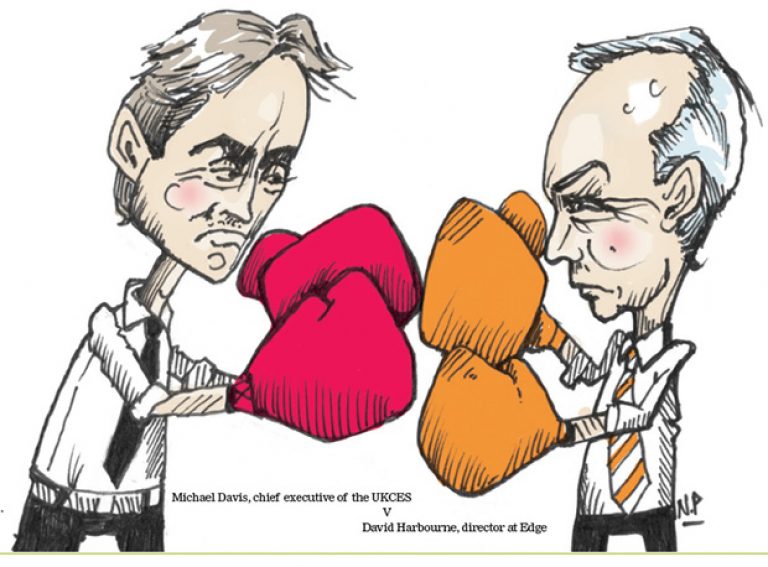 The Edge Foundation, a charity which promotes vocational education, published Apprenticeship Funding: Heading the Wrong Way? in June.
The charity argues that employers should not make any financial contribution towards apprenticeship training, instead it should be fully subsidised by the government.
At present, only 22 per cent of employers make contributions, according to Edge.
It uses research commissioned by the Department for Business, Innovation and Skills, which suggests that if the state subsidy is reduced to zero, apprentice numbers will fall by 85 per cent.
The alternative, argues Edge, is directing public subsidies to where they would achieve results.