Ofsted's inspection budget is expected to fall by nearly £15 million over the next three years, despite more than doubling the number of providers in scope for inspection.
The education watchdog released its annual report and accounts this morning.
Since 2010/11, Ofsted's financial resource has been reduced by over £54 million. It currently sits at £141,685,000 but this is expected to fall by 10 per cent to £127,100,000 up to 2019/20.
The accounts also revealed that its recently departed chief inspector Sir Michael Wilshaw received a bonus of between £15,000 and £20,000.
FE Week has analysed the Ofsted accounts for previous years and it is believed this is Sir Michael's first bonus.
Its chief operating officer Matthew Coffey, a previous director of FE and Skills, was this year given the highest bonus of between £20,000 and £25,000.
The heavy decrease in Ofsted's inspection budget is happening over repeated warnings from the new chief inspector Amanda Spielman that the watchdog faces a "real challenge" following the influx of new apprenticeship training providers.
Published in March, the Register of Apprenticeship Training Providers first held 1,473 organisations who were given the green light to deliver apprenticeships from May and which were therefore in scope for inspection from Ofsted.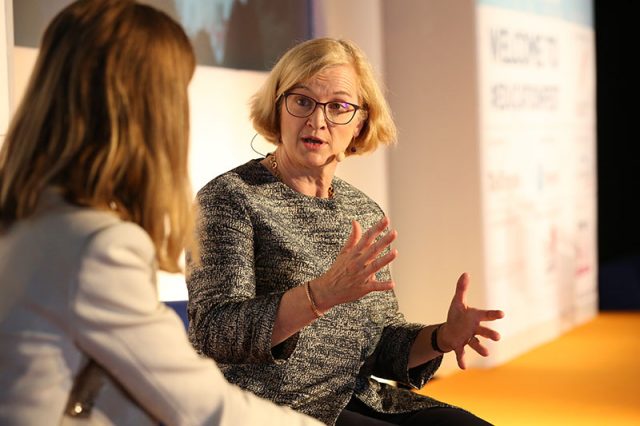 RoATP was updated in May, adding 421 providers, and now sits at 1,894 who are in line to be inspected, more than double the number there were before the introduction of the new register.
Ms Spielman initially raised concern in an interview with FE Week editor Nick Linford in March, shortly after RoATP was first published.
She described the issue as a "big problem" in an interview with Laura McInerney, the editor of FE Week's sister paper FE Week, at the Festival of Education and Skills last month.
But she also revealed that she doesn't expect the inspectorate to need more money to deal with the issue, saying she would retain the same number of employees to work in the post-16 system.
After being asked how the inspectorate is coping with the new providers, Ms Spielman said: "As you can imagine it is something that we have got live discussions with government about to make sure that we have [enough cash] and understand where the apprentices are actually being trained to make sure we prioritise the places where there are significant numbers.
"There is a real challenge. We have got some unpredictable movements in where the apprentices are over the next couple of years so we will be doing our best to make sure that we track and put our inspection resource into the right places."
Ms McInerney then asked if as a result of the scale of these new providers, there would be a risk that money or staff will have to come over from Ofsted school inspectors to deal with the influx, or if the inspectorate would get more resource to deal with the issue separately.
"Well there are the same number of bodies in the post-16 system so in the first instance it is thinking about how to allocate it to make sure we are putting the effort where people are," Ms Spielman said.
Ofsted was not approached for comment.