A Newcastle-based training provider with contracts worth £3.5 million last year is facing having them pulled after receiving the lowest possible grade overall from Ofsted this week.
But Northern Construction Training and Regeneration was rated 'good' for its apprenticeships provision, meaning it's likely to keep its place on the Education and Skills Funding Agency's apprenticeships register.
Leaders at the provider, which offers loans-funded courses for adult learners as well as apprenticeships, were criticised for failing to "maintain sufficient oversight of the adult learning provision", in a report published August 22 and based on an inspection in July.
The quality of teaching, learning and assessment for adult learners was deemed 'inadequate', as was safeguarding.
Assessment practices for retail qualifications were found to be "not consistently appropriate".
Six out of 19 sample portfolios contained "identical word-processed text in assessed work, which had been subject to internal quality assurance checks and had been formally accredited".
"Consequently, assessed and formally accredited work cannot be reliably attributed to individual learners, some of whom have received qualification certificates," the report said.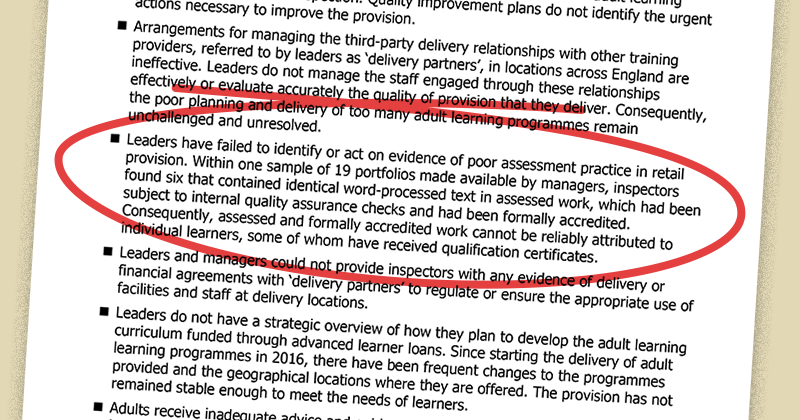 However, the provider's construction apprenticeship programme was found to be "managed well" and apprentices "make good progress".
Employers "value the role that managers and staff play in developing apprenticeship programmes to meet their needs" and "speak highly of the contribution that apprentices make to their companies".
At the time of inspection the provider had 423 adult learners on programme, and 75 apprentices.
NCTR, which hadn't previously been inspected, had non-levy apprenticeship contracts worth £1,007,046 in 2017/18, the vast majority of which was for 16- to 18-year-old apprentices.
In addition, it had an advanced learner loan facility worth £2.5 million.
According to ESFA funding rules, a provider that receives an Ofsted rating of 'inadequate' overall will have its contracts pulled.
But the agency's guidance for removing providers from the register of apprenticeship training providers is different.
It is based on a provider's grade for their apprenticeship provision, which must be at last a grade three.
Because NCTR received a grade two for this provision, it will keep its place on the register – meaning that it will be able to continue offering apprenticeships to levy-paying employers.
However, neither the provider nor ESFA has yet confirmed that this will happen.