A dog that helps students struggling with mental-health issues has won praise from Ofsted inspectors.
Bexhill College in East Sussex was commended in a short inspection report published on Monday because students "benefit from the calming influence" of Harry the therapy dog.
The inspectors said: "Because of his presence students are less anxious before examinations and, for some, they gain confidence by walking him around the campus."
The use of therapy dogs is a growing trend in further education colleges.
FE Week has found at least 28 that have recruited their own dog and many spend thousands of pounds on the therapeutic service. Some animal charities have warned against the practice, however, claiming it can be "extremely stressful" for most dogs.
While there is a lack of research in the UK, studies in the US claim to have shown that the dogs can reduce stress and increase energy levels for students.
One college that this newspaper spoke to bought a puppy for £1,600 and pays for its annual costs, but most use staff or student volunteers who bring in their own pets. Others receive visits from external organisations, such as Therapy Dogs Nationwide.
Students are less anxious before exams because of his presence
FE Week spoke to five of the colleges to find out more.
Shooters Hill Sixth-Form College, based in Greenwich, south-east London, improved from a grade three to a two in a full inspection published on 13 November, in which inspectors said students "really value the comfort they gain from a therapy dog [Findlay] when they are worried or anxious".
Findlay the labradoodle meets reluctant students at the college gates, goes on timetabled walks for those struggling with anxiety issues and even acts as a "life model" in art classes.
The college's principal, Jan Atkinson, said Ofsted was "very complimentary" about Findlay, who comes in four days a week.
The college learns "a lot" about students with anxiety who "tell us what they may not [otherwise]" during their time with the labradoodle.
Atkinson said other students ask to see Findlay if they are upset. "It is all about personal development and wellbeing of the staff and students," she added.
The college used Pets As Therapy (PAT), a national charity which organises volunteers, to get Findlay  accreditation as an official therapy dog. His owner is Atkinson's personal assistant and offers his services for free "because she sees the benefit".
Atkinson's tips for introducing a pet include bringing in a "really placid dog" who is "very socialised" although she acknowledged that some students have a phobia of dogs.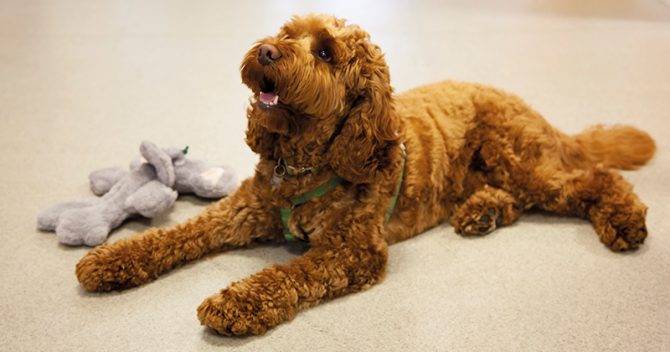 Leeds City College spent around £1,600 on Jeffrey, a cockapoo, who will be two next week. He is cared for outside of opening hours by Emma Langford, the college's deputy head of childcare and public services, who estimates that his annual costs, including insurance, vet bills and food, total around £1,000. These are covered by the college.
Jeffrey is awaiting an assessment with PAT to become a registered therapy dog. The college then hopes to use him to make links with other institutions, such as Leeds Beckett University.
Langford explained that the cockapoo has some timetabled sessions where he sits next to certain students if they lack focus.
A group studying maths, for example, who "lacked confidence", requested his presence. The students are "all attending [more regularly] now" and said "he makes us stay calm and listen".
I think every school and every college should have one
Langford said the dog also "brightens the day up" for staff and, if they are having a challenging day, Jeffrey can help by visiting the staffroom.
Jeffrey has his own Instagram account which is used to deliver messages, such as revision reminders, to his 1,100 followers. A photo of Jeffrey with Gavin Williamson was posted on 6 September when the education secretary visited the college's Quarry Hill campus.
Langford said: "The first year was very demanding, with challenges in making sure he went outside every hour." She recommends having "a rota and maybe a base where it is accessible to go outside".
Kingston Maurward College may have been one of the colleges to start the practice. Nicky Porter, the assistant principal, told FE Week that she started bringing in her own dog, Fred, when she began work at the college in Dorset around 20 years ago.
The land-based college now has a "dogs on campus" policy, with staff allowed to bring their pets into work once checks have been made.
"We are always very clear with students, if they are not comfortable, to tell us," Porter said. She estimated that about ten dogs regularly visit the college.
Animal welfare has to be taken into account
Students in Kingston Maurward's animal science building may be given a time-out card if they are feeling anxious, stressed or worried. They then spend five minutes with Ernie, the principal's black labrador.
When students return "they are completely different" and praise the practice in course reviews and self-assessments.
Hector, a border collie, is the college's only registered therapy dog. He is owned by the library support assistant, who has never asked for a contribution for the costs, although Porter said it was "definitely something we would do".
The assistant principal recommended the adoption of therapy dogs by other colleges "especially with the rise in concern in mental-health issues for students. [Therapy dogs] are almost another side to your student's welfare team."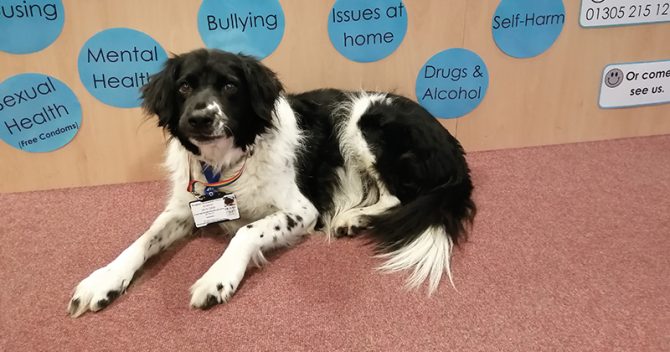 Dotty, a seven-month-old labradoodle spends every day at Bath College's special educational needs and disability centre. Students with social, emotional and learning difficulties "need to think about her needs as well as their own, the importance of listening to each other and sequencing instructions", according to Caroline Pack, Dotty's owner and a college lecturer.
However, the college has to be careful with one student who gets "very nervous" in the labradoodle's presence.
Pack said: "The main benefit of taking her in is getting the students interacting with her and each other. I think every school and every college should have one."
At Barton Peveril sixth-form college in Hampshire, Barney, an eight-year-old chocolate Labrador, has been going in once a fortnight since May. Her owner, Shelley Hughes, is the college's nurse.
Barney has acted as an "ice-breaker" for students who need additional support but might not usually come forward.
Matthew Robinson, National Volunteer and Events Manager at Pets As Therapy, which has 6,000 volunteers who use their own pets to visit locations including hospitals, said there was "an incredible amount of demand for the service which we just can't meet at the moment".
PAT volunteers must pay an annual subscription fee of £19, which covers them under the charity's insurance. The registration process involves submitting proof of vaccinations, two independent referees and an assessment of the owner and dog together as a team by a trained assessor – who checks that the pet is happy being cuddled.
Main benefit is getting the students interacting with her and each other
"Dogs generally enjoy the interactions," Robinson said. "Animal welfare has to be taken into account."
But animal charities are not so keen. The RSPCA discourages education establishments from keeping and looking after animals, adding: "Unfortunately, it is not uncommon for pets intended to live at a school to require rehoming."
The Dog's Trust "strongly advises against" introducing a dog to an education environment as it can be "extremely stressful" for most of them.
While Robinson said he had not heard any "horror stories", if there are reports of a dog snapping or getting worked up, their visits stop and a reassessment is arranged.
Therapy dogs have become increasingly popular in the US over the past decade, according to a 2017 study by Troy University, based in Alabama.
And research in 2018 by the University of British Columbia (UBC) in Canada found "remarkable" results as participants reported significant reductions in stress as well as increased happiness and energy immediately following a drop-in therapy dog session.
Stanley Coren, study co-author and professor emeritus of psychology at UBC, said: "We found that, even 10 hours later, students still reported slightly less negative emotion, feeling more supported, and feeling less stressed."
Former education secretary Damian Hinds has previously admitted that he "had not realised the incidence" of wellbeing dogs in education providers until he visited classrooms. He said it was a "great thing" for learners and "can be really uplifting".
The idea is not just restricted to domestic pets. In Florida, Bubba, a therapy alligator weighing almost 14 stone, visited a school for children with autism.
Liz Maudslay, policy manager for learners with learning difficulties at the Association of Colleges, acknowledged that some institutions were introducing dog therapy with "successful outcomes, particularly for those who experience anxiety and depression".
She added: "It is completely up to individuals if they want to take part in this kind of therapy and colleges always prioritise the health and safety of their staff and students."