Ofsted inspectors who uncovered "degrading treatment, racist comments and care from staff under the influence of illegal drugs" at a youth prison have reported an improvement.
The Ministry of Justice (MoJ), as previously reported on feweek.co.uk, pledged "urgent action" in light of Rainsbrook Secure Training Centre's May inspection report.
And the actions appeared to have set the G4S-managed centre, near Rugby, on the path to improvement with a team made up of four Ofsted inspectors, two from Her Majesty's Inspectorate of Prisons and one from the Care Quality Commission, reporting it now required improvement. It was previously labelled inadequate.
Inspectors said inmates at the centre, which houses young people aged 12 to 18 who have been given a custodial sentence or are on remand, "have not experienced the level of harm or degrading treatment identified at the last inspection".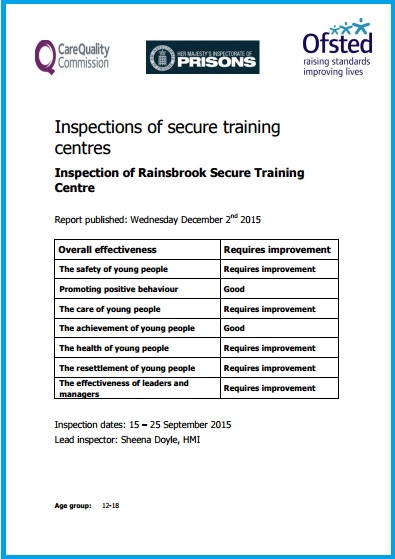 They found "senior managers have taken consistently prompt robust action to deal with staff and protect young people, which is an improvement".
The inspection report, published on December 2, added: "Education provision is judged to be good overall but would benefit from the recommendations of the previous inspection being fully implemented alongside new recommendations to improve the quality of teaching, learning and assessment."
It was announced in October that MTC Novo would be taking over from G4S in managing the centre for five years from May next year.
Paul Cook (pictured above), managing director for G4S children's services, said: "I am encouraged that inspectors now report that the team has responded effectively to the findings of the last inspection and that the centre has improved.
"We set out to return the centre to the high standards we have delivered over our previous 16 years and it is heartening that inspectors report many examples of staff putting themselves at risk to prevent harm to young people and that over 95 per cent of trainees say that staff treat them with respect."
Lin Hinnigan (pictured above), Youth Justice Board chief executive, said "We are pleased that progress has been made at Rainsbrook STC since Ofsted's last inspection and that the improvements reported are in line with findings from our own monitoring activity.
"We will continue to monitor and ensure robust action is taken to address any staff conduct issues.
"The YJB will work closely with G4S to see it makes the improvements required in line with the standards we set. We expect continuous improvements to take place throughout the transition to MTC Novo taking over the running of Rainsbrook STC from May."
A Ministry of Justice spokesperson said: "It is encouraging to see progress is being made at Rainsbrook and that, crucially, the majority of young people reported feeling safe. Clearly there is more work to be done and we will continue to closely monitor the situation."