A provider has hit out at Ofsted after the inspectorate sampled just a fraction of its apprentices to decide it was making 'insufficient progress' in an early monitoring report.
AAA Training and Recruitment is expected to be suspended from recruiting new apprentices by the government after it was given the rating in two of the three categories looked at by the watchdog.
Its report, published yesterday, said the majority of apprentices are "not receiving their full entitlement to off-the-job training" and previous leaders and managers, who have been replaced in recent months, had not ensured that apprentices "acquire substantial new skills and knowledge".
"AAA has concerns regarding the process Ofsted followed"
AAA started delivering its own apprenticeships in January 2018 and currently has 598 health and social care apprentices all based with one national employer called City & County Healthcare Group.
The training company's new chief executive, David Grant, said the inspectorate only sampled around 4 per cent of its in-learning apprentices during the inspection.
He has "concerns regarding the process Ofsted followed and subsequent implication on the business" and told FE Week his provider is "considering our options with regards to taking further action and are in discussion with the board and advisers".
This is the same challenge put forward by the country's former largest training provider, Learndirect, when it lost a High Court battle with Ofsted to overturn an 'inadequate' judgement, which led to its huge government funding contracts being terminated.
It argued in court that the report should have been quashed because the "meagre sample size" – just 0.6 per cent of 70,000 learners – used by inspectors was "ineffectively unreasonable".
Ofsted claimed there was "a comprehensive evidence base clearly supporting the judgements made", and the judge sided with the inspectorate.
Grant, who took over at AAA five months ago, said his provider's inspection "lasted 1.5 days, they made judgements based on a small sample and did not make judgements based on a snapshot of the 'here and now' they based judgements on historical issues that had already been rectified by the new team".
"Furthermore – one inspector tried to include a judgement that related to one learner (we challenged) and it was removed by the lead HMI," he added. "I am not sure how many other judgements she submitted based on a few learners (she was representing the field based team) and reporting back."
An Ofsted spokesperson said the sample size will vary for each individual inspection, but could not give a figure for what the typical size is.
"Inspectors make judgements based on a range of evidence – observations of training sessions are just one part of this," she told FE Week.
"Among other things, inspectors also take into account work scrutiny, discussions with learners and employers, and analysis of provider and learner records.
"The mix of evidence will vary on each inspection, and is down to the inspector's professional judgement, taking into account the handbook criteria and the specific circumstances of the provider."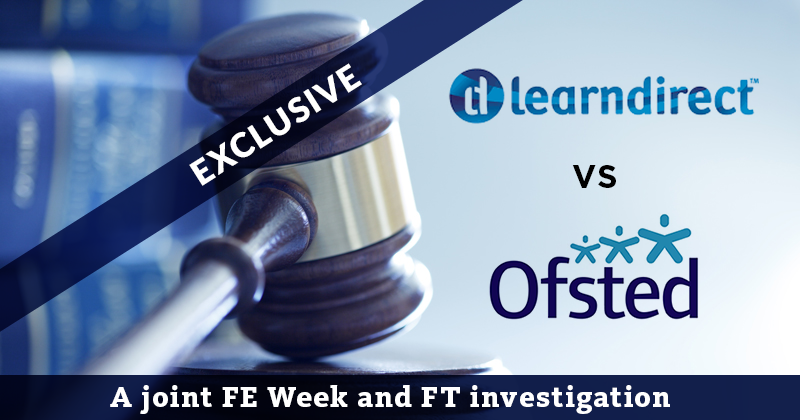 AAA's report said the majority of apprentices are not making expected progress, and none have yet achieved within their expected finish date. Around a third have left without achieving their qualifications.
Historical issues at the provider included that some apprentices have had their assessors changed several times and experienced long gaps in the delivery of their programmes. Some have had to repeat lost work. "Too many" learning and review sessions are cancelled.
Ofsted did report that AAA's new leadership team has identified the weaknesses in the provision and has "plans in place to remedy these".
These plans include implementing a new management information system, an amended enrolment process, and regular meetings to review progress.
New training staff are also being recruited and although it is "too early to see the impact of these changes", initial feedback from apprentices is "positive", Ofsted said.
Grant said he was "pleased that recent changes and improvements were commented on during the monitoring visit and within the final report".