Ofsted chief inspector Sir Michael Wilshaw has defended his controversial views about education for 16 to 19-year-olds, but denied that he is biased against the FE sector.
He made the remarks following his speech on Thursday, the second day of FE Week's Annual Apprenticeship Conference at the Birmingham International Convention Centre.
"It's not a bias, it's criticism of what we see — and have seen for a number of years," Sir Michael said when he was asked about his "publicly stated personal bias" against FE.
"You can't tell me that the statistics on study programmes are good. In most colleges that we see, a very small proportion of youngsters are on apprenticeship programmes — you can't tell me that's good. No it isn't good."
The Ofsted chief inspector attacked the FE sector during an evidence session for the Education Select Committee on March 2, describing it as "in a mess — that's why the government is reviewing it".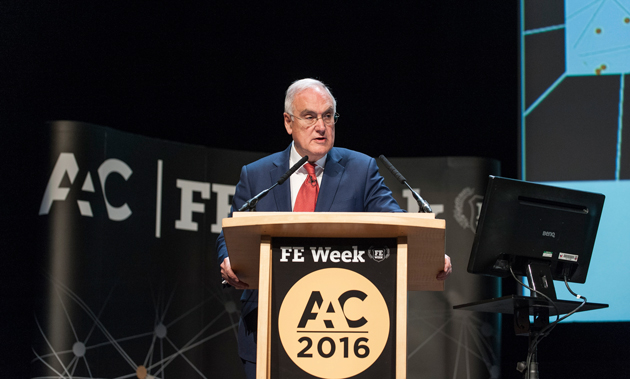 "My view is that 16 to 19 should be done in school," he told the committee, chaired by Neil Carmichael.
Sir Michael acknowledged the "controversy" his remarks had caused, but stood by them.
"The point I was trying to make is that when you look at the figures, it's pretty dire," he said.
"Those youngsters who don't do well at the benchmark GCSEs at 16, in English and maths, two years later it's just as bad."
Mark Dawe, the incoming chief executive of the Association for Employment and Learning Providers (AELP), questioned Sir Michael's lack of bias.
"When he talks there does still seem to be an FE bias," Mr Dawe told FE Week.
"When you look at the evidence there is some really good provision and he should base his comments on the evidence and I don't think he is fulfilling the chief inspector's role by his personal views being aired," he said.
The Ofsted boss, who will be retiring at the end of the year, acknowledged that that the new apprenticeship reforms, which could see the education watchdog having to inspect 4,000 training providers, "will present a challenge to Ofsted".
During his speech Sir Michael criticised "colleges and other providers" for "not delivering high enough numbers of apprenticeships overall, and certainly not in the right areas".
"Taking some local examples, two of the biggest colleges in this region have less than 10 per cent of their student population on apprenticeship courses. And these in colleges of nearly 30,000 students," he said.
He also contrasted the quality of different types of apprenticeship provision.
"Most high-quality apprenticeships are found in industries that have long-established traditions of using them: the motor industry, construction and engineering.
"They are few in number and are largely delivered by long-standing industries and providers.
"On the other hand, the ever-increasing numbers of apprenticeships in the care and retail sectors are not consistently reaching the same high standards," he said.
When he was asked whether this difference in apprenticeship quality related to how much the people delivering them were paid, Sir Michael said: "Those are internal problems for every provider".
"It's up to the leaders of those institutions to ensure that salary levels and professional development programmes are equitable across the different areas of curriculum," he continued.
Sir Michael also criticised the quality of apprenticeships in small and medium-sized enterprises (SMEs), calling most of them "poor quality".
"That's what's got to improve, and the only way to get apprenticeships to improve is if employers take ownership of quality, working with high quality training providers," Sir Michael said.
"Most of our employers are SMEs — you know that. And yet they're badly supported, and I have to say, badly led, by local employers," he added.