Ofsted's new chief inspector was vowed to "reset" the relationship between the education watchdog and colleges, in her first speech to the FE sector since taking over from Sir Michael Wilshaw in January.
Amanda Spielman struck a more conciliatory tone than her controversial predecessor at the AoC Ofsted conference this morning in London.
But while she acknowledged the pressures the sector was facing, she also made it clear she will not shy away from challenging the sector.
Ms Spielman said: "We need a much more positive and purposeful relationship between Ofsted and the FE sector. And so I want to use today to reset that relationship."
She continued: "I will not be using my position at Ofsted to impose my personal views, or to make unevidenced claims about the sector."
Instead, she said she was interested in "collecting inspection evidence, analysing it rigorously and reporting it objectively".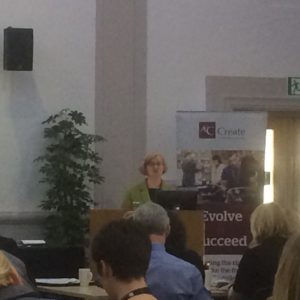 "It is only when you have evidence on your side that you have the authority to make respected judgements which genuinely drive improvement," she said.
Seven out of 10 colleges were good or better, Ms Spielman said, and she had seen some "excellent practice".
"But while we must recognise the good practice, we can't lose sight of the fact that inspection grades have been in decline for at least two years now," she said.
"This is a worrying sign, and a trend that needs to be reversed: too many colleges are struggling to maintain quality, and too few that require improvement are demonstrating the capability to do so."
Ms Spielman made it clear she would work with colleges to drive up standards.
"That challenge means that we, and I use we in the broadest sense, need to take a hard look in the mirror to ensure we are doing all we can to make sure that college education is the best it can be," she said.
The Ofsted boss recognised that the government's "well-intentioned" English and maths GCSE resit policy was "causing significant problems" to colleges.
She said the policy had a "disproportionate effect on different institutions", with around three-quarters of students at FE colleges following vocational courses.
The large numbers of students failing to improve their grades following resits was "such a waste", Ms Spielman said.
"We must ask ourselves whether expecting all students without a C grade to retake English and maths is the right way forward."
She continued: "Our hope therefore, is that while maintaining this important policy objective, the government will reflect on feedback from Ofsted and the wider sector, to refine its approach to promoting these vital maths and English skills."
Ms Spielman also spoke about the impact of funding pressures on colleges.
"What is undeniable is that while the other age ranges have been largely protected from funding pressures until recently, the same has not been true for education post-16," she said.
"This has had real consequences," she said.
"And while college funding is the domain of the SFA, and not Ofsted, we do know from our work that it is having an impact on the quality of education," she acknowledged.
Ms Spielman continued: "My hope is that the announcements in the budget pave the way for a new approach to FE funding, where the benefits of investment are realised, and the temptation to keep paring back is resisted."
Former Ofsted boss Sir Michael Wilshaw, who retired in January, caused huge controversy with his outspoken comments about the FE sector.
In March 2016, he laid into the sector during a parliamentary select committee, telling MPs that he believed all 16 to 19-year-olds should be educated in schools.
In July he was caught making up evidence about the standard of careers guidance in colleges, calling it "uniformly weak" without an identifiable source to back up his claims.
And in December he contradicted Ofsted's own annual report by pointing the finger at colleges for the sharp increase in 16 to 18-year-olds failing English and maths GCSE resits.
Having heard Ms Spielman's speech, David Hughes, AoC chief executive, said: "It was also pleasing that she has recognised the important role of colleges and proposed a "positive and purposeful conversation" with the sector.
"It is clear she is committed to Ofsted inspecting colleges based on evidence and wants to ensure that Ofsted truly is an agent for quality improvement, not just of quality measurement.
"We have been working hard to highlight the difficulties in making the current English and maths GCSE resits policy work effectively. It is a challenge for every college and we believe has enormous consequences for college inspection outcomes.
"It is therefore very welcome news to hear Amanda supporting the call for the Government to reconsider its approach to this policy as well as acknowledging the need for inspectors to recognise the scale of the English and maths challenge which colleges face.
"I look forward to working closely with Amanda and her team to further develop this new relationship for the benefit of colleges and students."