The government "can't make any guarantees" it will be able to fund all apprenticeship growth requests, Skills Minister Nick Boles (pictured above) has said.
His remarks, at the Education and Training Foundation Leadership Summit on at Westminster Kingsway College on March 9, came a month after many training providers were left short-changed following the Skills Funding Agency's (SFA) overdue announcement in February of extra cash for delivering 16 to 18 apprenticeships.
"You will understand that we've had the position where we've been agreeing every growth bid, more or less, every quarter, and there is a limit to how much we can carry on doing that given that we do have a fixed budget," Mr Boles said.
He continued: "We will do our absolute level best to meet any growth bid that we possibly can, but I can't make any guarantees, because the budget does have to be limited."
On February 5 the SFA announced £25m of additional funding to deliver 16 to 18 apprenticeships.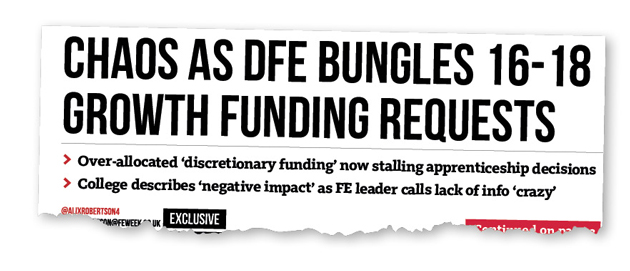 The extra cash, which should have been announced on January 8, was in response to growth requests submitted by colleges and training providers to help fund apprenticeships and traineeships in 2015/16.
However, many providers received much less than they had asked for, and no requests for traineeship growth had been funded — a situation that led to fury from providers.
As exclusively revealed by FE Week on January 29, the delay in announcing the funding was due to the Department for Education (DfE) over-allocating its discretionary fund for 2015/16.
Mr Boles acknowledged the pressure on 16 to 18 apprenticeships in his remarks to ETF delegates.
"And in 16 to 18 the budget was more constrained than the adult budget," he said.
"And I was a bit puzzled as to why also, it seemed to me, we were getting more growth bids at 16 to 18 than we were for adults in the last 12 months in a way that hadn't been the case in the previous 12 months, which I don't quite understand," he continued.
"I understand the frustration because you want to be able to recruit people, and indeed some of you go ahead and recruit them anyway, and find your budget bid isn't approved and in effect you've had to subsidise them," Mr Boles said.
The introduction of the apprenticeship levy would mean that "by the end of the parliament it's going to be completely different", the Skills Minister said.
"All of the money, all £2.5bn, will be in digital accounts, either by companies who pay the levy or by other companies who don't pay the levy but who want to have apprenticeships," he said.
"So by the end of the parliament, everybody – every employer of an apprentice – will be controlling the money and then deciding which training provider they want to work with."