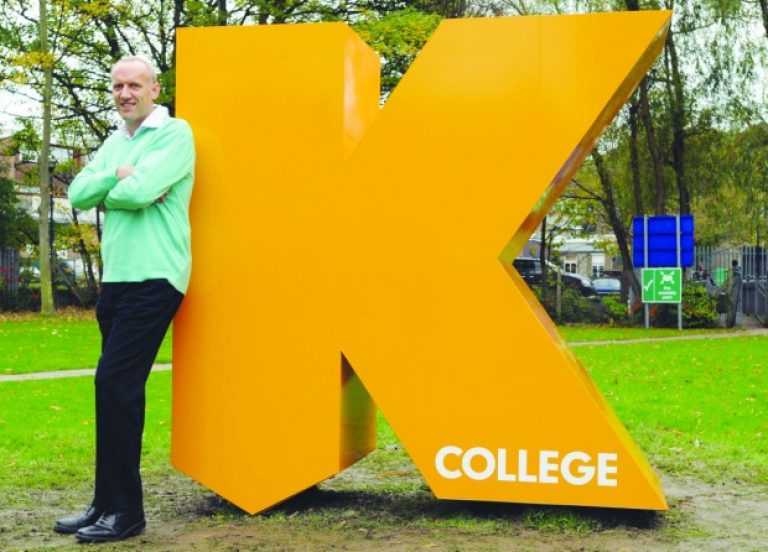 Nine organisations have been asked to develop their bids to take over provision at the troubled K College, FE Week can reveal.
They have been whittled down from 30 organisations, including colleges and private firms, who sent the Skills Funding Agency a total of 87 expressions of interest (EIs).
They want to take on elements of the Kent-based college (pictured above, with former principal Bill Fearon), which is being broken up following a failed merger, from August next year.
An agency spokesperson told FE Week: "Working with the Education Funding Agency and the Higher Education Funding Council for England, we have now reviewed the EIs submitted for the education and skills provision in South and West Kent, currently delivered by K College, the first stage in the competition process.
"We now move to the second stage of the competition process and have invited nine organisations to prepare and submit full tenders to us, to demonstrate how they will fully meet the needs of the area and deliver high quality provision from August 1, 2014, while maintaining continuity for existing learners."
The college was formed following a merger between West Kent College and South Kent College in 2010, but ran up at least £15m in debt to the agency, which has issued it with a notice of concern.
Phil Frier, who became interim principal of the college in January following the resignation of former principal Mr Fearon, has conceded the merger failed.
But the college now looks likely to be broken up, depending on the nature of the winning bid or bids.
Seven parts of the college's provision are on offer, including 16 to 19 provision in Dover, Folkestone or Ashford, Tonbridge and Tunbridge Wells grouped together and 19+ provision in these three areas.
Higher Education Funding Council for England (HEFCE) directly-funded provision at Ashford and Tonbridge is also up for grabs.
The first, EI, stage of the tendering process was initially supposed to have been completed in August.
But it was delayed by the agency "in order to allow organisations to better prepare their tenders" as many organisations would be closed over the summer, according to an email sent to interested bodies.
That resulted in the second stage of the process, where invitations to tender (ITT) were due to be sent out by the agency between July and September, being pushed back to this month.
However, the delay should not prevent contracts from being awarded on time, an agency spokesperson told FE Week in July. They said: "Contracts will continue to be awarded in line with the indicative timetable we have set out."
The nine short-listed organisations, who have made through to the ITT stage, are due give presentations and attend interviews on their bids later this month, with contracts being awarded the following two months.
The agency spokesperson said: "K College will continue to deliver provision to new and existing learners throughout this process."
The agency is refusing to disclose any details with regard to applications while the procurement is running. It has also declined to say whether college debts would be transferred to the winning bidder.
However, K College revealed that the nine parties which had been given invitations to tender included a range of colleges, private and not-for-profit providers.
The names announced by the college were:
Canterbury College
East Kent College
Hadlow College
Highbury College
Mid Kent College
Newcastle College Group
SEETEC Business Technology Centre Ltd
Ixion Group Contracts Ltd
FE Week believes the ninth organisation invited to tender has pulled out.