The pressures of student life can often be overwhelming, but one college in Hampshire has found a unique way to lower student stress levels and provide an escape from the hustle and bustle. Samantha King reports.
South Downs College in Waterlooville has recently opened a sensory room, designed to help students who suffer from high levels of anxiety or stress – particularly those on the autistic spectrum – find peace and calm in the college environment.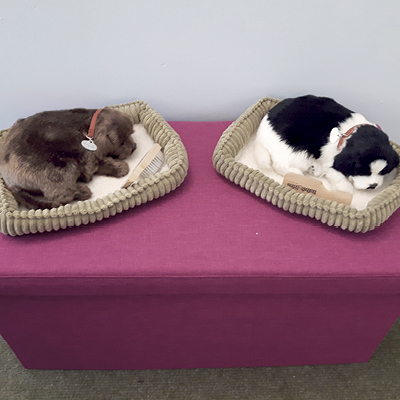 With blackout blinds, aromatherapy, stress balls, specialist lighting and a range of soft furnishings, the new space provides the perfect escape for when things get a bit too much; while two pretend puppies that seem to breathe are proving especially popular with students.
Darren Darby, the additional learning support manager at the college, said: "We have two pets that look real in little baskets, and they actually breathe so you can see the movement of their chests go up and down. A lot of our students find them very comforting when they go in there.
"We've got a whiteboard up at one end of the room so if students want to scribble and draw on there, they can use that. It's quite well equipped, and has lots of different sensory aspects, so we can cater for whatever an individual student may need."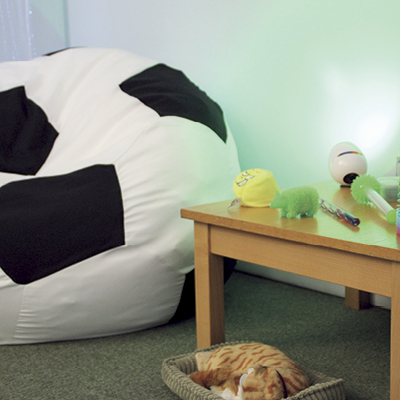 Entry to the sensory room is through a special pass, issued by the additional learning support team following a consultation to assess the needs of the student. Passes are only issued to students who will benefit from the use of the room, in order to maintain its status as a safe and calm retreat.
The college, which has a large number of students with additional learning support requirements had recently signed up to the Ambitious About Autism Charter, which supports FE providers in improving their offer to young people with autism and other disabilities. It was this that inspired the idea for the sensory room.
Darby explained: "We're quite unique in the fact there's not many colleges that actually have sensory rooms unless they're a specialist college.
"We signed up to the Autism Charter, so we were looking at a facility that could provide for students on the autistic spectrum, and give them a place that was away from the areas of the college some students may find a bit overwhelming.
It's just a really calm place that they can go to if they were feeling particularly stressed at any time throughout their day
"We also wanted to extend the space for students who may suffer from high levels of anxiety and stress, and offer them a space that was quiet and peaceful.
It's just a really calm place that they can go to if they were feeling particularly stressed at any time throughout their day."
Funded by the college's additional learning support budget, the new room is situated at the heart of the college and connects to an existing lunch and breakfast room away from the main refectory.
It is hoped the new sensory room will have a positive impact on the health and wellbeing of students, allowing them to recharge away from loud noises and potential stressors that are a natural part of college life.
Darby said: "The project has taken a lot of planning within the ALS team. We've had to really analyse and decide on equipment that we think would be cost effective but will also be really beneficial."
The room was officially opened by Kevin Filby, deputy director of service development at Ambitious About Autism.
Featured picture: Kevin Filby from Ambitious About Autism opens the new sensory room