A new interim principal will take the reins at troubled City College Coventry early next month.
Dr Elaine McMahon (pictured above) will start in the role at the 5,944-learner college on January 4.
She will take over from current principal Steve Logan, who has spent just 18 months in the post.
The change is set to coincide with the publication of an Ofsted report on the college, following an inspection from November 24 to 27, which a statement released yesterday by chair of the board of governors Maggie Galliers suggested did not go well.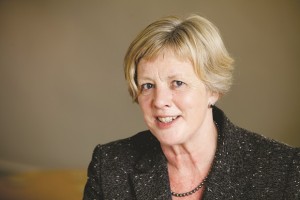 She said: "We were disappointed by some of our success rates this year and the inspection highlighted a number of important areas where significant changes and improvements are needed.
"We have therefore moved swiftly to appoint the right person to take the college forward.
"Elaine is an extremely experienced, well-respected and successful former principal, who is enthusiastic about joining us.
"Her priorities will be accelerating the pace of quality improvement, ensuring the continued financial health of the college and preparing for a local area review of FE provision announced for November 2016."
She added that the inspectors had made "positive comments about the decisiveness of college governance and our strong links with industry".
"Our finances are stable, despite the deep cuts in funding that have swept the FE sector," she said.
"Furthermore, we know that some areas of our teaching are delivered to the high standards to which we aspire and which our students deserve."
Dr McMahon has more the 30 years of experience in further and higher education in the UK and the USA, the college's statement said.
She led Hull College for eight and a half years until early 2013, during which time it received an outstanding rating by Ofsted.
She has since had a number of stints as interim principal, at Harlow College, Ealing, Hammersmith and West London College and Edinburgh College.
Dr McMahon said: "City College has all the right ingredients to be successful, having passionate staff and superb facilities.
"I look forward to working with colleagues to meet student, employer and community needs, to improve success rates and to help our students progress into meaningful employment."
Her appointment is the latest twist in an almost three-year long saga at the college.
The college was rated inadequate across-the-board by Ofsted in April 2013, down from its previous grade three ('satisfactory') inspection result.
It led to the Skills Funding Agency (SFA) calling for "fundamental changes to leadership and governance" and the departure of  former principal Paul Taylor and chair of governors Warwick Hall.
Ms Galliers, who was the Association of Colleges president for 2011/12, was appointed to oversee improvements as chair at the college in August 2013 and, with interim principal John Hogg, achieved a degree of success.
The college received a grade three rating from Ofsted in July last year, the same month that Mr Logan took over.