The overall added-value of the FE and skills system in England has fallen from a baseline of 100 in 2012 to just 73, new government data shows.
The Department for Education today published for the first time a 'Skills Index', which shows how the aggregate value of the skills supplied by apprenticeships and classroom-based learning each year has changed over time, following pressure from the National Audit Office to release it.
It shows that the overall FE skills index has declined every year since 2012 until 2016/17, flattening out in 2017/18 at 73.
In making up the drop from 100 to 73, classroom-based provision fell to 48 and apprenticeships increased to 118.
The classroom Skills Index collapse was driven mostly by a reduction in learners achieving classroom-based qualifications and due to a large decrease in the number of achievements at full level 2 and 3 programmes, the department explained, which has "stabilised" in the most recent years.
The apprenticeships Skills Index rise came in part as the "number of apprenticeship achievements increased by 10 per cent between 2012/13 and 2016/17, with an additional slow but steady shift towards advanced and higher level apprenticeships and higher value sectors since 2014/15."
There is also a "value-added" measure, which is calculated by "multiplying together the number of funded learners that achieved qualifications" with "the proportion of learners that were employed" with "the percentage earnings returns" and with "the average real earnings for employed achievers".
For classroom-based training value added decreased by 2 per cent in 2017/18, followed by a sharp decline of 11 per cent one year earlier.
For apprenticeships, the added-value has increased year-on-year since 2012/13, rising 2 per cent in 2017/18.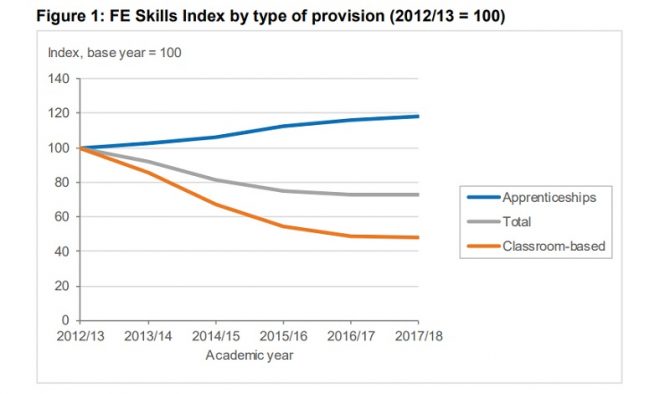 The department said this was a "conservative" estimate since it does not estimate the added-value of the switch from frameworks to standards because it is not yet available.
The index has been published for the first time after The National Audit Office criticised the DfE for not being transparent about how it demonstrates the impact of the programme on economic productivity in its apprenticeships progress report published in March.
Permanent secretary Jonathan Slater told a subsequent Public Accounts Committee hearing the index would be published this month, which he expected to show, "in line with the significant reduction in the number of starts, that you would see a dip and then a rise and continued rise to where it has been in the past".
In the document made public today, the department said apprenticeships accounted for 36 per cent of the total value-added in 2012/13, increasing to 58 per cent in 2017/18, while classroom-based accounts for 42 per cent. Contribution of level 2 training to the value added measure decreased from 37 per cent of the total to 22 per cent from 2012/13 to 2017/18.
Moreover, added-value per learner fell by 2 per cent driven by a 4 per cent decline in classroom-based qualifications.
The DfE explained apprenticeships typically have higher employment rates and higher wage returns than classroom-based qualifications.