New Business, Innovation and Skills Select Committee chair Iain Wright (pictured) has called for "real controls and mitigating actions" on success rates cheating amid claims it was widespread within the FE sector.
In an exclusive interview with FE Week, the MP for Hartlepool, who ousted former committee chair and fellow Labour politician Adrian Bailey in an MPs' vote this month, said the problem of data manipulation "undermines confidence" in FE.
He addressed the issue with North Hertfordshire College principal Matt Hamnett having revealed how he discovered it had been taking place in the college before he took over three months ago.
Mr Hamnett said details of failing learners were omitted from ILR returns as far back as 2008, with the effect of inflating classroom-based success rates by around 4 percentage points to 90.5 per cent last academic year.
His predecessor as principal Signe Sutherland has not commented publicly on the issue, while her predecessor Fintan Donohue, chief executive of Gazelle, denied any knowledge of such cheating during his time at the college.
And while Mr Wright said it was too early to name specific issues his committee would investigate, neither did he rule out a hearing into the issue.
"It's not in anybody's interests not to have proper, correct means of success," he said.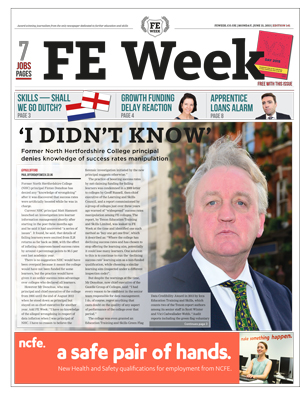 "If you're inflating your success rates, it undermines confidence in the entire system, so there has got to be real controls and mitigating actions in place to avoid that, so that everyone has confidence.
"So if a college is saying they have a success rate of whatever, everyone can believe that."
It comes with FE Week readers having taken to the comments section of the newspaper website with claims cheating went on elsewhere.
Reader Kim Hayter wrote: "Not sure what the fuss is about really…this practice of cutting off non-achieving candidates from the ILR has been happening for years in the sector."
Another reader, named Chris, wrote: "This used to happen at the college I worked for. Every year the data would be amended as it was 'not good enough'.
"The principal was well aware of what went on, but because they did it every year, they found they could not stop.
"I suspect there are a few principals who have felt rather uneasy reading this headline. I hope they have a couple of sleepless nights over this."
Another reader, Julie, wrote: "It's the same at our college. The principal's view is that if the rest of the sector are doing this then we need to as well.
"I just can't understand why the Education Funding Agency and Skills Funding Agency [SFA] don't do something to stop this."
An SFA spokesperson said data manipulation to inflate success rates was "not acceptable", adding that it expected "every provider" to submit delivery and performance data that "gives a true reflection of its position".
She added: "As part of our standard processes we carry out funding audits on colleges and training organisations which help us to make sure provision has been delivered in accordance with our published Funding Rules. We will conduct our own investigations where necessary.
"Should we find any delivery and performance data issues that have not been addressed, either reported by a college or provider or picked up through our systems, we will take action. We also alert Ofsted and the Education Funding Agency of any issues."
Exclusive FE Week Q&A with Iain Wright MP
What's the first skills-related issue you'd like to look at? 
What I'm looking at is where do we want to be in 2020 when it comes to a more entrepreneurial society, larger businesses employing highly skilled, well-paid people, and what's the role of the education and the skills system to fit into that.
So in terms of talking to you in 2020 about what the committee will have achieved, I want to see us very much as scrutinising and pressuring the government to make sure there is a responsive and high-quality skills system. Now, that will involve a number of things. One is, is there sufficient recognition of the role that skills play; is there sufficient money going into the system; and how are the outputs and outcomes being evaluated?
I don't want to just pick a particular thing – this is going to be a major strand of what the committee does all the way through this parliament.
What I have also said though, is I don't think the BIS Select Committee can just do this on its own. In many respects, some of the roles I have done already in parliament, whether it's apprenticeships minister at the Department for Children, Schools and Families, whether it's Shadow Minister for Industry, I have just wanted to see much greater join-up between the education and the skills systems, between schools and businesses – and one of the real priorities is how can I use the committee to help achieve that.
We're going to be very open and accommodating, to make sure that we speak to as wide a view of people as possible – and in that regard, if anyone has ay concerns about the sector, what's happening, I hope that they can come to me and I will certainly make a point of responding. 
Have you met with the new House of Commons Education Select Committee chair Neil Carmichael yet? 
Yes. And we're going to meet again very soon with our clerks to talk about how we actually do this in a practical manner – because I think again this will be a major theme about this parliament. This is not just something that's going to be a one-off.
One of the things I pitched to MPs in seeking election to the role is productivity. Neil is very keen on that as well, so how do we use the education and skills system in order to raise productivity? I do think skills is incredibly important for us to become more competitive, more entrepreneurial, and that doesn't just start at the age of 16.
It's a case of how does the skills system and the education system lend itself to a more enterprising, entrepreneurial workforce that can really allow us to compete. Neil has got a key role to play in that, and us working together I think will be a great new agenda in order to make sure that policies on skills are joined up and coordinated as much as possible. 
Obviously funding is a huge concern, and there have been a lot of cuts. Is that something you will want to look at fairly quickly?
Yes, as part of a broader point which is, far too often there is a risk that FE gets neglected and ignored. I don't want to do that. I want to be a real champion of the sector, because I see, and I saw as a minister, and I see it as a local MP, the great work that FE colleges can do just to drive forward economic growth and social mobility.
I worry that BIS is not a protected department. There are other areas that will sap an awful lot of resource. FE can't bear the brunt of the cuts, and it's a very worrying precedent that one of the first acts that the new Business Secretary does is put in place, could be extraordinarily high levels of cuts for the FE sector to absorb. That's my first point.
My second point is that it's difficult for any organisation to plan when expected income is cut mid-year, and this apprenticeship growth funding is an example of a chaotic system that doesn't allow itself for good, planned management of resources – and this is certainly something that I'll want to look at.
Have you had a chance to look at what the new Ofsted framework will mean for FE? 
It's something that I'm looking at. I can't pretend to be a master of this, but it's certainly something that we will look at – but I can't comment upon that yet, given I'm still getting as briefed as possible. 
What's your take on traineeships? Do you think they're something we should be looking to expand? 
I am a big fan of traineeships. I am a big fan of making sure that pre-apprenticeships are considered both by learners and by business. I think it's a great example of making sure that you can get into the habit of what is required at work.
I do worry that careers advice has been decimated over recent years, and it's a case of how people learn about what's on offer there. I worry that work experience as a whole is diminishing, so people at a relatively early age are not getting that experience about dipping their toe in the water about what's going on, but in terms of what Nick [Boles, Skills Minister] is trying to do as a minister with regards to traineeships, I think that's probably the right attitude, and it's the right stance, and making sure that it works is something that the committee will want to look at. 
Reform of how apprenticeships are funded continues to be a focus for the government. What are your thoughts on this issue?
We've got to tread very carefully when it comes to this. We want to be encouraging as many businesses as possible to take on an apprentice, and it's not because of an altruistic role; the businesses will grow and thrive if apprenticeships are taken on, because their workforce will become more highly skilled, and thinking about a longer term vision for their company.
We've got to encourage that as much as possible. There are very strong, hard, business reasons to take on apprenticeships, but the role of government is to make that as easy as possible to facilitate, and that can often mean making sure that the contribution is given when it comes to finance. And so I think that will need to be looked at incredibly carefully, because I don't want to see businesses frightened off because thinking we have to make a contribution.
You talked about reaching out to the sector – what's your experience as an MP of FE colleges and independent learning providers? 
I was a minister for the last year of the previous Labour government, for 14 to 19 reform and apprenticeships. I used to go around FE colleges a lot. I always remember, particularly one time, getting my hair cut in Derby College by hairdressing apprentices. The other thing I am very keen to do is to get out of Westminster and go around the country, and have select committee meetings out and about in the various nations and regions of the United Kingdom, and often a great place to do that is the local FE college. 
I'm really keen to do this, because when I have been out and about I think about my local FE college. There are some great facilities that would allow the select committee to operate, to make sure that they could meet various stakeholders, both business and education, who are involved in the sector and in business, so I often think that getting out with the select committee, a great means of doing that is by going to see FE colleges.